MUSIC PREVIEW: Bye Bye Bunny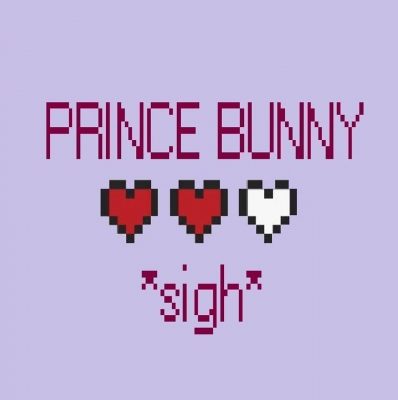 Everyone's favorite year-end album list starts as a blank slate. Which way will the winds blow in 2017? Where will this year's standouts come from? What genres will they play? It certainly seems like the most interesting local projects these days are those that blend a bunch of sounds into one, but isn't that really true of all musical history.
There is some sad news to start the year, though, as the promising act Prince Bunny falls to the wayside, at least for the time being. The fuzzed-out dream-pop-shoegaze band's bassist Dustin Danyluk is moving to Calgary, and there's no imminent plan to replace him. Singer Ana (Caro) Klahr did note, however, that she hopes to continue the project in some vein in the future, and in the meantime, will be doing some solo shows. So watch for that. In the meantime, Wednesday night marks Prince Bunny's final show as their current threesome, as they headline at the Sewing Machine Factory, along with Girls/Vices and Maude. Show starts at 9 pm, tickets are $10 at the door.
Friday 13
Ben Rogers – This Vancouver native headlines a night of Americana from Canadiana artists, as Alberta artist Tim Isberg is set to open the night. His most recent album, The Bloodred Yonder, was released in the fall of 2015, and was produced by Rogers' big brother Matt, who many might know as the guitarist from Harpoonist and the Axe Murderer. St. Basil's Cultural Centre, 6:30, $20. BUY
Electric Audrey 2 – This curious sextet that blends rockabilly, country & western, punk, gypsy and rock is hosting a record release show. The Real Sickies, Bogue Brigade, and Iron Eyes are also on the bill. Brixx, 8 pm, $10. BUY
Saturday 14
Craig Cardiff – The word "troubadour" probably gets bandied about more than it should, but it's probably a pretty fair label for this Ontario native. Singer-songwriter extraordinaire, a marvel with the tall tale, always willing to lend a hand to younger musicians, Cardiff recorded some 16 albums since the late 1990's, and always puts on a great show. Post Script and North Of Here also perform. Needle Vinyl Tavern, 8 pm, $20. BUY
New Romancer – This local band combines the best of '80s pop with traditional folk. The quartet includes singer/bassist Shaelyn Walton, keyboardist Joel Weatherly, drummer Jason Saunders, and guitarist/singer Nick Carter (not the one from the Backstreet Boys, obviously). Also playing is Lutra Lutra, focused around the talents of siblings Garreth and Katrina Burrows. Coincidentally, they also have a band member with a more famous namesake (Will Smith). Arcadia Bar, 8 pm, $10.
Sunday 15
Ken Stead – This local singer-songwriter continues to gig based on his debut full-length from 2015, Fear Has No Place Here. The one-time track and field star's life was altered inexorably by his mother, who took him to the Edmonton Folk Festival during his formative years, and lo and behold, a folk artist was begat. Of course, coming in third in last year's Project WILD, which found him the recipient of $50,000, sure helps propel his musical journey to the next level too, doesn't it? Expect to see a new record out sometime in the next year or so as a result. Erin Kay, Maria Dunn, Rebecca Lappa, and Over the Moon also perform as part of the 2017 Folk Alliance Fundraiser. Almanac, 1 pm, $20. BUY