INSIDE Edmonton's Avant-garde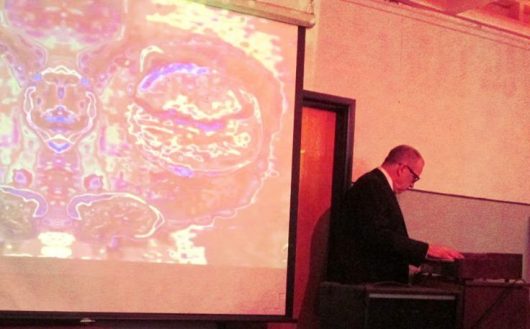 There may have been as many performers as there were audience members at the gig – but it didn't matter. This was ART.
A man named SkruntSkrunt rendered space sounds through a speaker box that was duct-taped to a didgeridoo. The Japanese performer Himiko wore a scary face mask as she played oddly consonant chords on a piano, over a track that sounded like something went wrong at the power plant. A duo called Harshmellow generated sounds not found in nature on a computer in a piece that ended with drumming and screaming. One of them had a punk rock gig to play later that night. Guitarist Dave Wall created blasts of spooky alien noise on an eight string guitar so heavily processed you couldn't tell what was live and what tracked. He said later that it was probably a good thing. Finishing the night was saxophonist Allison Balcetis, who played solo on an atonal composition that sounded like fish swimming. She showed incredible breath control on the tenor sax, making full use of the instrument's wonky harmonics, with all its honks, whistles and squeaks in perfect control.
Somewhere on the bill was the square guy out of place in a business suit, noodling away on a 1970s fake Hammond organ. That was me (above).
I'd heard about these "avant-garde" happenings in Edmonton for years – performance art jams where experimental "sound artists" throw all the rules out the window. Sounds like fun! Could I do it, too? I'm a schooled musician, after all: Royal Conservatory of Music, MacEwan University, spent years on the road in cover bands, logged hundreds of improvised solos over 12-bar blues songs on stages across North America. How hard could avant-garde be? I was about to find out.
In front of the small, yet very accepting and attentive audience, the occasion was a night of psychedelia at "Art's Birthday" on Jan. 14, presented by the Boreal Electro-Acoustic Music Society (B.E.A.M.S.) in the Ortona Armoury. The scene was reminiscent of some ultra-hip underground club in Berlin, and I hadn't been there, either. Audience members were paying very close attention, as if they were attending a chamber music concert. I started to get nervous.
"I think the acid's starting to kick in," was the thought running through my head from the very the first performer: event organizer Gene Kosowan, who accompanied an ambient soundtrack with his distorted electric guitar. A trippy film backed his set. Emcee Marcel Dion, who founded B.E.A.M.S 28 years ago, said later, "It is the music that can take us into space. We don't need to add anything to our Kool-Aid."
Indeed, nothing stronger than Moosehead Ale was served.
I thought this would be a free-form improv between all the musicians, but this wasn't some blues jam at the local BBQ bar. Each of the acts did their own thing, and most had been given pre-recorded pieces to perform over.
My track was called No War,  made by Japanese electronic artist Koichi Okada, whose parents survived Hiroshima – and with all due respect, it didn't sound like music to me at all. It was a series of random tones with no harmonic structure, rhythm, root or melody. It did have a certain haunting ambience. I tried making a chart: 17 seconds of a sawtooth wave on E, 46 seconds of a drone on F sharp with a high whine on G, 12 seconds of complete silence, and so on, but then I forgot it at home before the show. Not that it would've helped. The prospect of composing nine minutes of experimental music on the spur of the moment was terrifying enough without having to read a goddamned chart. I thought it best to hew to the cardinal rule of jazz – there are no mistakes, only opportunities – and also the only rock 'n' roll rule you should always follow: Never stop playing.
I also know the laws of music theory well enough to be able to break every one of them, as I tried to coax something interesting from the aging drawbars of my Korg organ, deploying esoteric symmetrical and Lydian flat seven scales more or less in sync with the bizarre track I had to play along to. In short: trying to sound weird. I think I did it. Though I felt like an imposter coming in, I went over as well as most of the acts on the bill. I got the feeling you could do no wrong – as long as you stuck to the spirit of Art.
Afterwards my organ and I were complimented, "I heard Steve Winwood in there."
Ah, there is still so much to learn.
Photos by Shae Guerin