PLAYBILL: Awkward encounters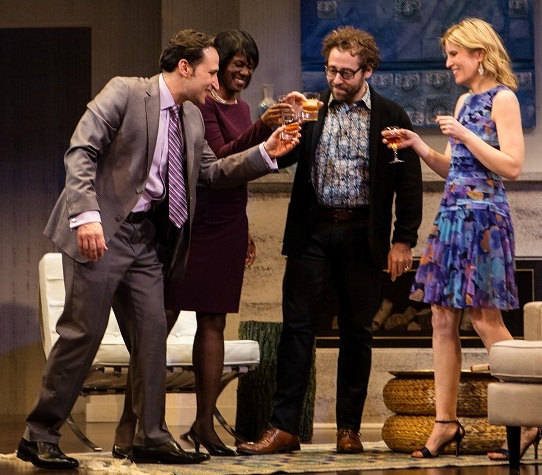 A Muslim, a Jew, an African-American and a white person have a heated conversation over dinner in New York City. What could possibly go wrong?
Didn't you listen to your mother?! No sex, politics or religion at the dinner table!
All the characters in Ayad Akhtar's explosive drama break mom's rules in a play that explores at least two of the above topics in intense, corrosive detail. Will these folks remain friends after this rhetorical debacle? Did they serve ham? Is there any vodka left?
Questions harder and smarter than these are posed in the 2012 play that won the Pulitzer Prize for drama, if not the Tony. In your face, Tony! They don't give those Pulitzers to just anyone, you know. Tonys are a dime a dozen.
Disgraced runs in the Citadel's Shoctor Theatre Jan. 21-Feb. 12.
Annapurna
Speaking of awkward encounters – our theme for today – what would you do if your ex suddenly decided to move back in with you after 20 years apart? Just showed up at your trailer home with a couple of suitcases and some bullshit story? It might be a bit of an awkward, unpleasant scene – and plenty of those are expected in Sharr White's gritty play about a cowboy poet and the woman he once wooed, and vice versa, making its Edmonton premiere at the Varscona Theatre Jan. 18-Feb. 5.
Coralie Cairns and Shaun Johnston star as the estranged couple going deep in a brutally witty relationship saga.
Fortune Falls
Just substitute "American automobile industry" for "chocolate factory" and you'll taste the bitter, chewy core inside this delicious new musical by Edmonton playwright Jonathan Christenson (with a co-write on book by Beth Graham).
Yes, a musical! An angel gets its wings every time a new musical is born.
Fortune Falls tells (and sings) the tale of the town that's the title of the play, whose thriving chocolate industry falls upon hard times due to labour outsourcing to Mexico, with an ensuing fantasy imagined by a lonely security guard set to watch the abandoned Mercey Chocolate Factory. Said to be "a synthpop anthem for a generation trying to find their place in a broken town," it's clear that neither Willy Wonka nor his Oompa Loompas are going to come to the rescue this time. Watch out for Trump and his Wall.
Fortune Falls plays at the Citadel's Maclab Theatre Jan. 17-Feb. 5.
Henry V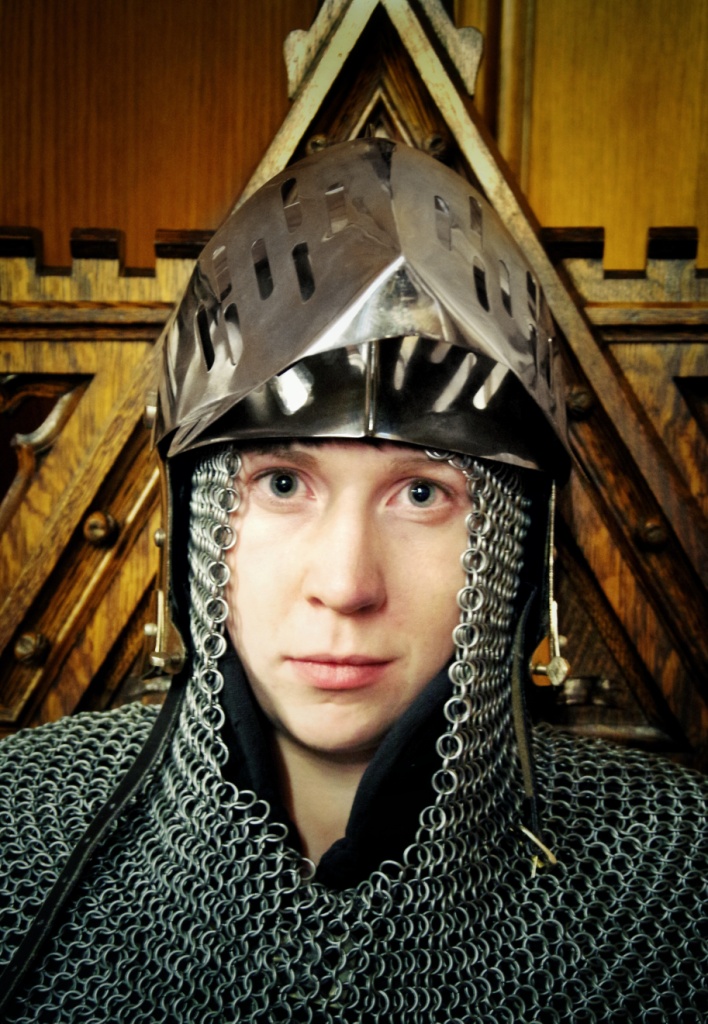 No pronouns were harmed in the re-casting of one of England's most macho kings as a female actor in Henry V, a first for Canada, apparently. They just left the he's and his'es as they stand. You don't wanna screw with William Shakespeare.
Turns out gender isn't such a big deal in this terrific production at the Holy Trinity Church – the historic setting as fitting as the live period music that accompanies the play. Penny whistles! Mead and mutton! So, if you can imagine that an epic battle can take place on a theatre stage – or that boys can play the parts of women, and let's not go there – then it's no stretch to accept that a woman can play the lead role in one of Shakespeare's most testosterone-laden plays. Actress Brynn Linsey is so strong in the role that gender becomes a moot point. As Prince Harry – the old Prince Harry – might've said, "Did you just assume my gender?! Off with your head!"
Henry V plays until Jan. 28.
Peter Fechter: 59 Minutes
The title refers to the 18-year-old East German boy who died in 1962 after he was mortally wounded trying to cross the Berlin Wall. After being shot by East German soldiers, he fell into what was called the "death strip," a space between a security fence and the wall itself, and bled to death in front of hundreds of onlookers. Neither the East nor the West came to his aid – both sides apparently afraid of getting killed by the other, or starting a war – and he died alone 59 minutes later.
Playwright Jordan Tannahill takes this real event and imagines a vivid out-of-body experience as Peter is visited by the people he loved in his life during his final minutes. Peter Fechter: 59 Minutes runs at the PCL Theatre at the Arts Barns until Jan 22.
Only in Vegas
What happens in Vegas stays on Instagram – and also for only two more weeks at the Mayfield Dinner Theatre. Reasonable impersonations of Frankie, Sammy, Dino, Elvis, Barry Manilow, Neil Diamond, Wayne Newton, Barbra Streisand, Cher and many more are here in spectacular riot of a show that tries to do too much in one sitting. Much like the feeling you might have after your third trip to the all-you-can-eat salad bar!