MUSIC PREVIEW: Must be January, Blue Rodeo is here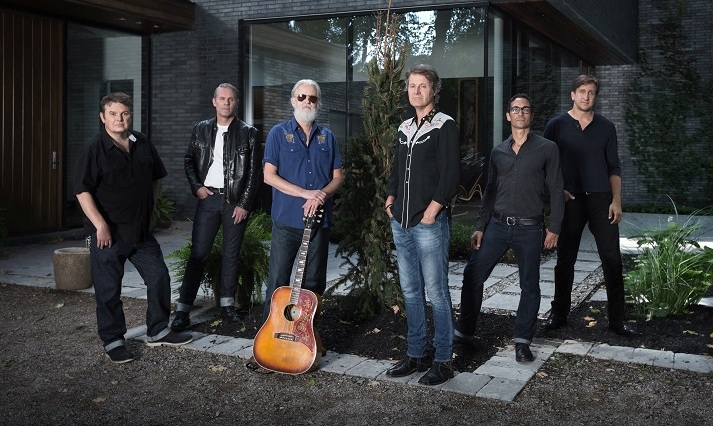 Today on Hinterland Who's Who: Like the swallows to Capistrano, Blue Rodeo returns to Canadian concert halls once again for their annual migration. Behold the wonders of nature!
Wait, are there any swallows left or are they all extinct? Where the heck is Capistrano, anyway? No fair Googling.
Anyway, Blue Rodeo is a perennial Canadian institution, beloved by all, never wearing out their welcome because they always dig deeper to give fans something more to make up for the fact they're here so often. They're like the Grateful Dead of Canada. They're as Canadian as taking a shower in maple syrup after playing hockey while listening to Gordon Lightfoot and sipping a Tim Horton's coffee spiked with Alberta Springs rye whiskey. Blue Rodeo couldn't be more Canadian if they were members of the Order of Canada – and it turns out they are.
With the release of the new album 1000 Arms, the band is aged to a premium smooth finish of tuneful roots-rocky goodness in the epitome of elegant songcraft, with the help of master guitarsmith Colin Cripps – who after his great work in the studio and on stage may now take off his newbie beanie and rightly be called a proper member of the band. He's a real shot in the arm for these guys.
Opening the shows at the Jubilee Auditorium – Thursday and Friday – is a man some consider one of the finest singer-songwriters in Canada, Ron Hawkins (no relation to Rompin' Ronnie Hawkins), former leader of the Lowest of the Low, now with a new group called the Do Good Assassins. Show at 8 pm. Tickets from $33.50.
Friday 20
The Geometrics – The veteran players in this local jazz-rock trio are what we call "schooled musicians" – U of A, MacEwan, Alberta College, and they teach, too – and are expected to be impressive in this new original project, but do they deserve the "rock" in their jazz-rock descriptor? Find out with a night of musical adventure at the Blackbird Cafe. 8 pm, $10
Miles Davis Tribute – Now here's a guy who could rock. Miles practically invented jazz-fusion (jazz + funk) and pioneered the aloof stage presence adopted by so many goth kids to come, simply turning his back to the audience while he played. He said he did it to communicate better with his bandmates, but maybe he was just shy. This weekend, the Juno award-winning Canadian trumpeter Brad Turner (of Metalwood) leads a tribute playing two important Miles albums, Birth of the Cool and Bitches Brew, at the Yardbird Suite Friday and Saturday night. Shows at 8 pm, tickets $26 for jazz society members, $30 for guests.
Saturday 21
Barry Allen and the New Rebels – Around these parts in the 1960s, this guy was a teen dream scream, and while he semi-retired from the stage to enjoy a long career in Edmonton as a record producer, his old band – a reasonable new facsimile thereof – still gets together from time to time. Now Barry Allen has new album, The Speed of Dark, his first in 47 years. Arden Theatre, 7:30 pm, $35 advance
Joey Cape – Do all punk rockers inevitably go folk? Do former punks-turned-folks ever go back to being punk again? It remains to be seen. At the Buckingham on this night, the prolific former Lagwagon frontman performs what is expected to be an intimate, intense show filled with surprises. 8 pm, $25 advance
Diamond Mind – Despite the similarity of the name to a certain Blue Rodeo song, this cool local arty pop band bears little resemblance to the Canadian institution mentioned earlier. No, Diamond Mind is more of an alternative-styled pop outfit: Eclectic, a little out of left field, a little Beatlesque, just perfectly quirky. They're playing the release show for their new album, Heavy Metal Sunshine, whose title is at least half true, at the Sewing Machine Factory. With Living Hour, Daydreaming and Brunch Club. 9 pm, $10 advance
Jake Ian – Got another punk-turned-folkie over here. This guy calls it a "conversion" as if he were a deprogrammed Scientologist or something. It worked wonders in any case. Ian sounds like the for-real deal on honest, heartfelt country-bluegrass songs. He and his band plays an album release show this afternoon at 4 pm at the Empress Ale House. No cover.