Fortune Falls more style than substance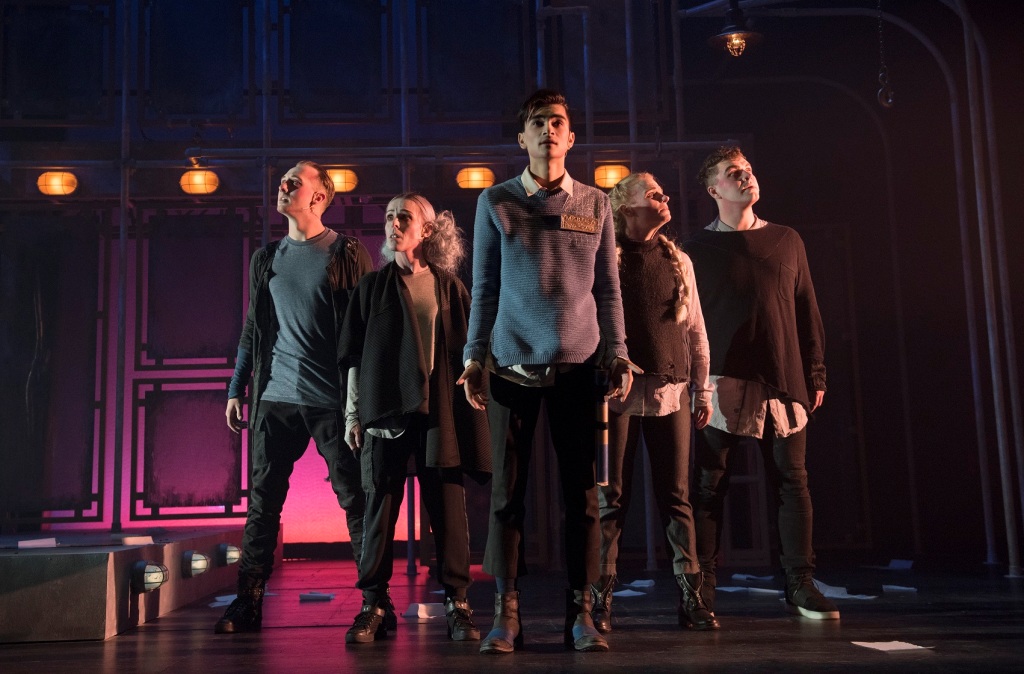 Of Jonathan Christenson's dark Catalyst Theatre off-Broadway production of Nevermore – The Imaginary Life & Mysterious Death of Edgar Allan Poe, one waggish New York reviewer observed, "Quoth the raven – Lighten up!"
It looks as if Christenson took it seriously. His latest musical, Fortune Falls, which plays through Feb. 5 on the Citadel's Maclab stage, is light indeed.
It's still an entertaining evening full of the elements that have made Catalyst one of the most daring and inventive of theatre companies. Christenson writes all his shows (this one with Beth Graham), composes the music and stages all his works with a whimsical, highly theatrical technique. The costumes and sets are often bizarre and the characterizations grand. His staging is subtle and inventive and you marvel at its sheer theatricality. Realism is not his goal but all his shows have demonstrated an ability to probe psychological dreamscapes to capture the real world experiences beyond them. Audiences and critics alike have given themselves over to the extreme, often outrageous concepts, finding themselves, as in many of Tim Burton's movies, greatly entertained.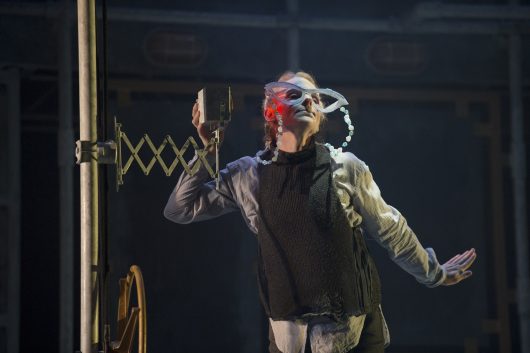 Fortune Falls is certainly a departure for the company. It is contemporary with more of a current synth-pop sound.  The music is uniformly catchy, playful and evocative – composed from a varied palate of the pop music genre. And, it is up front, "present" and well recorded (music production and sound design by Matthew Skopyk).
What the show lacks is the dramatic wallop of his previous works.  The message of Fortune Falls is troweled on and runs to "follow your dream." We get the message long before the characters do, but they keep going doggedly on.
Everett Liddleman (Daniel Fong) lives in the small town of Fortune Falls. He has spent his life hoping for a job in the local economy's only big business, the Mercey Chocolate Factory. His dream finally comes true but, ironically, the company has decided to take the business "off shore." Everett's job is to wander the huge, gloomy, deserted building as "head of security."
Here Kerem Cetinel's set and lighting are a big asset. He creates a dark, creepy space with shaded industrial lights, lot of pipes and huge grimy windows. It is also ingeniously useful – breaking off into whatever physical set the production demands.It is a perfect setting for Everett to move into an interior landscape and, much like the title character in Steven King's The Shining, he begins to see eerie manifestations. They might be ghosts or, more likely, projections of his own self. There is also a vaguely otherworldly feel to Megan Koshka's costumes.
The superlative five member cast moves in fluid precision to Laura Krewski's inventive choreography. They all have big voices and, under Christenson's direction, are strikingly expressive.
Fong plays Everett as a wide-eyed innocent caught up in a world he can't control and doesn't understand. He is so earnest and open that we really want the best for this likeable naif. The other four actors play everyone else. Jamie Tognazzini is a standout as Everett's ever patient mother. Shannon Blanchett (above) has a wonderful time as a crazy lady who seemingly lives in a broom closet. She also plays a delightfully supercilious company martinet. Graham Mothersill is the good ol' boy founder of Mercey Chocolate who has an important message for Everett and Braydon Dowler-Coltman is hissable and a hoot as a fast-talking, opportunistic company con man.
The production elements are impressive but sadly, nothing much really happens. The profound themes of alienation and abandonment are approached but fade away before they are sufficiently developed. This is not the Catalyst Theatre of yore when you were often overcome with waves of powerful emotions.
Photos by David Cooper