REVIEW: Fire from the ashes in Annapurna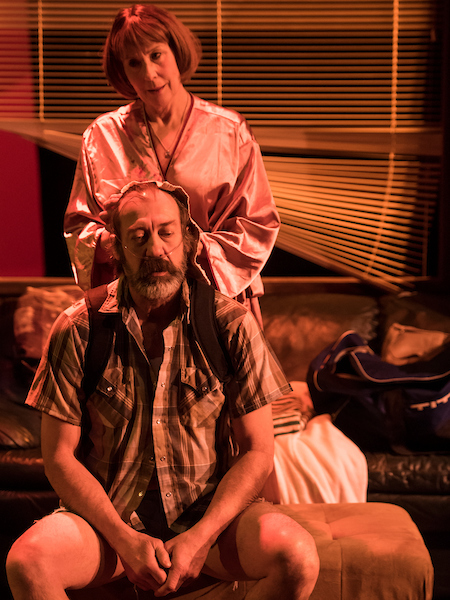 Twenty-five years ago, actors Shaun Johnston and John Hudson put together a new company called Shadow Theatre to present "modern theatre for adult audiences."
A lot has changed. Hudson also still performs, but now is best known as a sensitive director with a deft feel for text. Johnston went on to be a staple of our movie industry. He has appeared in many films (Lonesome Dove, The X-Files, and as Jake in the Edmonton shot series Jake and the Kid) and since 2007 has found what seems to be a permanent home as the grizzled man-of-the-west, Jack Bartlett, in CBC's Heartland. Occasionally he comes back home to appear with the company he helped found a quarter of a century ago.
In the current Shadow Theatre production of Sharr White's two hander Annapurna at the Varscona Theatre, Johnston is united with Coralie Cairns (who first appeared with Shadow Theatre in 1992, in Johnston's play Catching The Train). The play might have been written with the two in mind.
Annapurna begins at full throttle. Emma (Cairns) bursts into Ulysses' (Johnston) filthy trailer high on a Colorado mountain.  Gobsmacked, he can only repeat, "Holy Crap" over and over again. Twenty years earlier she had fled with their five-year old son, Sam, and disappeared.
A one-time poet and university professor, Ulysses has descended into the bottle and pretty well destroyed himself. In fact, hooked to an oxygen tank, he's dying.  And standing there in that disgusting mess, cooking sausages, his dirty apron inadequately covering his bare butt, he is not happy to see her.
It is obvious Emma is not here for a quick visit. She has brought her suitcases and vigorously sets about cleaning up the trailer. We learn that Sam has found out who his father is, and convinced that dad is some kind of reclusive literary god and is coming to visit. Emma wants to clean things up before he arrives. The grizzled derelict just wants to hold his wounds and grievances intact and be left alone to die in peace. Emma is an unwanted but unstoppable life-force. And she is there to clean up more than just Ulysses' littered trailer.
As the clutter disappears into Emma's garbage bags so the story of their lives together is unraveled. White's dialogue is pointed and sparse. He says a lot in a few words of clean, crisp dialogue.
The first moments of the play are based around Emma's blunt intrusion and played for laughs in a series of blackouts. Slowly their two lives are grudgingly pried open for minute examination as the tangles, losses and disappointments are revealed – leading to the raw and monstrous event that has clouded their existence ever since.
In other, less sensitive hands this play could be viewed as the tale of two self-destructive losers who have returned to a marital battle unfinished 20 years before. But that is not the case here. Cairns and Johnston are both accessible performers and some very complex emotions are played out on stage with impressive simplicity. The two make you feel that, somehow, under all those hurting words there is still a hint of affection – the same passions that drew them together in the first place.
Despite his character's crustiness, Johnston allows us to see the one-time promising rebel poet behind this damaged, dying man. Even at his cantankerous worst there is still the hint of the sensitive man he once was. Cairns maintains a touching vulnerability, always imparting that the final emotional stakes are higher then her words suggest. She's a lost soul in full flight from her own troubled life. The two are re-fighting the battle they thought was forever behind them. But still in the ashes that are left, something flickers.
The final moments and the revelation of what broke them apart all those years before are searing.
Hudson's direction is obvious in the subtle interplay of his two actors as he skilfully maneuvers them through shifting emotions. Dave Clark's sound design is supportive without being intrusive and Daniel vanHeyst's set is magnificently grungy while his lighting on a distant mountain tracks the passing hours.
Photos by Marc J. Chalifoux