PLAYBILL: The end of the world as we know it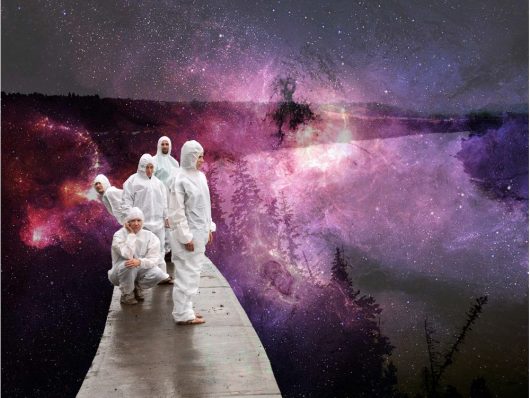 A group of scientists sequestered in a secure facility in the Far North are tasked build a device that will destroy the sun. Why? Who knows? But Star Killing Machine a musical comedy! How's that for a twist?
They can make anything into a musical comedy these days – and the world is better for it. Some ideas – like the end of the world as we know it – are so fraught with complicated emotions that only songs will do them justice.
This new musical by Clinton Carew (book and lyrics) and Kris Schindel (music) treats the impending Apocalypse with blithe abandon in the setting of workplace comedy, before veering into what is said to be a surreal black comedy that grapples with the big questions of life, death, the universe and everything.
Plays at Transalta Arts Barns Backstage Theatre until Jan. 29.
Disgraced
The racially-mixed quartet of characters in Ayad Akhtar's play break mom's rule about no religious talk at the dinner table. It surely wouldn't have won Pulitzer Prize if they'd talked about the kids, sports and weather now, would it? The Islamophobia theme of this 2012 play still resonates today.
Runs in the Citadel's Shoctor Theatre until Feb. 12.
Annapurna
Shadow Theatre alumni Coralie Cairns and Shaun Johnston are strong as an estranged couple reunited by extraordinary circumstances in Sharr White's poignant romantic dramedy. When she barges in on him after walking out with the kid 20 years before, sparks fly and the laughs are copious – but again deep questions about love are explored.
At the Varscona Theatre until Feb. 5.
Fortune Falls
Jonathan Christenson's new musical about a (chocolate) factory town fallen on hard times is rich with all the theatrical creativity Catalyst Theatre is known and loved for. While the story may be weak, maybe a work in progress, the music – in a synthpop style – the songs, the acting, the sets and pretty much everything else about this remarkable play make for an enthralling experience.
Fortune Falls plays at the Citadel's Maclab Theatre until Feb. 5.
Henry V
Turns out gender isn't a big deal in this terrific production at the Holy Trinity Church. If you can imagine that an epic battle can take place on a theatre stage, or that boys could play the parts of women, then you might accept that a woman can play the lead role in one of Shakespeare's most violent, testosterone-laden plays. Actress Brynn Linsey is so strong in the role that gender becomes a moot point. Shakespeare's immortal words remain as powerful as ever.
Henry V plays until Jan. 28.
Only in Vegas
One more week for this spectacular Vegas revue in the Mayfield Dinner Theatre. A cast of impersonators of Frankie, Sammy, Dino, Elvis, Barry Manilow, Neil Diamond, Wayne Newton, Barbra Streisand, Cher and many more perform until Jan. 28.
Next show up for the Mayfield: Baskerville: A Sherlock Holmes Mystery, Feb. 5-April 2.