PLAYBILL: Fashionable Cinderella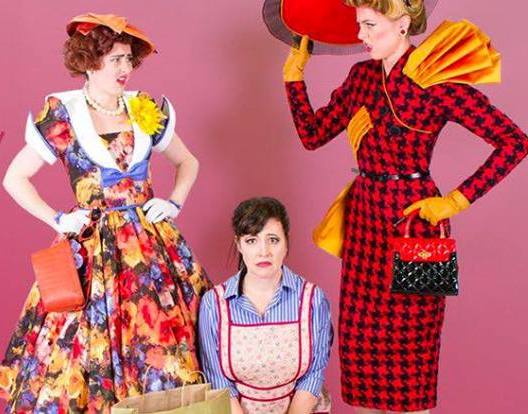 Let's face it: Most Cinderella stories do a bad job when it comes to the clothes.
It's usually set in medieval times, first of all, when muddy rags were all the rage. And trained magic birds can only do so much: Sewing her frumpy, froofy, glittery, totally unsexy gown in story after story. The pretty dress is just going to get orange schmutz all over it because the carriage was a pumpkin, anyway, and the horses are skittish because they used to be mice, and the glass slippers would break and cut up your feet in about two seconds on the dance floor … daddy, I don't like this story!
Fret no more. The Edmonton Opera has given Cinderella a makeover, setting Gioachino Rossini's opera in the 1950s at the height of haute couture where mean girls ruled and Anna Wintour would feel right at home. The inventive costuming by Deanna Finnman is but a part of the grander scale of this venerable Italian opera, said to be a "dramma giocoso" – drama with jokes – in the "bel canto" style, a smooth and lyrical way of singing opera (as was Rossini's previous work, The Barber of Seville).
With the Edmonton Symphony Orchestra and a large ensemble cast, the lead role in Edmonton is mezzo-soprano Krisztina Szabó, with hometown tenor John Tessier as Prince Ramiro – who spends a lot of time touching girls' feet in his quest to find his true princess. Let's not go there.
Fun fact: La Cenerentola, ossia La bontà in Trionfo (Cinderella, or Goodness Triumphant) – which switched out the wicked stepmother for a wicked stepfather long before this sort of thing became fashionable – premiered exactly 200 years ago!
Cinderella plays at the Jubilee Auditorium Feb. 4, 7 and 9.
Disgraced
Anyone for an after-dinner coffee? The racially-mixed quartet of characters in Ayad Akhtar's play break mom's rule about no religious talk at the dinner table – and it gets ugly. It surely wouldn't have won Pulitzer Prize if they'd talked about the kids, sports and weather now, would it? The Islamophobia theme of this 2012 play still resonates today.
Runs in the Citadel's Shoctor Theatre until Feb. 12.
Annapurna
Shadow Theatre alumni Coralie Cairns and Shaun Johnston (right) are strong as an estranged couple reunited by extraordinary circumstances in Sharr White's poignant dramma giocoso. When she barges in on him after walking out with the kid 20 years before, sparks fly and the laughs are copious – but deep questions about love are explored.
At the Varscona Theatre until Feb. 5.
Fortune Falls
Jonathan Christenson's new musical about a (chocolate) factory town fallen on hard times is rich with all the theatrical creativity Catalyst Theatre is loved for. The story is a bit weak, maybe a work in progress, but the music – in a synthpop style – the songs, the acting, the sets and pretty much everything else make for an enthralling theatrical experience.
Fortune Falls plays at the Citadel's Maclab Theatre until Feb. 5.
Date Night
How much would pay to hang out with Matt Alden? Or have a character named after you in an Irrelevant Show segment and be humiliated on national radio? Or star in one of Rapid Fire Theatre's wacky sketches?
The sky's the limit in this annual fund-raiser for the comedy company's Improvaganza, happening in June.
Along with live entertainment from a who's who of Edmonton's comedy theatre scene, there will be snacks, drinks, a silent auction and also a live auction in which Rapid Fire's cast of performers are sold like cattle. Important disclaimer: Some services might cost extra. Please negotiate terms with your rent-a-date. Also, you don't actually have go on a date the person whom you've bought. You can take your own.
Date Night happens Saturday, Feb. 4 at The Club in the Citadel Theatre. Admission from $25, BUY