PLAYBILL: Let's talk about love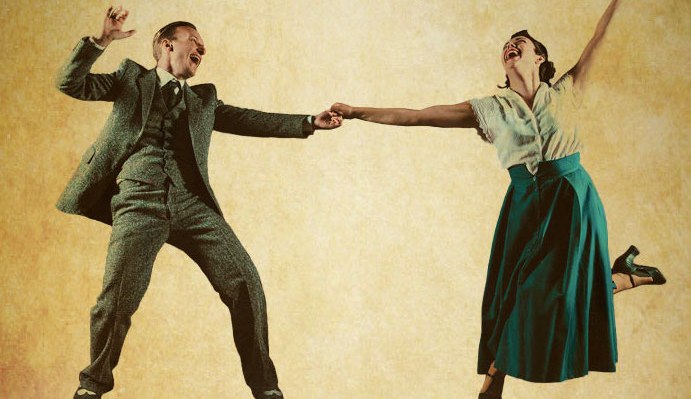 There have been more love songs on the subject of love than any other self-referencing genre, such as rock 'n' roll songs about rock 'n' roll, or dance songs about dancing – although "love" is technically not a musical genre, so never mind.
OK: There are more love songs than any other kind of song. Just do the math. The good folks at Plain Jane Theatre most certainly have. They're mounting a new show, Ah, Romance!, a Revue of Song, Dance, and Other Passionate Musings at the Varscona Theatre Feb. 16-25.
The revue stars a crack team of Edmonton musical theatre personnel and at least one comic actor: Jocelyn Ahlf, Jason Hardwick, Madelaine Knight, Ron Pederson (hint: he's the comic, former star of Mad TV) and Gianna Read, with director Kate Ryan, and will feature twists on numbers from such Broadway staples as The Music Man, She Loves Me, and The King and I. Also in the programme are songs from the lesser-known musicals 1776, The Rink and On the Twentieth Century, and more recent works The Light in the Piazza and Fun Home.
Make it a date for Valentine's Day – a little late, but it's the thought that counts. Am I right, guys?
Chinook Series
It turns out that this second annual event combining the work of at least three different local theatre companies is not "The Winter Fringe."
There are no green onion cakes. There are no street buskers outside. And perhaps most importantly, all the productions happening in the ATB Financial Arts Barns until Feb. 19 are curated, unlike the Fringe, where they are not. Also there aren't 300 performances over 10 days of madness – just dozens in a lesser madness, which should be plenty.
Plays include the 2013 Fringe hit Countries Shaped Like Stars; Moi, Monsieur, Moi, a one-woman coming of age story set in Senegal; and Brotherhood, the Hip Hopera. Also featured are Black Arts Matter showcases, performances from the Expanse dance company, along with seminars and workshops for artists or anyone interested, which kind of makes this as much conference as festival, doesn't it? Chinook Conference has a ring to it.
Chasing Willie Nelson
There's one performance of this show left at the Capitol Theatre in Fort Edmonton Tuesday night at 7:30 pm – so you could still make a Valentine's date.
Singer Andrea House and her five-piece band explore one of the best country artists of all time – no, not Garth Brooks – with a mash-up of song and storytelling about the life of Willie Nelson. He may look the part of the pot-smoking rebel, and has a heck of a backstory, but Willie is one of the most romantic singers in the business. To all the girls he's loved before, move over, Julio.
Kinky Boots
If you're into Cyndi Lauper, beautiful shoes, and big musicals – and let's face it, who isn't?! – you won't want to miss this spectacular production coming to Edmonton this week from Broadway Across Canada. Lauper won a Tony Award for the music, with the book (what they call the "story" in musical theatre-ese) written by Harvey Fierstein. It doesn't get much more gay than this.
The musical is based on the 2005 movie about a man who inherits a shoe factory, and the wild woman seeking fine footwear who comes into his life. It plays at the Jubilee Auditorium Feb. 14-19.
Bust
In the world premiere of Matthew MacKenzie's very Albertan play, two couples in Fort McMurray grapple with personal issues on top of everything else that happened after the disastrous fire of May 2016. The play is suffused with mystery and drama, as a series of unexplained events throws light on what reads as some pretty bizarre behaviour. What are the wives doing scrambling around the burnt forest? What are the husbands digging for? Did they blow all their rig money on coke? What does a PeeWee hockey game have to do with it? And was that terrible fire caused by global climate change or what?
Aside from the political issues, Bust hits particularly close to home for Theatre Network, whose Roxy Theatre headquarters burned to the ground two years ago.
The show plays until Feb. 26 at The Roxy on Gateway.
Footloose
From just one song so many careers were launched – Kenny Loggins, who wrote it in 1983; Kevin Bacon, who starred in the bad movie of the same name a year later, all the people involved with the (somewhat better than the movie) hit 1998 Broadway musical, and then all the touring productions since. Such a hard working song.
With a goosed-up story revolving around a reverend who forbids dancing, and a stellar cast of young performers who dance anyway, the MacEwan University Theatre presents Footloose: The Musical at the John L. Haar Theatre until Feb. 18 – last play in the old John L. Haar Theatre before the entire MacEwan arts program moves downtown.
The Government Inspector
Imagine Fawlty Towers set in a totalitarian regime and you may begin to grasp the dark satire set forth in Russian playwright Nikolai Gogol's tale of how the coming of a government inspector sends village elders into a tizzy.
The play is presented by the U of A' Studio Theatre at the Timms Centre for the Arts until February 18.
Ken Ludwig's Baskerville: A Sherlock Holmes Mystery
Be on the lookout for a murdered Lord, enigmatic servants, sinister neighbours, a hellhound on the moors, a haughty young heir in danger, a nauseous Swedish frau, and the most famous private dick in history. Who done it? Holmes will figure it out, or maybe Watson. Perhaps there's a dog involved. Anyway, the game is afoot and the stakes are high in the Mayfield Dinner Theatre's new production – playing through April 2.
Bello
Another week, another world premiere – and in both of Canada's official languages, no less! This time it's Edmonton's Governor General Award-winner Vern Thiessen and his tale of a lonely little boy's encounter with an alleged witch. Shades of Harry Potter, maybe, but not really. More about learning to accept people different than us. Memo to Trump.
Directed by Mieko Ouchi and a co-production between Concrete Theatre and L'Unithéâtre, Bello will be staged like a radio play (with live sound effects and such), telling stories based on the fables of the Mennonite Ukraine of the 1920s.
Bello runs three performances Feb. 17-18 at La Cité Francophone. The Saturday "pay-what-you-can" 2 pm matinee will be in French, with no subtitles – so vous avez mieux apprendre plus Francais, non?