Jazz marries classical in Obsessions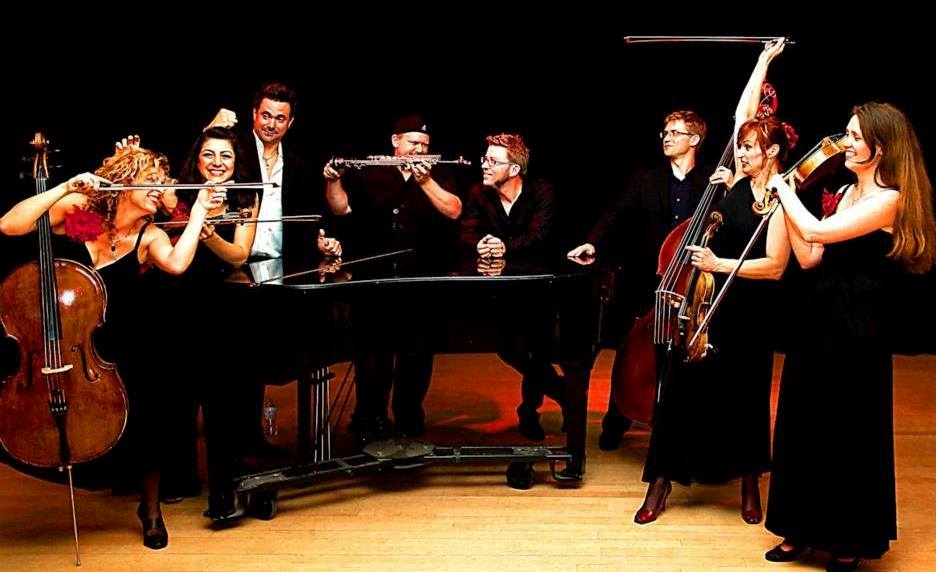 So a string quartet and a jazz combo walk into a bar, hit it off, fall in love, and spend the rest of their lives making beautiful music together.
It happened almost exactly like that for the Obsessions Octet, a uniquely original Edmonton group playing the release for its third CD, Steppin' Up, Thursday at the Needle Vinyl Tavern. Lush, evocative and smoothly cinematic, this music transports the listener to another time and place: Perhaps in the 1940s, the place somewhere near Argentina, maybe, or part of the soundtrack to a 1960s movie set in Italy, during the part where Rock Hudson and Gina Lollobrigida speed down a winding mountain road in a Ferrari. Find your own imagery. Some music can do that.
These musicians are what we call "heavy cats." Kent Sangster, who leads the band and writes most of the songs, plays sax in his own jazz quartet; he's head of the composition and arranging program at MacEwan University; and is the artistic director of the Edmonton Jazz Festival. His wife and violinist Joanna Ciapka-Sangster holds a Master's Degree from the famed Academy of Music in Poznan, in Poland, where she was born and raised, and is a core member of the Edmonton Symphony Orchestra.
They met not in a bar, but at a Halloween party about 24 years ago. Sangster had just started teaching at MacEwan and was coming from a gig, he recalls, so he didn't dress up.
"I was met by this nun at the front door," he says. "I couldn't really tell what she looked like because she had all this goth make-up on. She just referred to me as professor because she was a friend of the person I was teaching – and that's how I met her."
They talked, they dated, yada yada yada, the usual story. They found common ground in the music of Astor Piazzolla, who is, Sangster says, to Argentina what Carlos Jobim is to Brazil. They attended a concert featuring Piazzolla's music, distinguished by the bandoneon, that evil-sounding little accordion prominent in tango music (and also the creepy film Naked Lunch). Sangster liked the sound of it.
"Joanna and I had talked about doing a project together, and that was the moment," he says. "I made a joke that the bandoneon has a reed, so I figure we'll just take that out and put in a sax."
And so the Obsessions Octet was born. It is in fact a string quartet added to a jazz quartet. Shows came first, and their 2006 debut album, Obsession, contained a number of Piazzolla pieces. Sangster reveals they had an argument about the Juno Awards. Wife had wanted the record submitted, husband didn't think it should be, being so busy and all. "But she was pushing that and I'm glad we did, because it did get nominated," Sangster says. "We knew we had something. It is accessible. It's not really far reaching music. There is some jazz. There are classical elements. But there's a crossover."
The new album continues to seal the seams between these two seemingly disparate genres. They even incorporate electronic elements, putting a new twist on Chopin's Preludio In E Minor, Op. 28 No. 4.
There are challenges in getting jazz and classic people to play nice together, Sangster says. Some legit players might look down their noses at jazz as a lower art form, while the jazz guys might sneer that classical players couldn't improvise their way out of a wet paper bag. There's got to be some middle ground.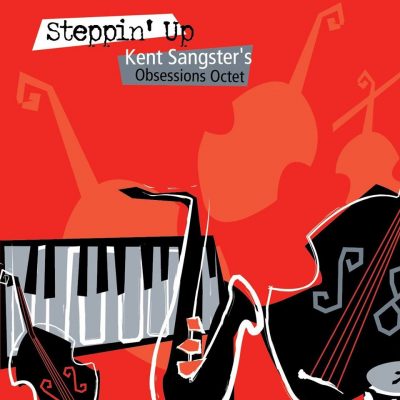 Sangster says, "The basic challenge we found is that the jazz musicians have to completely step up their game in terms of playing dynamically. The classical players will use far greater dynamic ranges. A string quartet will never be as loud as a saxophone and a snare drum. That in itself is the problem. When we played the small hall at Carnegie Hall, we didn't have any amplification. You have to play much more quiet. It's significant effort to play as quiet as string quartet.
"And the thing that the classical musicians still struggle with is the reference to where the time is. So in the first record and the first few concerts, I had to conduct  – even with a drummer. They have to learn how to feel four measure phrases, and to have the confidence to feel what's around you."
Married for almost 12 years, with their oldest child of two a music student at MacEwan, the Sangsters apparently differ when it comes to using their music for movie soundtracks. Kent's own students have said it's perfect, he says, "and we had a reviewer once in Poland: 'It's a really good ensemble, not really jazz but more like live movie music.' And Joanna kind of probably took it as a bit of a snub. I myself don't take offense at it."
Let's hope they work it out.