REVIEW: Kinky Boots a really good shoe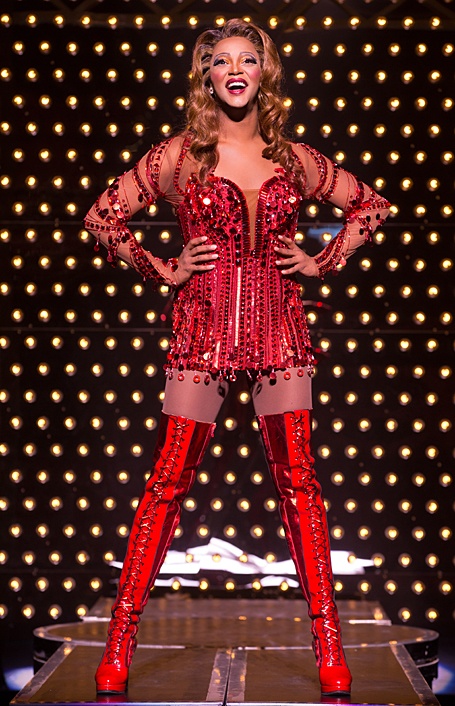 Back in 1983, a punk princess in goofy makeup, bargain basement wardrobe and disordered hairdo told the world that Girls Just Wanna Have Fun. The world listened.
Cyndi Lauper's music and fizzy personality was bright, happy and upbeat. She became the queen of the newly emerging MTV, went on to reign in every nook of show business (winning Grammys, Emmys and Tonys) and becoming a strong voice for tolerance.
In 2013, she teamed with the accomplished Broadway pro Harvey Fierstein (Fiddler on the Roof, Torch Song Trilogy, La Cage Aux Folles) in the sizzling Broadway smash Kinky Boots – now sashaying its sequined way in eight inch heels across the stage in the Broadway Across Canada production at the Jubilee Auditorium until Feb. 19.
This is another Broadway musical based on a style of British films about how the Brits found ingenious ways to cope in times of financial stress (Billy Elliot, The Full Monty etc.). The 2005 film Kinky Boots tells of young Charlie Price (played on the Jube stage by Curt Hansen), who inherits a failing shoe factory. He forges an implausible relationship with a cabaret performer and drag queen named Lola to produce precipitously high heeled boots for the LGBT trade.
Kinky Boots demonstrates that Lauper's music is more than just bubble gum. She delivers a smart, sweet and quite irresistible score (and lyrics) that taps as much into the Broadway musical tradition as it does into her background in blues, punk, pop and rock. She assigns each character a specific musical imprint – unlike many other pop musicals where the songs tend to mirror the sound of the composer.
Ms. Lauper isn't actually in the show, but she is certainty a presence.
Ace director and long-time Broadway vet Jerry Mitchell has assembled a large company of superbly talented performers, but much of the success of the show is due to the headliner. As Lola, J. Harrison Ghee (above) is a fierce performer with a tattered elegance in the grand drag queen style – with a big showboating voice and sassy personality. Ghee gets three of the biggest songs, the disco ditty Sex Is In The Heel, the touching Not My Father's Son (a duet with Hansen) and the Whitney Huston-like power ballad Hold Me In Your Heart.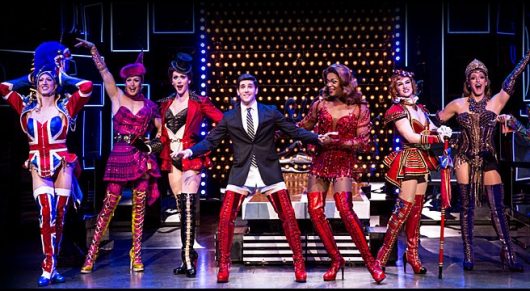 Observes one character, "Whenever you leave a room, there's always a big gaping gap."
Hansen, who is also a fine actor, plays the dogged shoemaker as a man who doesn't know quite what to make of the bizarre creature he has hired to design his new line of boots. He also gets a show-stopping power ballad, Soul of a Man, that shows off his dazzling tenor voice.
In the way of these things, the uptight Charlie and the outrageous Lola find that they are not so different after all in a genuinely touching climax.
With its universal message of inclusion, Kinky Boots is a rousing entertainment with great music, oversized performances and a beating heart. Go see it.