Garth Brooks raises hell in Edmonton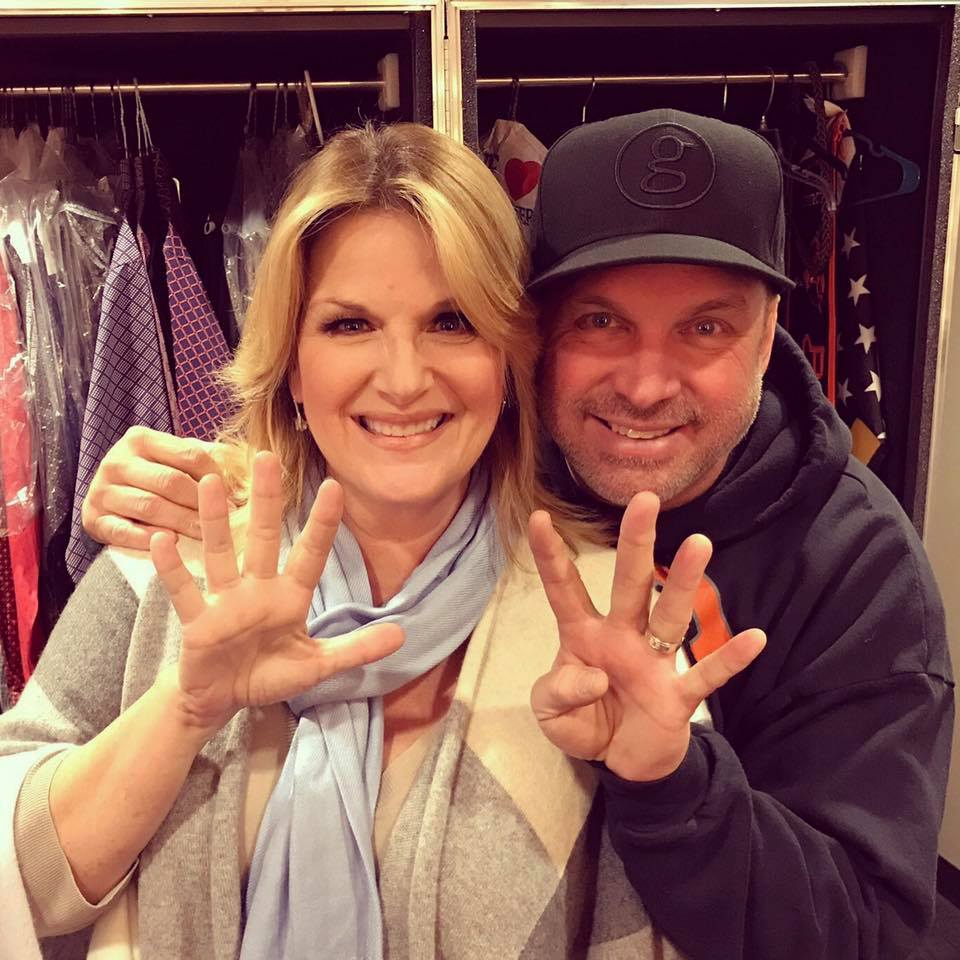 The feeling at Rogers Place for Garth Brooks was electrifying on Friday night.
"It's a once in a lifetime concert!" said one couple among 20,000 fans; there was another older couple who drove all the way from Oregon for the first of an amazing NINE shows in Edmonton – and it truly was.
After 21 years away, the 55-year-old country superstar walked onto the stage to deafening roar that filled the new hockey arena. Garth said he came back to Edmonton to "raise some hell," and he certainly did. His talent and stage presence captivated the audience as he performed classics like The River and Standing Outside the Fire. The crowd loved the older hits, just as he mentioned he used to when he was a young man, and "spent money to sit in seats like you, to hear classics." Then he did The Beaches of Cheyenne.
Although there were countless memorable moments in a two hour show, one that was special was when Brooks took the time to perform a few songs solo. He really connected with just his acoustic guitar and voice. Knowing that many in the crowd had traveled miles to hear his song The Thunder Rolls, he definitely didn't disappoint them. Making use of video screens that traveled into the audience, with images lightning and rain, Brooks was able to set the tone and atmosphere for one of his more controversial songs. The song deals with domestic abuse.
Being the incredible, supportive artist he is, he of course introduced his band: Showing slides of everyone's credentials, like the talents of Dave Gant on fiddle, who was amazing; and giving credit to his 50-plus team of stage hands. Brooks put so much energy and fun into the show it was certain he wanted to make a lasting impact. As Garth took one of the cameras into his own hands to shoot the crowd from his point of view during the classic song Ain't Going Down ('Til the Sun Comes Up), it really drew the audience in to see a better perspective of what it's really like to be up there on the stage.
Mid-show, Garth took a break and gave the stage over to his wife Trisha Yearwood, who took control and was a smash hit with the crowd. Her opener American Girl got everyone singing along.
Yearwood made a heart-wrenching impact on the crowd talking about her experience with cancer.
"The Big C has impacted so many lives," she said, as images were shown of her and her girlfriends at breast cancer runs, and a picture of her mother, who died of the disease in 2011.
Words flashed on the screen: "Always for you, mama."
After she performed She's in Love With a Boy, her husband came back on stage and gave her a kiss – a very sweet, intimate moment which continued to be a theme throughout the rest of the night. Brooks had a "kiss cam" set up for most of the rest of his show, catching lots of cute couples, young and old.
Garth reclaimed the stage on his own as he sang what he said his favorite song to perform live: Baton Rouge, which proved to be true with the crowd as well. The use of wraparound screens was brilliant and dynamic as he used imagery to tell a story, as with like the old neon signs for Two Pina Coladas.
Brooks closed the show with one of his most popular songs, Friends in Low Places, followed by The Dance, his first No. 1 – and it was a sure fire hit with the classics-loving Edmonton crowd. There weren't a lot of new songs.
Garth Brooks is and will continue to be a charismatic performer as he continues to tour, winning the hearts of country lovers of all ages.
His final words to the audience Friday night were "Edmonton, thank you for always believing!" Boy, did we ever!
The night started with two opening acts. The first was Nashville songwriter Karyn Rochelle, who's been friends with Garth and Trisha for over 12 years. She's has written for and with Kellie Pickler and Terri Clark, among others, and her performance stole the hearts of the audience. "I'm gonna sing a song about my first love, country music," she exclaimed as she performed her beautiful piece, Summer's Like That, with a lyric video she added to the song that was simply stunning.
The crowd screamed as the second act came on stage: Alberta born Brett Kissel. Having simply himself, an acoustic guitar and of course his Oilers jersey to entertain 20,000 people is not an easy task to undertake. He did it as easily as if it was a Gretzky hat trick. As he sang out the words to his hit song Tough People Do, he mentioned it was for his grandparents – a point which really hit home for so many in the audience Friday night.
Another Garth in the making?
The concerts in Edmonton continue until Feb. 25.
Top photo (backstage in Edmonton) from Garth Brooks official Facebook page