PLAYBILL: Hello, Buttercup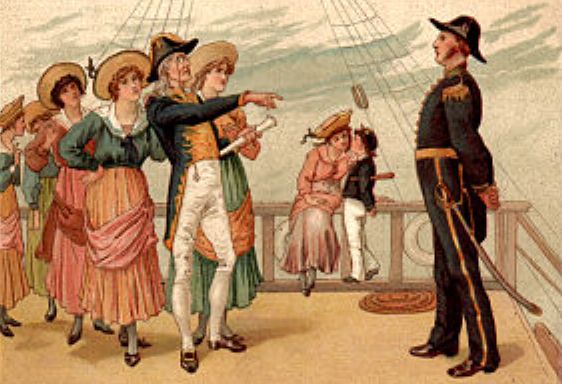 I am the very model of a modern Major-General, I've information vegetable, animal, and mineral, I know the kings of England, and I quote the fights historical, from Waterloo to Afghanistan, in order categorical!
Whoops, wrong operetta … the one Opera NUOVA is doing down at the Capitol Theatre in Fort Edmonton Park this weekend is not The Pirates of Penzance (where our modern major general comes from), but another Gilbert & Sullivan gem: H.M.S. Pinafore, which also has a nautical theme. Producers are promising a new twist on the nearly 140-year-old comic opera, with a new script and score by Australia's Essgee Entertainment, said to blend the spirit of the original with more contemporary musical theatre.
H.M.S. Pinafore plays Feb. 22-26.
Life, by Balletboyz
Ten powerful male dancers … loud, sexy, exciting … astounding choreography …
You had me at 10 powerful male dancers.
So the glowing taglines read for the cutting edge dance troupe Balletboyz, all the way from London, England, like Billy Elliot writ large, if not exactly classical ballet. With expected Cirque-like strength and precision, the lads will be performing the original work called Life, accompanied by live musicians, at the Jubilee Auditorium Feb. 24-25 at 7:30 pm, presented by Alberta Ballet.
Bust
In the world premiere of Matthew MacKenzie's new play, two couples in Fort McMurray grapple with personal issues on top of everything else that happened since last year's disastrous fire. The play is suffused with mystery and drama, as a series of unexplained events throws light on what reads as some pretty bizarre behaviour. What are the wives doing scrambling around the burnt forest? What are the husbands digging for? Did they blow all their rig money on coke? What does a PeeWee hockey game have to do with it?
Aside from the political issues, Bust hits particularly close to home for Theatre Network, whose home the Roxy Theatre burned to the ground two years ago.
The show plays until Feb. 26 at The Roxy on Gateway.
Ah, Romance!
Hoping to extend Valentine's Day just a little longer, Plain Jane continues its new romantic revue, Ah, Romance!, a Revue of Song, Dance, and Other Passionate Musings at the Varscona Theatre until Feb. 25.
The show stars the canny veterans Jocelyn Ahlf, Jason Hardwick, Madelaine Knight, Ron Pederson and Gianna Read, with director Kate Ryan, and will feature comic twists on numbers from Broadway staples as well as more recent works. Still good for a date night.
Ken Ludwig's Baskerville: A Sherlock Holmes Mystery
The clue isn't that the dog barked – but that the dog didn't bark, indicating the dog knew the murderer. This of course fails to take into account that dogs bark at anyone and anything, friend or foe: other dogs, cats, people, cars, bicycles, rabbits, squirrels, mice, wind, random sounds, the furnace turning on and for the sheer hell of it all day and all night. Shut up! God damn it, shut up! Maybe the dog was murdered. Maybe the victim didn't even own a dog – and so our mystery deepens.
Much marvelous mysterious madcap mayhem is expected in the Mayfield Dinner Theatre's new production: Ken Ludwig's Baskerville: A Sherlock Holmes Mystery – written by Ken Ludwig, who is such a master at this sort of thing that his very name is in the title –  playing through April 2.