MUSIC PREVIEW: Garth still here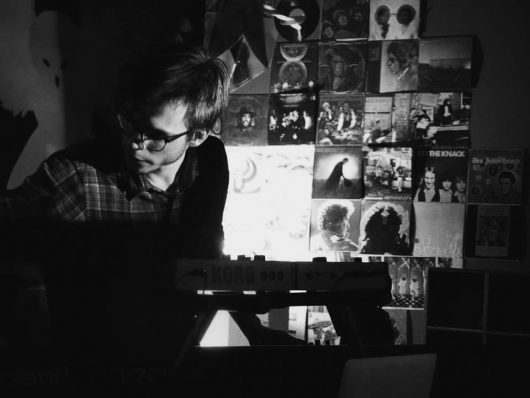 Unbeknownst to many (ha ha), Garth Brooks continues his epic stand in Edmonton with more shows this weekend, including gigs Thursday, Friday, and Saturday. Rave reviews abound from anyone and everyone who saw any of last weekend's efforts, not only for Garth himself, but the entire band as well. Check for ticket availability here.
For those of you who did see Garth last weekend, or weren't interested anyways, there are a lot of other great local bands playing around town, and some great touring acts as well. In fact, the Sewing Machine Factory might be the place to hang out all weekend, with a couple of release parties on the weekend, including one of Edmonton's current favorite projects, Pyramid//Indigo, on Sunday. Some call it ambient. Some call it drone. Some call it psychedelic. Some call it experimental. Whatever you call it, Pyramid//Indigo (pictured) plays this sort of music – or sorts of music. This will be their first show since October, and apparently they've got some brand new drones and visual setup for lucky attendees. Wares, Conjvr, and Soft Ions will also perform. Show at 8 pm, tickets $10 at the door.
Thursday 23
Pierce the Veil – Described as both post-hardcore and pop-punk, though band members would probably prefer the first description, this San Diego band was formed in 2006, and has four albums to their credit. They're currently touring to support their most recent effort, last year's Misadventures, which received very positive reviews across the board. Most of the material was written during two recent North American tours and one European trek. Opening the show at the Shaw Conference Centre will be Falling in Reverse, and Crown the Empire, 6pm, $32.50. BUY
Lucette – Heart-wrenching and gut-pulling, this extraordinary songstress will take you on a journey that is at once both surreal and spellbinding. Sean Hamilton and Luke Thomson also perform. Buckingham, 9 pm, $10.
Friday 24
Whitney Rose – From Prince Edward Island to Austin, Texas, this country-pop sensation is doing a quick tour across the continent to support her newest EP, last month's South Texas Suite, in many ways an ode to her new home. Northern Beauties and Breakers will also perform. Almanac, 7 pm, $15. BUY
Gary Debussy – Hard to believe, but this local project is finally releasing their debut cassette, on Double Lunch Records. About high time. They will be joined by Lay Of the Land, Preston, and Bong Sample. Sewing Machine Factory, 9 pm, $10. All ages.
Saturday 25
Joey Landreth Trio – Joey of the well-heeled The Bros. Landreth has set forth on a solo career, and this weekend marks the first time he brings this material to our fair city. If it's half as good as The Bros. Landreth, everyone's in for a real treat. Mat Cardinal and the Sins, and Caleb Hart are also set to perform. Almanac, 7 pm, $14. BUY
Spanish Flies – From Peru to the mean streets of Edmonton, this project is hosting a release party for their EP, Ignorance Is Bliss. The psych-pop band is joined by their friends Abandon Your Town. Sewing Machine Factory, 8 pm.
Latcho Drom – This local project is also hosting a tape release party this weekend, for their album titled Whiteout. The alt-indie veterans have been producing sounds of various accords since 2012. Soft Violence, Old Crows, and Doom Patrol are also on the bill. Mercury Room, 8 pm, $10. BUY
Matthew Good – This CanCon staple of indie rock has been releasing music since 1995, split into two eras. The first, where the project was known as the Matthew Good Band, started with 1995's Last of the Ghetto Astronauts, and included 1999's Beautiful Midnight; and then he went solo. Both eras have spawned some sensational radio hits, including Alabama Motel Room, Everything Is Automatic, and Hello Time Bomb from the first era; and Alert Status Red and In A World Called Catastrophe from the solo era. Matthew Good has released an EP this year, titled I Miss New Wave: Beautiful Midnight Revisited, that recrafts, reworks and reshapes five of the songs off of that 1999 effort. Craig Stickland is also on the bill. River Cree Resort, 9 pm, $42 and up. BUY
Sunday 26
Andy Black – This is the monicker for Andy Biersack's singer-songwriter solo project, which he began in 2014 and which released its debut album The Shadow Side last year. Biersack, of course, is more famously known as the lead vocalist and only remaining original member of Black Veil Brides, a Cincinnati-based metal band whose most recent album was an eponymous effort in 2014. Starlite Room, 6:30 pm, $28.50. BUY