PLAYBILL: Chekhov gets pecked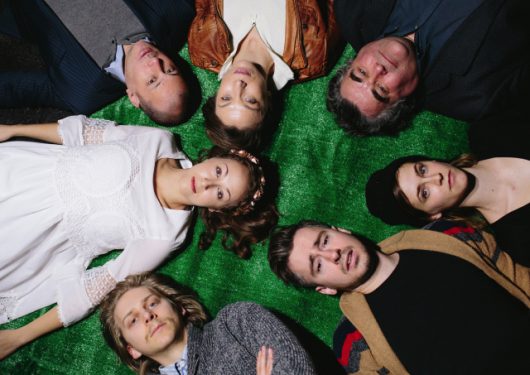 As if Anton Chekhov weren't weird enough that he needs modernizing, what with that creepy story about him turning into a cockroach … whoops, wrong depressing Eastern European and/or Russian author. Kafka was the bug. Chekhov is the cipher.
The work set to the thumb screws here is Chekhov's The Seagull, considered a masterpiece despite the extremely negative reception on opening night in 1896. People apparently didn't get the subtle subtext of the piece. All these years later, the subtext has been amped up in a "bold and cheeky" new version by playwright Aaron Posner. The title is hilarious on its own: Stupid Fucking Bird – somewhat more than a parody, somewhat less than a homage, playing March 1-12 at the Backstage Theatre in the ATB Financial Arts Barns.
In a press release, Posner says, "What has emerged, I hope, in this rough-and-tumble, meta-theatrical mash-up, is a deliberately unfaithful re-imagining that I hope will challenge, amaze, engage, and delight."
Stupid Fucking Bird is the second show from the fledgling Edmonton Actors Theatre. Boom! Bird reference. Tweet that.
Sphinxes
What happens when gender issues collide with comedy improv? Look at any marriage – am I right, guys?
In honour of what is turning into a month-long celebration of International Women's Day, Rapid Fire Theatre is giving the guys a break and starting a new series of shows that run every Saturday at 7:30 pm in the Citadel Theatre. Sphinxes will focus on stories led by women or "gender non-binary" persons. The press release reads: "We hope to challenge audiences' assumptions of woman-centric stories, and to explore femininity as a concept. Plus, it'll be fun! Hilarious in fact!"
The Mommy Monologues
We have a running theme here. Starting off the annual Skirts Afire HerArts Festival in March is a collection of monologues that seek to explode stereotypes about motherhood: The Mommy Monologues, which might be seen as a natural extension of the other famous play about monologues, and it's based on real experiences, too. Written by 11 renowned Edmonton women, all of whom either are, or have, a mom, and performed by Coralie Cairns, Mary Hulbert and Chantelle Han, the show plays March 2-12 in the Cabaret Theatre at the Alberta Avenue Community League. The festival proper kicks off March 9.
Crazy for You
Ken Ludwig has given Gershwin a full blown musical facelift – and the result was a trifecta of Tonys and one popular touring show after another. Is there nothing this guy touches that doesn't turn to gold?
Crazy for You is the Citadel Theatre's latest big production, running March 4-26 on the Shoctor Stage, a story of a wealthy landlord who has second thoughts about foreclosing on a beleaguered theatre – after he falls in love. Cue Embraceable You, They Can't Take That Away From Me, Someone To Watch Over Me, and many more distinctive songs that helped define a good chunk of the 20th Century.
Ken Ludwig's Baskerville: A Sherlock Holmes Mystery
Ken Ludwig strikes again – and this time there's a murder. Who done it? There will be no spoilers here. You'll have to see for yourself and experience this marvelous mysterious madcap night of mirthful mayhem at the Mayfield Dinner Theatre until April 2.