Colin James phones it in sick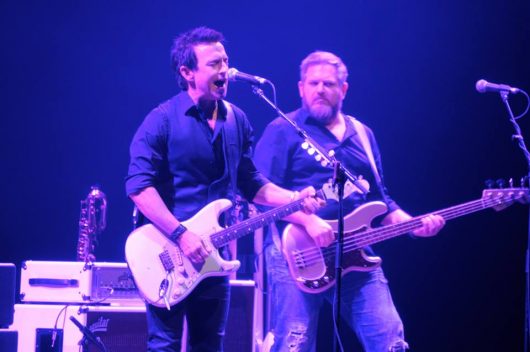 About four songs into Thursday night's nearly sold out show at the Jubilee Auditorium, Colin James figured he'd acknowledge the giant elephant sitting in the corner – as the rasp in his voice and evident lack of energy made the score pretty clear.
He was sick.
"Winnipeg was brutal," he said of the show there last week, "but I'm glad now the cold is gone." (He was so sick he had to cancel his Feb. 26 date in Saskatoon.)
You could also say the thrill is gone, but that wouldn't be fair to this artist and the obvious effort he put in the evening despite rather trying circumstances. In between songs James was seen gulping water like crazy and taking spritzes of what looked like antiseptic throat spray. Damn Western Canadian winters. How many wrecks have they caused out on the rock 'n' roll highway? James's response reflected the graceful, professional one of a seasoned performer – and the show did indeed go on.
But then what was going on with the rest of band's lack of bounce? Were they compensating by playing it very, VERY cool so Colin could keep up?
If you didn't know any better, you might have figured James and band were ready for a loooooong holiday followed by an uninterrupted series of casino dates and maybe an appearance or two on the Grand Ole Opry. There were some pretty giant holes in the set. By Into the Mystic, his reading of Van Morrison's classic, the NyQuil had kicked in, and had been apparently consumed by the whole band. Goodbye Baby was full-on Tommy Hunter, minus the blue suits and shit eating grins. Nothing You Can Do was played so lazily and with such a lack of energy, drive, spirit, it makes Perry Como look like Richard Simmons. Otis Redding's You Don't Miss the Water was another complete snoozer. Ain't Long for a Day, containing the lyrics, "Come on sunshine, drive those blues away" was actually depressing, verging into a near catatonic state.
The show did have some redeeming points. James shone on Freddie King's Goin' Down; his acoustic reading of John Hammond's Riding In The Moonlight; and on a handful of his hits: Just Came Back, Keep On Loving Me Baby, and Why'd You Lie, featuring an absolute stunner of a sax solo by Steve Hilliam. They were all hits from Colin's hair metal days of the late '80s, way back when he said he was blues but made all his money playing radio friendly rock. What they didn't put into the set was a vigorous run-through of Five Long Years, including the song's mind melting, still awesome sounding soloing. Given James' state, it would have been inadvisable.
When given the chance in the spotlight, there were standouts from the band. Guitarist Chris Caddell did some pretty impressive axe shredding. And in the four or so songs Hilliam soloed in, he was the high point of the show – and the crowd sure let him know it.
Let's just chalk this one up as an off-night – one you could've missed given that James just physically wasn't 100% his normal self.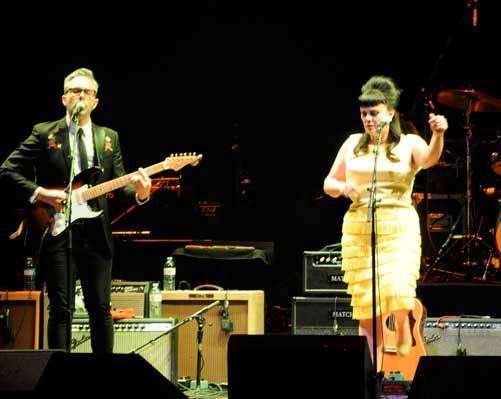 The evening opener was a Canuck expat living in New Zealand named Tami Neilson, who did more than warm up the crowd. She shook it. God, what a voice. With her Patsy Cline beehive and absolutely booming country blues wail, Neilson's overwhelming talent made everyone present during her set sit up and take notice – fast.
Quite the storyteller, Neilson took a little bit too long between songs sharing personal anecdotes, but I only say that because it took away from hearing her play more material. Just as she proved she needs to relocate to Chicago to become the next Etta James and accept the stardom that is due to talents like hers, she broke into a cute song called Mama's Going Loco, which is about the joys of parenting two children under two. Not exactly Strange Fruit, but so what – it's great being a talented musician AND a responsible parent. We can all think of a few people who don't meet either of those categories.
There's no offshoot style of country that Neilson doesn't do well. On torch ballad Dad's Song (she explained that her father wrote it, and the band perform it as a tribute to his memory), she left anything Margo Timmins and the Cowboy Junkies ever did in the dust. Holy Moses had a playful Carmen Miranda thing going on, and set closer, "there's gonna be judgment in the morning" kicked everyone's asses. It was truly awesome.
Judging by everyone's reaction, there's going to plenty of downloading of her material in the morning. Whole lotta downloadin' goin on. Whatever, just pay for it, folks, as this artist deserves to go places with her very impressive abilities.