Stupid Fucking Bird gives wing to Chekhov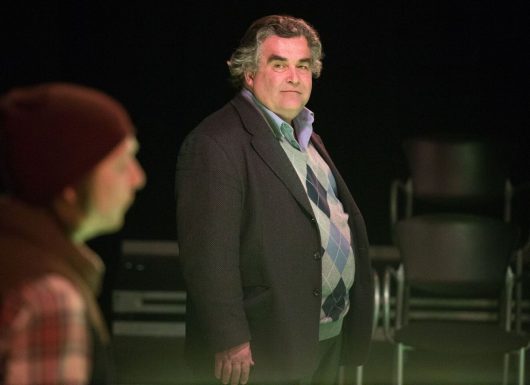 Anton Chekhov is best known outside of Russia as a playwright of yearning disappointment, unrequited love, missed opportunities and unsatisfactory relationships.
He actually thought he was writing a comedy when he penned a play called The Seagull in 1896 – and therein lies a part of the problem. According to those who know about these things, many of the translations rely on an original "prepared by a Russian with no knowledge of the stage" and often produced with little care for the Russian ethos. American playwright Aaron Posner – who joins such distinguished Seagull adaptors as Tennessee Williams and Tom Stoppard – answers that charge by simply blowing the whole thing up and starting from scratch.
Judging from Dave Horak's lively production for his indie Edmonton Actors Theatre at the Backstage Theatre of the ATB Financial Arts Barns through March 12, the playwright scraped off the gathered moss and went back to the Russian master's basic relationships and original intentions while putting a modern spin on it all.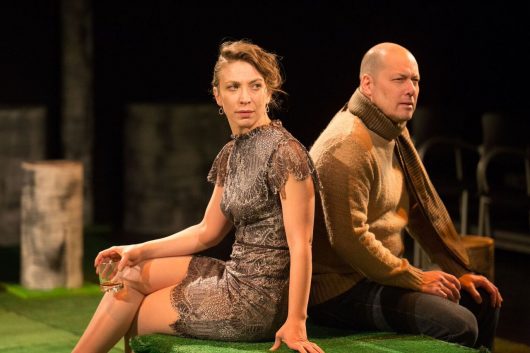 The actors frequently pause the action to address us directly, in speech and in song. It's far beyond the Shakespearian aside as performers unburden themselves to the audience, even to soliciting advice on what to do next. They acknowledge that their emotionally chaotic lives are happening within the boundaries of a theatre piece.
The result is a contemporary meditation on the durable and oft-produced 121-year-old classic. The title Posner has affixed to his adaptation is a clue to its sassy modernity. Consider the opening lines. An actor looks at the audience and demands, "Say, 'Start the fucking play!'" and waits until we do – and then the play begins.
Posner and Horak, with their contemporary embellishments, move more closely to Chekhov's original comic intent by heightening the comedy while not falling into the trap (that many others have) of taking Chekhov at his word and turning the play into a farce. Or an arch melodrama.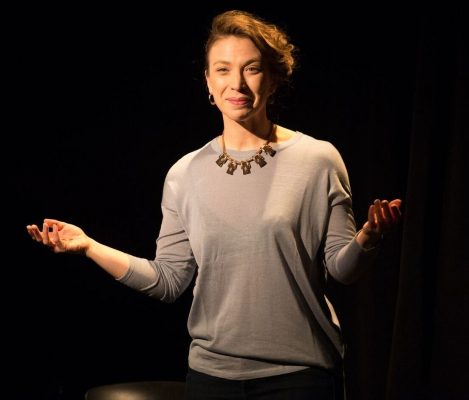 Stupid Fucking Bird taps into the best of both worlds. It is irreverent but not derisive. The production tells us what apparently Chekhov was getting at: Life sucks. In fact, Posner's characters say it several times in the play. As Chekhov intended, we laugh at these profoundly self-oriented people cast ashore in a bleak world of their own making and then suddenly our hearts are in our throats as the play blazes with genuinely Chekhovian bursts of emotion. Posner's writing is brilliant.
Conrad (Mat Simpson) is a frustrated young playwright staging a performance of his latest work. It's a site specific event – "it's a lot like a play, but not so stupid" – for his aging gorgon of a movie star mother, Emma (Melissa Thingelstad). She has come home for a visit with her new lover, the author Doyle (Ian Leung). Conrad is obsessed with the star of his show, the dewey young actress Nina (Zoe Glassman) but then Doyle also becomes smitten by her youthful beauty. Nina, overcome by his maturity and genius, surrenders to him. Simpson's fiery Conrad is your basic tortured artist – so tightly wound and obsessed he is in danger of exploding at any second. Leung is slyly sure of himself and in control until Nina exposes herself to him and he loses it completely. Glassman is effectively unsure of herself at first but knows what she wants and how to get it. Thingelstad's Emma is a lioness in winter commanding (as she has all her life) everyone around her. They are supported by Ben Stevens, Paula Humby and Robert Benz. I say "supporting" but there are no throwaway performances in this superb show.
It's all played out in Stephanie Bahniuk's ingenious set – which is a long alley between the audience, split in two on either side. At one end of the stage is an exploded image of Chekhov on a series of boxes – at the other, stylized representations of the birch trees without which no Chekhov play would be complete.
Horak's production is zestful, fast and funny and his efforts to turn Chekhov's Russian melancholy into a modern expression of the more cynical attitudes of our time is unfailingly successful – although traditionalists might disagree.
The ending comes as a complete surprise – especially to anyone who is familiar with the original. But it plays so right and so contemporary that if Anton were writing today I'm sure he would have thought of it himself.
Photos by Nanc Price