PLAYBILL: Sexual tourism takes a hit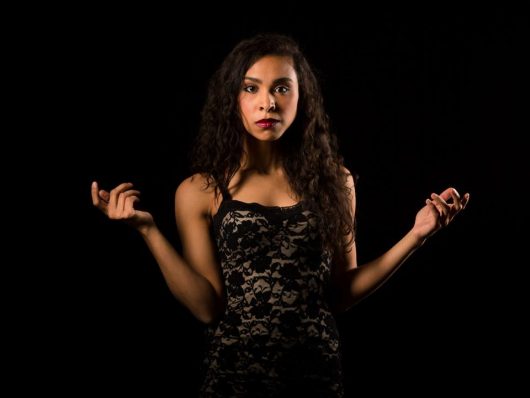 Sex is good. Tourism is good. Now put the two together and what do we have? A bunch of creepy perverts going to Thailand or wherever to hire prostitutes that would be legally underage in North America. Off with their heads! The perverts … not the girls.
So in case we're not riled up enough by current events already, sexual tourism is the thorny theme of Governor General award-winning playwright's Erin Shields' play Soliciting Temptation – a Shadow Theatre-Sage Theatre co-production on stage at the Varscona Theatre March 8-26. It's a two-hander, as they say, with all the action set between The Man (Mattie Overall) and The Girl (Patricia Cerra, above), negotiating in some foreign hotel room. The age of the Girl isn't clear, but she looks young, and obviously the Man has paid to have sex with her. From here, however, things get a little weird and misty in what is said to veer from reality into fantasy in "a battle of morality, economics and desire." Should we be so quick to judge?
The Believers
Oy, it's another double couple drama – a play where two couples come together for what at first seems like a pleasant chat over cocktails but then all hell breaks loose.
In the case of The Believers, by UK playwright Bryony Lavery and on stage at the Roxy on Gateway March 7-19, it all starts during a terrible storm when one couple offers refuge to neighbours. They all start drinking, and talking … and you can see where this is going. Then an "unbelievable/unthinkable/traumatic" event takes place – someone gets killed, probably, haven't seen the play, so it's not a spoiler, just a guess, OK? – and the night apparently takes a turn for the worse.
I don't know why we even bother socializing with other couples.
Elektra
Edmonton Opera's latest show is laden with drama to rival the most edgy Anime today. You spooky kids have nothing on the ancient Greeks! In this turbulent yarn, it seems that a woman named Klytamnestra murdered her husband Agamemnon (whom you may know from your history books), which did not go over well with their daughter Elektra. And you thought you had problem teens. Cue the music – by Richard Strauss, as performed by the usual expected splendid company of performers and the Edmonton Symphony Orchestra. At the Jubilee Auditorium March 11, 14 and 16.
Blood of Our Soil
By now, 125 years or so after the great Ukrainian diaspora, the culture is so deeply immersed in Canada that you can bet that one out of every five homes in Edmonton is going to have pyrogies cooking on the stove.
But what of the people's history? The untold (until now) story of one baba's amazing journey is the subject of Lianna Makuch's new play, touching on issues relevant to Russian-Ukrainian relations from World War 2 to the present day.
The public is invited to a work in progress, a "workshop" performance happening in the Studio Theatre at the ATB Financial Arts Barns March 9-11, in preparation for a full production to launch next season. SOLD OUT
Crazy for You
Ken Ludwig has given Gershwin a full blown musical facelift – and the result was a trifecta of Tonys and one popular touring show after another. Is there nothing this guy touches that doesn't turn to gold?
Crazy for You is the Citadel Theatre's latest big production, running until March 26 on the Shoctor Stage, a story of a wealthy landlord who has second thoughts about foreclosing on a beleaguered theatre after he falls in love. Cue Embraceable You, They Can't Take That Away From Me, Someone To Watch Over Me, and many more distinctive songs that helped define a good chunk of the 20th Century.
Stupid Fucking Bird
Anton Chekhov wrote a play called The Seagull in 1896. Unfortunately, although he was a brilliant writer, he didn't know much about the theatre stage, so the play was a flop on opening night. Likewise how many dramaturges since have failed to grasp the nuances in Russian culture.
Backstage from all the boos and walkouts, Chekhov might've muttered the title of this modern play by Aaron Posner – Stupid Fucking Bird! – who did what no translator had done to Chekhov before: He knocked it all down and started from scratch. Bird reference! The resulting satirical shiny sums up both context and the subtext of the author's original work, while imbuing story and characters with a modern sensibility, and a heck of a funny play whose theme is basically, "life sucks, and then you die." It still holds up today.
Stupid Fucking Bird plays until March 12 at the Backstage Theatre in the ATB Financial Arts Barns.
URINETOWN (the Musical)
Imagine a world so beset by drought that private toilets have been outlawed, and the resulting tyranny is so oppressive that the people stand up (so to speak) and revolt – and it's all set to music. Can anything be a musical? Yes. Yes, it can.
URINETOWN is in fact a critically acclaimed musical, by Mark Hollmann and Greg Kotis, being produced here at the Concordia University March 10-19, and directed by the critically acclaimed local Michael Peng, who says in a press release, "If you love musicals, you'll love URINETOWN. If you hate musicals, you'll love URINETOWN. It's a delightful mix of pithy social satire, over-the-top humour and archetypal fairy tale. Poor boy meets rich girl. Worlds collide. Revolution begins. Boy loses girl. World ends. With lots of singing and dancing!"
Skirtsafire HerArts Festival
The Mommy Monologues – written by 11 renowned Edmonton women writers who seek to explode the stereotypes about motherhood – is but one of the many events in this female-empowering festival of the arts, happening in various venues March 9-12. There's theatre, live music, performance art, spoken word, dance, you name it.
Of course you could question the wisdom of segregating artists by gender (or race), if it's really necessary in what we hope is a truly fair and liberated society – but maybe this isn't the place to do it.
Ken Ludwig's Baskerville: A Sherlock Holmes Mystery
Ken Ludwig strikes again – and this time there's a murder. Who done it? There will be no spoilers here. You'll have to see for yourself and experience this marvelous mysterious madcap night of mirthful mayhem at the Mayfield Dinner Theatre until April 2.