Eric Church stages epic bender in Edmonton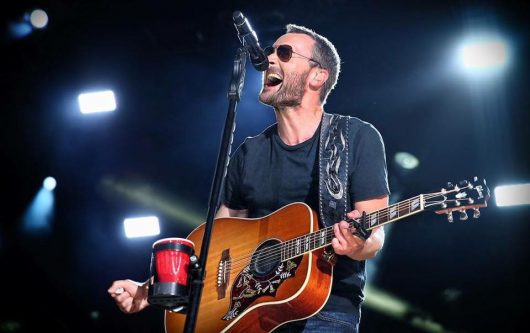 It was rather fitting to have outlaw country artist Eric Church perform at Northlands Coliseum rather than Edmonton's shiny new Rogers Place on Friday night. This self-proclaimed outsider has an affinity for the good ol' boy Albertan stereotype of the hard-workin', beer-swillin', truck drivin' bro rather than the slicked up executive suits of downtown.
Operating with no opening act, and ever so-slightly behind schedule, the show began with a single spotlight shone on a mic stand as Jeff Buckley's cover of Hallelujah played. Church bounded onstage in a simple black T-shirt and jeans ensemble, trademark aviators wrapped around his face, and launched into a euphoric Mistress Named Music as the other musicians slowly appeared at the back of the stage, ending with the Sturgeon Composite Choir lifting the song to lofty heights. How does the saying go, liquor before beer never fear, a choir before a ballad … err, never mind.
It was a show where distortion got equal billing with twang as Church's seasoned six-piece backing band proved able to handle anything from head-bangers to country music weepers with ease. Church took to his 360-degree-view stage design like a hamster in a maze, running from one end to another with guitar on his back, frequently pressing palms with the sweaty jumble of fans jammed inside its circle.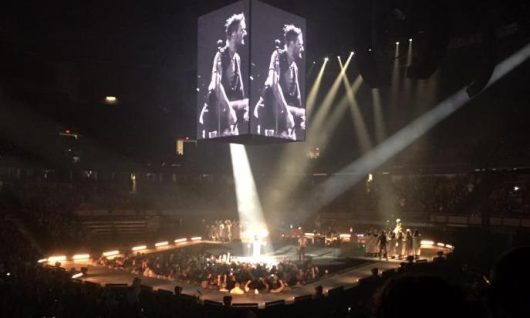 "I'm going to perform as many songs as you can handle," he told a cheering crowd, who were likely well-aware Church's Holdin' My Own tour saw the band playing for three hours spread out over two sets separated by a 20-minute intermission.
"I'm gonna do everything I can to kill you and you'll do everything you can to kill me and we'll drink to the victor."
While it's an unwritten rule that all country music artists must include lyrics about beer, Church uses alcohol as an elixir. His songs swim in beer and whiskey, and it carries over to his merchandise (branded beer koozies and bottle openers). Thankfully, Northlands Coliseum had enough booze to sustain the audience, which appeared to be a sell-out. The tribute to hooch, Drink in My Hand was an early standout, drowning sorrows left and right.
What sets Church apart from his pop-country brethren is his acceptance of playing the sinner. He openly worships at the altar of Merle in Pledge Allegiance to the Hag, which boasted a giant portrait of Merle Haggard on the video screen; and marijuana in Smoke a Little Smoke. You wouldn't catch Garth Brooks doing that. Hard-drinking and getting high runs counter to the family-friendliness modern country music is known for, and perhaps that's why Church also appealed to the rockers in the crowd. Take his song Like a Wrecking Ball, for instance. It's a mid-tempo, acoustic plucked ballad to a loved one, but essentially it's about knocking boots with a force strong enough to take down a house. Destructive fornication is something more akin to an AC/DC song. "Wanna rock you baby like a wrecking baaaawwwlllll!!!"
Yet for every guitarist emerging from fog-shrouded trap doors, the set would also detour into more adventurous territory. For Chattanooga Lucy, the band turned it into a jittery stomper with extra percussion and acoustic runs. Telling the crowd he felt inspired while on the bus and "feeling cold as shit," he led the band in a shaky rendition of Gordon Lightfoot's Sundown. Maybe the average age of the audience led them to be more engrossed in their smartphones at this point of the show, which was deep into its second hour, but the song went over with surprisingly little audience participation.
The crowd woke up for Church's battle-with-the-bottle ode Jack Daniels, which included a segue into Church taking a jaunt backstage to share shots of JD with lucky audience members, all while the cameraman shoots the pouring of the booze with such titillating detail you'd think you were watching a Martin Scorsese movie.
Church ended the second set with These Boots, that had the crowd holding up their cowboy boots like devil horns at a Dio concert, and his biggest hit, Springsteen. A quick two-song encore, one with backup singer Joanna Cotten, whose vocal pipes propped up much of the concert, and Church was off the stage right before midnight.
At over three hours, Church's marathon concert was a bit like being at Bruce Springsteen show. A little too long, but his welcome is never over-stayed.
Top photo from Eric Church's Facebook page, December 2016