PLAYBILL: Elektra electrifying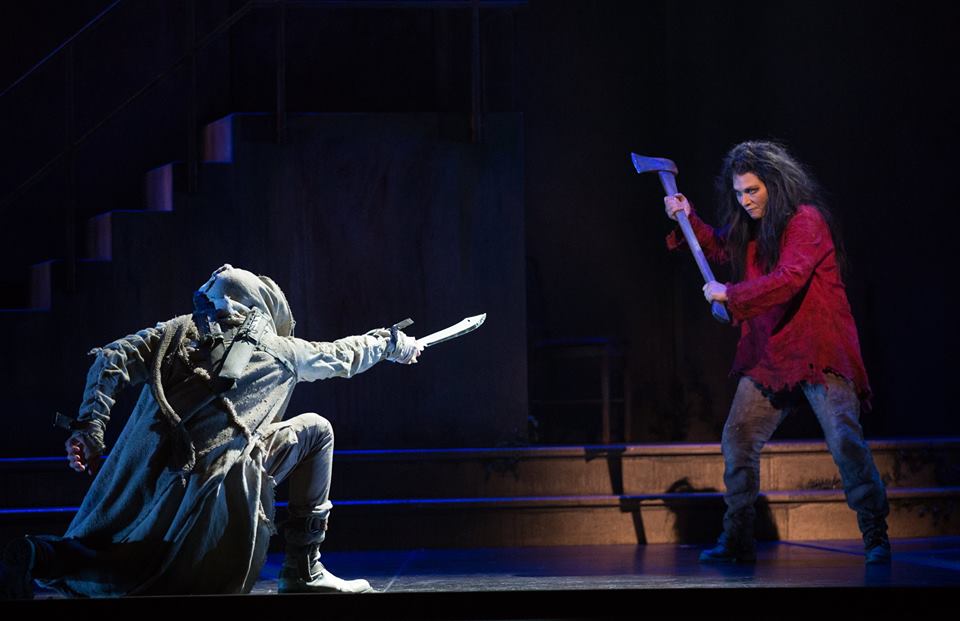 Today's spooky teens have nothing on the ancient Greeks.
Kids in those days didn't have smartphones – just lots of time on their hands and easy access to a wide variety of poisons and deadly weapons. Got a lot of rending and hewing to do.
Edmonton Opera's latest show Elektra is about as edgy as opera gets. When a teenage girl's father is murdered by her own mother, it sets off a turbulent spiral of rage and ultra-violence set to the music of Richard Strauss. Kind of A Clockwork Orange sort of mood here, it appears. Adding the icing on the cake to the mythical tale is the costume and set designs, evoking a steampunk future in which ultra-goth girls plot revenge upon mothers who literally ruined their lives. Literally!
Elektra plays for two more performances at the Jubilee Auditorium Tuesday, March 14, and Thursday, March 16.
Stories on the Hills
Fort Edmonton Park – on Treaty 6 land – is of course the perfect venue for this second annual festival of aboriginal storytelling. At the Capitol Theatre March 16-18, it's not just an elder on stage telling tales about how our city was a gathering place long before it was a city – but there's that, too. A total of 18 acts will be featured, including Inuit throat singing, performance art, a pow wow group, sketch comedy, a film component and stand-up comedy from renowned area First Nations comic Howie Miller (right).
An Evening with the Stars
Tommy Banks and Colin MacLean have been friends for decades. They're the same age – 80ish – and have worked in show business in one form or another since the 1960s. To say they have a few stories to tell would be an understatement.
Take heed, then, for the Music and Musings event to celebrate the 40th anniversary of the St. Albert Rotary Music Festival, happening Tuesday, March 14 at the Arden Theatre. Between live performances in opera and classical music veins, the two old pals will talk about old times, and the importance of music in our lives.
Soliciting Temptation
Sexual tourism is the theme of Governor General award-winning playwright Erin Shields' play Soliciting Temptation – a Shadow Theatre-Sage Theatre co-production on stage at the Varscona Theatre until March 26.
Actors Mattie Overall (as Man) and Patricia Cerra (Girl) start the show talking in some foreign hotel room. He's obviously paid to have sex with her, and asks, "How old are you again?" She just keeps taking her clothes off, before launching into a tirade. From here, things get a little weird in what is said to be "a battle of morality, economics and desire." The subject isn't explored as deeply as it deserves in a play that's all talk, but it poses some hard questions.
The Believers
This frightening, striking play by Bryony Lavery deals with two couples – one religious, one not – who come together during a very bad storm, leaving their kids to play alone upstairs while the parents drink wine and smoke weed. Outside, something evil lurks. What could possibly go wrong?
The Believers runs at the Roxy on Gateway until March 19.
Crazy for You
Ken Ludwig has given George and Ira Gershwin a full blown musical facelift in an award-winning musical that can celebrates its own over-the-top hokiness to the point one could enjoy it ironically or unironically – or have it both ways if your brain can take it.
Running until March 26 on the Shoctor Stage, Crazy for You tells the story of a wealthy landlord who has second thoughts about foreclosing on a beleaguered theatre after he falls in love. Cue Embraceable You, They Can't Take That Away From Me, Someone To Watch Over Me, and many more distinctive songs that helped define a good chunk of the 20th Century. With a large, enthusiastic cast and a live orchestra in the pit, it's the perfect escape.
Ken Ludwig's Baskerville: A Sherlock Holmes Mystery
Ken Ludwig strikes again – and this time there's a murder. Who done it? There will be no spoilers here. You'll have to see for yourself and experience this marvelous mysterious madcap night of mirthful mayhem at the Mayfield Dinner Theatre until April 2.
URINETOWN (the Musical)
Imagine a "pystopian" future so beset by drought that private toilets have been outlawed, causing an uprising and revolt and a lot of pee – and it's all set to music. What will they think of next?
At the Concordia University until March 19, this student production of the musical by Mark Hollmann and Greg Kotis is said to have equal parts social satire and silly humour, with a sprinkling of fairy tale – with lots of singing and dancing! Hard to see how you could go … wrong.