The Believers an unbelievable scare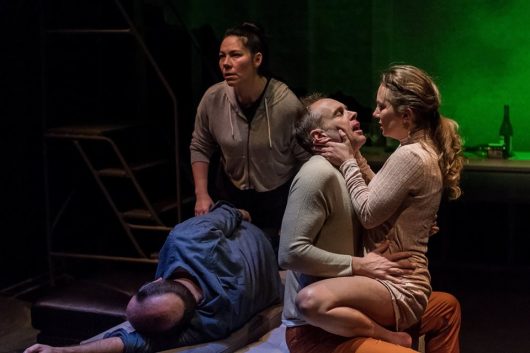 The first thing you notice is a deep blackness, a dark menacing cloud that hangs over everything. It bleeds down in ragged sheets of rain. There is a wall, a staircase and a table. After the creepy preamble, around that table are two people engaged in a heated argument. They are slowly and painfully trying to piece together the events of a terrible evening. It's not easy because their minds are refusing to open to what are obviously dreadful memories.
"Let's start with what we know…"
It's been a long time since a play as different, strange and striking as The Believers has materialized on a local stage. The production by Edmonton's Madfandango Theatre Collective runs at the Roxy on Gateway until March 19.
The dark tale begins with the mighty rainstorm and a flood of biblical proportions. Joff (Nathan Cuckow) and Marianne (Nadien Chu), along with their 9-year-old daughter, are driven from their house to be taken in by neighbours, Ollie (Patrick Howarth) and Maud (Gianna Vacirca), who also have a young daughter.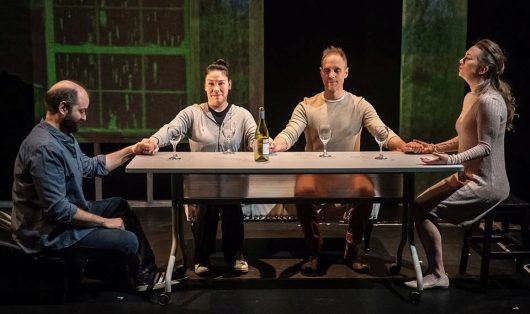 The two couples are plainly ill-suited to an amiable evening together. Joff and Marianne are a conflicted duo with a salty vocabulary and a passionate distaste for all things religious. Despite some earlier clues, the smugly evangelical Ollie and Maud seem to be happily married. The foursome get into the white wine, smoke some weed and some ominous truths start to come out. Joff and Marianne are afraid of their own child. Ollie and Maude behave in a manner that questions what they really believe in. There is something wrong in that house – some malevolent force suddenly (and frighteningly) is either seen or heard – and then is gone. And what is really happening upstairs in that bedroom where the children are playing?
We must stop now to recognize the other main force in this production: T. Erin Gruber, whose lighting and projection design rises above special effects to become a major player and a potent metaphor for what is happening on stage. Her deluge is biblical indeed. Sometimes the elemental beast remains outside, seen through windows, but often it spills over into the room, enveloping the actors in a maelstrom. Driving rain appears on the jacket of one character. Another experiences some kind of epiphany with roiling clouds and heavenly bursts of celestial light. Heaven beckons but evil abides.
As in the best of horror films you are again and again suddenly jolted by something fearful.
In keeping with the special effects, the director Nancy McAlear has heightened all elements of her production. The evening begins at full emotional throttle and effectively doesn't let up for the entire 80-minute production. We are sucked into a vortex of terror where the emotions are as strong as the chaos outside. At times her cast abandons dialogue completely and breaks into balletic sequences to underline a character trait or because the emotion is simply too strong to express in mere words. It is a tribute to the players that they remain grounded and real when all about them becomes increasingly surreal.
Before Bryony Lavery's stunningly effective, emotionally charged and compelling drama is over, both couples will be tested – and both found wanting. Lavery doesn't proselytize or take a discernible point of view. Her dialogue is spare and efficient even while trading in atmosphere and goose bumps. The Believers questions belief and examines its fragility while providing a good old fashioned scare.
Photos by Marc J. Chalifoux