Blood in the Cut: Pop music gets edgy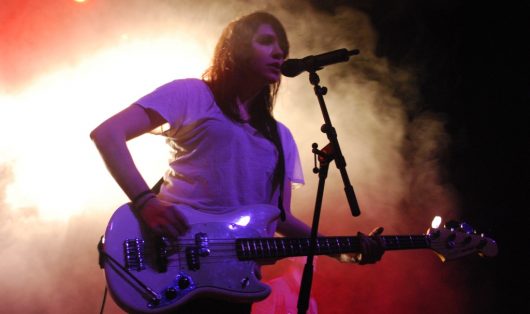 Before a beautiful rock show by Mother Mother at the Shaw Conference Centre on Thursday night was an opening act that has really hit a nerve.
K.Flay's Blood in the Cut has been all over the radio lately, a song about a woman who deals with a heartbreak by expressing ideas of self harming. It's not the only recent song like this – think Alessia Cara's Scars to Your Beautiful or Johnny Cash covering Nine Inch Nails: "I hurt myself today to see if I still feel" – but Blood in the Cut is one of the most visceral.
The song gets straight to the point: "The boy I love's got another girl; he might be fucking her right now." It goes on to invite someone to break her arm in half and kick her in the head, plus the chorus line, "I need noise. I need the buzz of a sub. Need the crack of the whip. Need some blood in the cut." Not sure who's the sub here, but it's a hell of a song.
In person, on stage, Kristine Flaherty isn't much like her sinister alter ego K.Flay or her edgy hit. She was very gracious and pleasant during her first Edmonton appearance. Backed by two musicians (and enough pre-recorded backing tracks to make you wonder if the humans were necessary), the 31-year-old Illinois native demonstrated her novel approach to vocals: A combo of rocking out in pure punk form and that odd new style of white rap heard in acts like Twenty One Pilots and Ed Sheeran. Her performance was fresh and riveting.
K.Flay's songs were rich in vivid imagery and admittedly written to deal with her personal feelings. They came off like poems or detailed diary entries. In a short set that could've used more volume (a risky thing to wish for at the Shaw Conference Centre), the bulk of the songs were from her upcoming album Every Where Is Some Where. With a soft voice that rose to a desperate rasp when called for, K.Flay opened in a light funky groove with Dreamers, in which a young person has deeply philosophical thoughts about mortality. Soon came Black Wave and fears of impending doom, Make Me Fade with the theme of unrequited love, and FML with more self-loathing: "Fuck my life, I love my life." Of course the set ended with The Hit: Blood in the Cut. Sensing a disturbing pattern here.
It's no secret that many young people these days are suffering through unprecedented levels of stress, that many of them are attempting to cope by cutting or other forms of self harm, and that area schools have recently introduced mindfulness training to deal with the problem. Something clearly has to be done.
Meanwhile, artists like K.Flay are ahead of the game in validating the feelings of their fans.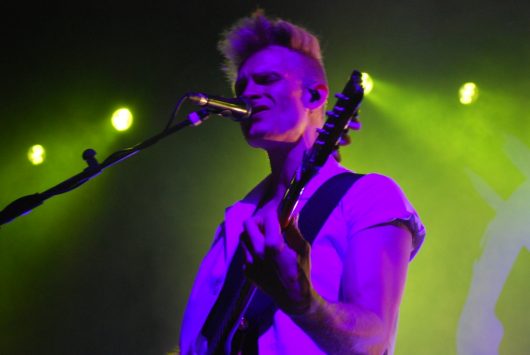 At last to the headliner, Mother Mother eventually got the volume a proper rock show deserved, and for a rare occasion the Shaw sounded good. Kudos to the soundman.
Marked by the masterful lead guitar and lead vocals of Ryan Guldemond, and Molly Guldemond and Jasmin Parkin on vocals and keyboards, the band spindled and mutilated several of their well-known hits. Sometimes they were sent to lofty heights with the band's eccentric creativity coming out in full force, and at other times they hinted they might be bored with some of their songs. Like their breakthrough hit Hayloft – in which was inserted a spirited rendition of Dazed and Confused. Anyway, much appreciated in this town.
It's a testament to the vitality of Mother Mother that the material from their latest album No Culture sounded the best. Overall, this was one of the best shows the band has ever done in Edmonton.
To the theme of mental health, Ryan Guldemond said something pertinent late in the show, when he introduced a particularly dark song (in an entire repertoire of dark songs) called Mouth of the Devil.
"I don't mind the bad times," he said. "Bad times give context to the good times, like darkness does to light."
They ought to make Mother Mother concerts part of the stress relief curriculum.