PLAYBILL: Go Into the Woods, we dare you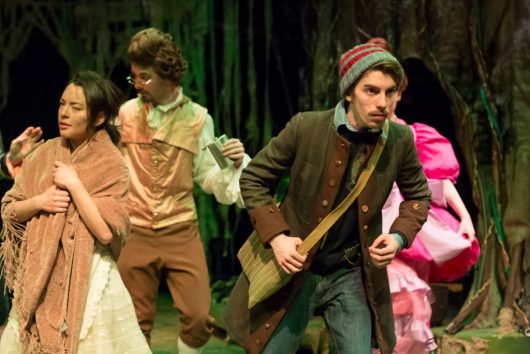 There's a weird sort of fractured hindsight at work in the musical Into the Woods. We've all seen it – in our bedtime stories.
Written by Stephen Sondheim and James Lapine, this award-winning musical is a willy nilly hodge podge of almost every Grimm fairy tale that has since made into an sanitized-animated feature by Disney from the birth of cinema – and set to music. Therefore a wide swath of the human population knows these stories all too well: Cinderella, Jack and the Beanstalk, Snow White, Little Red Riding Hood, Rapunzel, you name it. Each of these characters has their own conflict, their own drama, and when they all get tangled together, the resulting conflict of conflicts is a riot all its own – and then of course it's set to music.
The musical got a big boost in 2014 when the feature film Into the Woods came out. It didn't exactly launch the career of James Corden, but at least lots of people knew who he was when he took over the Late Late Show to make it the best late show ever. Oh, yeah, he was the baker dude whose wife was cursed by that witch, Meryl Streep. Did we mention it's all set to music?
So there's a lot of buzz coming into this Jim Guedo-directed show presented by the MacEwan University theatre program, playing March 22-April 1 at the Theatre Lab (Room 189). That's at the 156 Street arts campus, one of the last shows in the building before they all move downtown.
Panache pt. Deux: The Triumph of the Ponce
Even Canadian circus folk are banging on Donald Trump. Don't expect a new Cirque du Soleil show in his casinos any time soon.
In this sequel of what is said to be a "flamboyantly courageous explosion of satire and circus," the main character Ponce de Ponce de Panache returns for a second term, billed as a meld of Trump and King Louis XIV (though they may have meant Louis XVI). Once again he's surrounded by his hand-picked cabinet ministers who literally toe the line. Literally. It helps that they all happen to be accomplished circus performers and actors, including the role of Ponce himself, played by Chinese pole acrobat Ross Travis.
Wouldn't it be nice if all government business were conducted in a circus environment? Imagine Jason Kenney walking the high wire. How about Rachel Notley on the flying trapeze? They wouldn't get much more done than they're doing now, but at least it would be more fun to watch.
Presented by Firefly Theatre and Circus, Panache pt. Deux: The Triumph of the Ponce plays March 24 to 26 at La Cite Francophone.
Alice in Wonderland
Lewis Carroll must've been high when he wrote this – but it's a good bet he never would've expected his barmy tale about a girl who follows an errant rabbit down a hole to be set to both music AND dance.
The Alberta Ballet production, playing at the Jubilee Auditorium March 24-25, will feature a lot more clog-dancing than readers may remember, but is promised to be just as colourful and vibrant and crazy as the feature film starring Johnny Depp – and a lot less of Johnny Depp.
Hey Ladies!
It's time once again for women to tell their side of the story in a somewhat every-other-monthly show that usually never fails to entertain and educate. Starring Leona Brausen, Davina Stewart, and Cathleen Rootsaert in a fractured daytime-at-night talk show format, this "March Madness" episode of Hey Ladies! deals with everything from tattoos to kitchen "hacks" – which were once called "household hints" – and also alcohol. Special celebrity guests will be featured in the show, along with games, prizes and other talk show tropes turned on their heads, Friday, March 24 at the Roxy On Gateway.
Just imagine The View – except funny. Well, funnier.
The Fall of the House of Atreus
Don't you think ancient Greeks were violent enough?
Obviously not playwright Jessy Ardern – who imagines one of mythology's most murderous families as a clan of the undead! So of course it all turns into a comedy:
"Five generations of backstabbing, child-eating, and gruesome murder. Watch as Greek tragedy's most infamous family comes to life. And dies. And dies. And dies."
First produced at the 2016 Fringe festival, the play is back for full run in the Backstage Theatre of the ATB Financial Arts Barns March 23-April 2.
Soliciting Temptation
Sexual tourism is the thorny theme of Governor General award-winning playwright Erin Shields' play – a Shadow Theatre-Sage Theatre co-production on stage at the Varscona Theatre until March 26.
Actors Mattie Overall (as Man) and Patricia Cerra (Girl) start the show talking in some foreign hotel room. He's obviously paid to have sex with her, and asks, "How old are you again?" She just keeps taking her clothes off, before launching into a tirade.
From here, things get a little weird in what is said to be "a battle of morality, economics and desire." The subject isn't explored as deeply as it deserves in a play that's all talk, but it poses some hard questions.
Crazy for You
It's one more week for Ken Ludwig's sparkling new Gershwin musical in Edmonton, until March 26 at the Citadel Theatre. Crazy for You tells the story of a wealthy landlord who has second thoughts about foreclosing on a beleaguered theatre after he falls in love. Cue Embraceable You, They Can't Take That Away From Me, Someone To Watch Over Me, and many more distinctive songs that helped define a good chunk of the 20th Century. With a large, enthusiastic cast and crack live orchestra in the pit, it's the perfect escape from a Grimm looking spring.
Ken Ludwig's Baskerville: A Sherlock Holmes Mystery
Ken Ludwig strikes again – and this time there's a murder. Who done it? There will be no spoilers here. You'll have to see for yourself and experience this marvelous mysterious madcap night of mirthful mayhem at the Mayfield Dinner Theatre until April 2.
Western Canada Fashion Week
In the same building where one may encounter a Greek zombie (see above) can be found Edmonton's semi-annual celebration of all things fashion. Running March 23-31 in the ATB Financial Arts Barns, Western Canada Fashion Week is one of these events that cause some people to exclaim, "Western Canada has fashion?" But we do, and there is, and all things fashionable in our neck of the woods (also shoulders, torso, hips and legs), will be on display in nightly fashion shows from top designers local and international alike, interspersed with live entertainment and other fashionable goodies.