MUSIC PREVIEW: Tea Party still getting oolong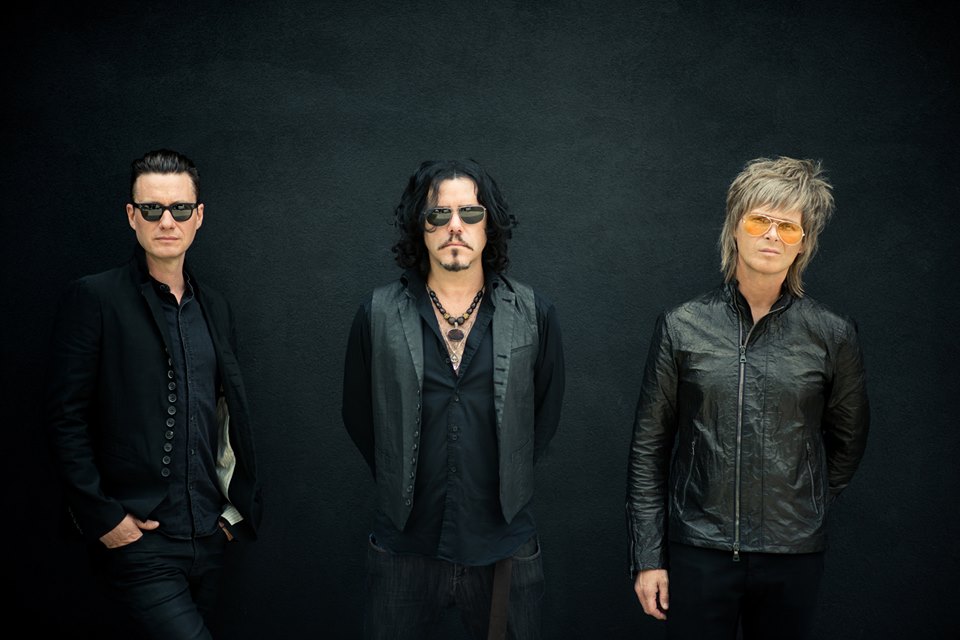 While the Tea Party's heyday was definitely in the 1990s, with such hits on alternative radio as The River, Temptation, Psychopomp, Heaven Coming Down, and The Messenger, the band broke up in 2005 and went their separate ways – but then finally reunited in 2011, much to the delight of their fans.
That reunion met with such success that the band reformed on a permanent basis, and continue to tour to this day. They land in Edmonton this weekend to play a gig at the River Cree Resort & Casino, on a tour that commemorates the 20th anniversary of their biggest album, Transmission (which spawned two of those aforementioned hits).
With all the original members – Jeff Martin on vocals and guitar, Stuart Chatwood on bass, and Jeff Burrows on drums – the Windsor, Ontario's band also wrote, recorded and released a brand new album in 2014, named The Ocean At the End. The 12-track effort was recorded both here in Canada, and also Australia, their home away from home even during their heyday (they completed 12 tours of the country during their initial foray). Their other release in this decade has also garnered significant support, being a double live album recorded in Australia during a 2012 tour.
READ: The Tea Party DID NOT sell their Internet domain name for $1 million to the 'asinine' political movement – interview with Jeff Martin
Thursday 23
Passenger – Michael David Rosenberg, better known by his stage name, is a critically acclaimed singer-songwriter from Great Britain. The name actually comes from the band he was the lead singer of before it disbanded, and he just decided to keep the name for himself. Brooding and emotive, and an amazing guitar player, Rosenberg will undoubtedly sound quintessentially extraordinary in this venue, for which his music and style is almost tailor-made. Winspear Centre, 8 pm. SOLD OUT
Jesse And the Dandelions/Fever Feel – The latter is one of Calgary's preeminent bands in the psychedelic scene; the former is a local melodious rock project. Add in O.J. Pimpson, another Edmonton project whose members reportedly met while all working at a Sobey's deli counter, and you have one amazing night of music. 9910, 8 pm, $10. BUY
Tuckingham – This one-of-a-kind event features a bevy of local rock bands being fronted by a drag queen for one night, and one night only. Some of the bands whose members will be performing include Bad Buddy, N3K, Borscht, and Skymall (a blending of Action News Team and Power Buddies). Buckingham, 9 pm, $10. BUY
Friday 24
Truckfighters – This Swedish psychedelic stoner band formed in 2001, and after releasing a couple of EPs and a split, their debut album Gravity X came out in 2005. Their fifth full-length, V, was released last fall. Led by Oskar Cedermalm ("Ozo") on vocals and bass, the other members of the trio have rotated on a fairly frequent basis. We Hunt Buffalo, Greenleaf, and The Mothercraft also perform. Starlite Room, 8 pm, $26, BUY
Holy Void – One incredible night of psychedelia, with Winnipeg's Holy Void being the featured touring band. Dead Fibres, Nolan Bossert & Skymall, and Pike are the other bands that will take the audience on one memorable journey. Bohemia, 8 pm, $10. BUY
The Wheat Pool – These local folk rock icons hit upon a magic spell when they formed in 2005, and took their fans on an incredible ride until they disbanded in 2012. They're getting together for a five-year reunion, though, and it shouldn't be missed. Post Script will also perform. Needle Vinyl Tavern, 8 pm, $15. BUY
Saturday 25
Zolas – This British Columbia indie project has been through Edmonton a number of times. The most recent release from the band, led by the uber-talented duo of Zachary Gray (vocals and guitar) and Tom Dobrzanski (piano), was last year's Swooner. The band's material have a tendency to make you both want to dance, and cry, simultaneously. Starlite Room, 6:30 pm, $19. BUY