Chris Stapleton shows his love in Edmonton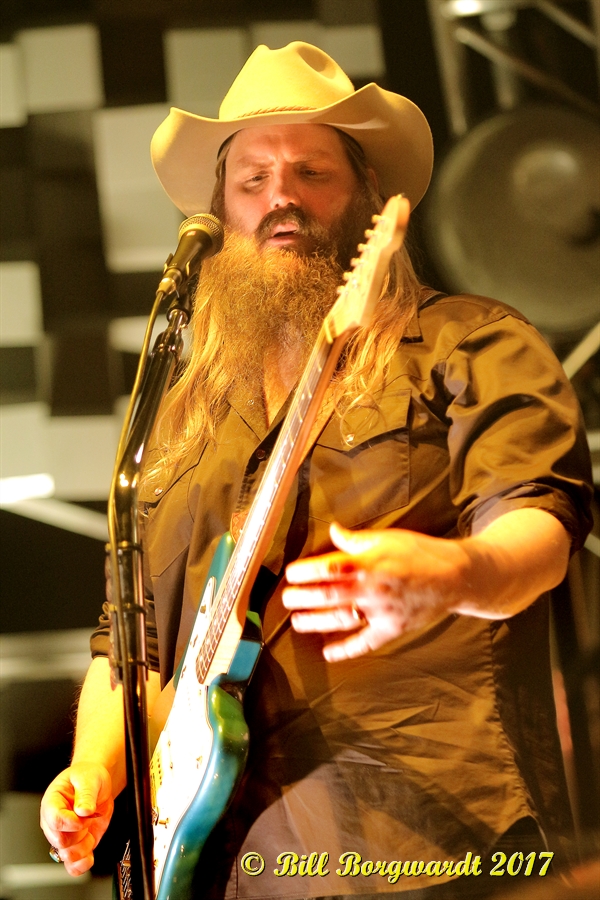 In true country music fashion, many of Chris Stapleton's songs are about drinking – which resonated with the crowd at Northlands Coliseum on Saturday night because everywhere you looked there was beer in hand.
Except for the underage fans, of course. Being 17 years old and just 3 months away from the legal drinking age here in Alberta, it was interesting for me to see how Stapleton's music touched such a wide array of country music lovers, even with the amount of drinking references. The laid-back honky-tonk rocker from Kentucky took the stage with a dazzling, two-hour show, with a stripped-down backing band and his beautiful wife Morgane Hayes on vocals. It was a show to remember.
Excited Edmontonian fans were quick to make Stapleton feel welcome, cheering as he opened with his well-known song Might As Well Get Stoned from his 2015 album, Traveller.
Using more simplified staging, Stapleton really sets up a country rock atmosphere that makes an audience member feel as though they're seeing show set up in a smaller venue. Knowing that he plays more musical festivals and smaller venues like the Winspear Centre, it was nice to see he could command a larger arena crowd, which goes to show how far he has come in his career. From what Stapleton lacks in storytelling before performing original songs, he makes up for in pure talent. He's a phenomenal singer and incredible guitar player who is able to control the stage with or without a band at his side.
You could feel the love pouring off the stage. Stapleton told the audience the title track to Traveller was inspired by watching his wife sleep in the passenger seat on a trip through the desert. In a duet with Morgane on Whiskey and You, he didn't take his eyes off her the whole time. Morgane noted, "A nice young fella in a cowboy hat asked me if I was gonna sing this song with Chris – so this one's going out to you, buddy." The couple then sang their amazing rendition of You Are My Sunshine that they'd recorded on Stapleton's 2016 album, Southern Family. Anyone who heard that song throughout their childhood would surely have been amazed by the slowed down, drawn out version of the 1939 classic. It took a while to even realize what song they were singing, but once you heard the infamous words of that chorus, "Please don't take my sunshine away," it brought a smile to the faces of old and young.
Flawlessly blending the sounds of Johnny Cash's country rockabilly music with Guns N' Roses hard rock, Stapleton rocked Northlands with his new single Parachute. He smiled as he let the audience sing their own chorus, and of course – also in true country music fan fashion – everyone knew every single word.
One of the most loved songs of the night was the 38-year-old singer's hit Fire Away. The raspiness in Stapleton's voice, combined with the smooth, honey-like harmonies of his wife, earned them a standing ovation. As the song ended, Chris asked the audience, "Get a lighter up in here or a phone light and let's sing the chorus one more time. Sing it loud as you can for someone you love." All of those voices made for a truly magical experience. Again this became a parallel to something you'd see at the Edmonton Folk Music Festival with the infamous candle lights they sell to light up the hill.
One of the favourite moments of the night was when Chris decided to introduce his backing band by singing their credentials to the tune of his 2015 hit Tennessee Whiskey – which gave the audience a hint which was going to be one of the last songs of the night.
Stapleton mentioned that "the last few years have been a real dream come true for all of us." From the way he's performing now, he's got quite the career ahead of him, too.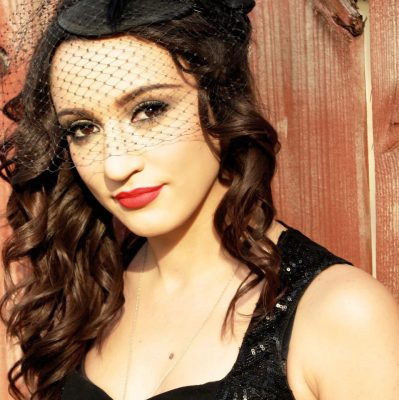 Lindi Ortega was the perfect opener to the nearly three hour show. Stepping on stage in her classic red lipstick and cowboy boots, the Calgary singer sang songs from her EP Till the Goin' Gets Gone. Sadly, Ortega was fighting a nasty cold but reassured the Edmonton audience that she'd been 'Neti-Potting' all day and she would be able to get through her set. For being very sick, she sounded amazing. Her laid back, Janis Joplin vocal style complemented Stapleton's set nicely. The young-spirited artist was accompanied by her recent fiancé, singing tunes that she wrote about meeting strippers in bathrooms (What a Girl's Gotta Do), whiskey (Demons Don't Get Me Down) and even a cover of Waitin' Round to Die by Townes Van Zandt.
Although the crowd refused to quiet down too much to listen to this talented singer, those who did pay attention were treated to wonderful storytelling songs.
Top photo by Bill Borgwardt