MUSIC PREVIEW: The Lumineers keep it lit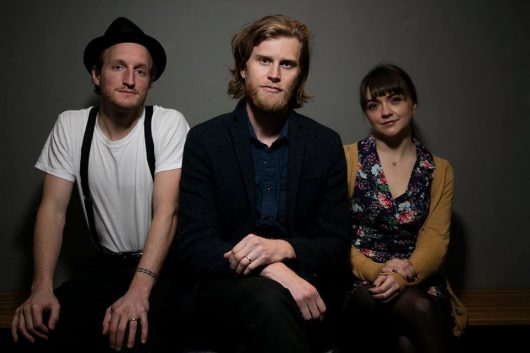 Now that Mumford and Sons have ditched folk, it is the sacred duty of The Lumineers to carry on the trend of funny stringed instruments, odd drums and fashionable hats in popular music. We just can't get enough.
At Rogers Place Friday night for their first proper headlining show in Edmonton, The Lumineers came to stardom with one of these massive pop hits out of the gate that made them a household name. The song's still stuck in our heads: Ho Hey. You know the words. Sing along. The Denver band has been on a wild ride ever since, practically a fixture on the festival circuit. They were so ubiquitous that a widely circulated parody festival poster for "Yet Another F—ing Music Festival" – featuring the headliners called That Band All Over the Radio, '80s Band With 1 Member Left, Two Dudes and a MacBook, and so on – listed "The Lumineers," the only act billed by its real name. No parody necessary. Ho Hey.
Now that's quite a lot of weight for an honest band to carry – and this is an honest band. Singer Wesley Schultz and drummer Jeremiah Fraites have been working together since 2005, adding cellist Neyla Pekarek five years later. Their self-titled debut and the aforementioned hit therein made them famous in 2012. Four years later, the band got the chance to prove they're more than a one-hit wonder at Sonic Boom 2016 – the last Sonic Boom festival ever, as it turned out – with a set so rich in ragged charm and laid-back goodness they should've played the folk fest. All that was missing were candles on the hill. Also, the hill. They dispensed with Ho Hey early in the show, as if to show that uppity tune who's boss, and concentrated mainly on music from their second album, Cleopatra. They didn't try to reinvent folk music. They didn't go for fancy gimmicks. And their songs dealt with everything from matters of the heart to the Vietnam War, along with a take on a Bob Dylan classic. It didn't sound perfect – and that in itself was perfect to counter a landscape of pre-programmed concert perfection. Perfectly imperfect.
Opening Friday's show at 7 pm is Icelandic sensation Kaleo – another band as yet known for just one huge hit: Way Down We Go – and Susto. Advance tickets from $39.50.
Friday 31
I Love the '90s – Fun fact: The track from Vanilla Ice's 1990 anthem Ice Ice Baby is built on the riff from Under Pressure by Queen and David Bowie, who died in 2016. Coincidence? Yes. Meanwhile, Robert Matthew Van Winkle has enjoyed steady work in the B-list reality show business, along with regular nostalgia shows at which he does Ice Ice Baby. Circle of life. Vanilla Ice is just one of the headliners at this '90s retro party at the Shaw Conference Centre, also featuring Salt-N-Pepa, Color Me Badd, Rob Base and Young M.C. What's not to love about the '90s? Show starts at 7 pm, general admission tickets $69
The Age of Electric – Speaking of the '90s, this Regina band helped usher in a new chapter in Canadian rock, coming in the wake of the grunge rock revolution. "Where's my remote control?" had a pretty big impact on radio, and it still does though it's a few years away from being legal age for classic rockdom (25 years). A breakup – with the two sets of brothers, the Kerns and the Dahles, doing their own things in bands like Limblifter, Static in Stereo and the New Pornographers – led to a reunion, which led to their first recording in almost 20 years, which led to the tour that brings the band to the Union Hall. Doors at 7 pm, advance tickets $35.
Delhi 2 Dublin – To name them is to know them, a Vancouver combo that sounds like a Bollywood bus crashed into The Chieftains on the way to a rave. Very chic, very hip, and that beautiful groove never goes out of style. Part of the Arden Theatre's all-Canadian season, 7:30 pm, $36 advance
Saturday April 1
Ellen McIlwaine – Funny story about this legendary Tennessee slide guitarsmith. She (actually her record label, Edmonton's Stony Plain Records) was given a "generous" settlement from Fatboy Slim (actually his label) after it was discovered that he'd sampled a piece of her music without authorization. Minor oversight on Slim's part, but proof that it's not always better to beg forgiveness than ask permission, eh? Intellectual property, mutha! Side point is that the music in question dates back from 1975, uncovering what was a mere blip in a remarkable career. Now 71, McIlwaine still records and tours, playing this night at the Blue Chair Cafe with local bull fiddler (upright bass) Farley Scott. 8:30 pm, $20
Sunday 2
Colleen Brown – Called Edmonton's Joni Mitchell (reinforced when she did a Joni tribute show), this acclaimed singer-songwriter takes the stage at the Needle Vinyl Tavern with five albums worth of songs to choose from – plus another record in the works. With Kimberley MacGregor and Amy van Keeken, 6 pm, $10 advance
Tuesday 4
Weezer – It's a "Spring Fling" at the Shaw Conference Centre headlined by the silliest, nerdiest, funnest band in rock 'n' roll. Starting with Undone, The Sweater Song in 1994, they moved onto Hash Pipe and Dope Nose, a song about Beverly Hills, where again We Are All On Drugs, moving onto foodstuffs (Pork and Beans) and recently pointed out the obvious: Thank God for Girls. Silly songs, dead serious success. Also it's a solid backup bench at this show with East Coast marvels The Trews, along with punk rock from The Flatliners. 6:30 pm, general admission $65 advance