INTERVIEW: Weezer from 2 sides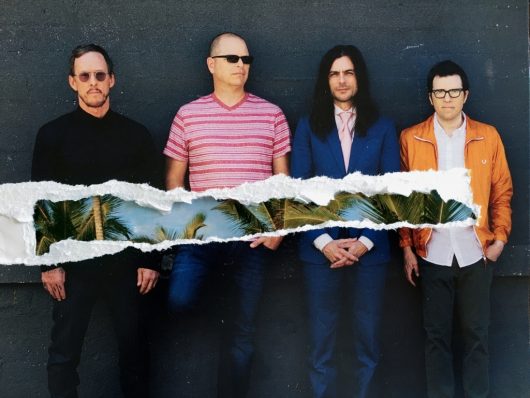 Scott Shriner is the perfect man to help us understand Weezer – an enigma wrapped in a mystery wrapped in a slowly unraveling sweater.
While he's not an original member, he's the band's longest serving bassist, since 2001.
Shriner was a fan first: a bar band musician from Toledo, Ohio who came to Hollywood in 1990 to seek his fortune. One night he happened to go out and see this weird new band called Weezer.
In a phone interview leading up to their "Spring Fling" show Tuesday at the Shaw Conference Centre, Shriner recalls, "My friend accurately pitched it to me: 'They have amazing songs, they look like total dweebs, but their melodies are amazing, and they have these really heavy guitar sections and you're going to lose your mind.' So I went, and they were really new. Some of them could play and some of them could not play their instruments, but their songs were fantastic and they had a very unique thing."
Shriner thought little more of it as he eked his way up the Hollywood music scene. He got a gig with Vanilla Ice – who was in Edmonton last Friday. Shriner tees off when he finds out, "I think the guy's a jerk. I would say it to his face, and you can tell him I said that. That's his brand. We did have fun together for a year. It was better than selling shoes, taking out trash or making pizza or whatever I was doing in Hollywood to survive."
Then came the call that changed his life. Turns out Shriner had been scouted while attending the Musicians Institute college, and was in some kind of bass players database. Good bass players are hard to come by. Singer Rivers Cuomo personally left him an answering machine message (still pre-text times), saying Weezer needed a bassist to fill in "for a minute" while Mikey Welsh dealt with mental health issues. At the time, they were working out songs for the album 2002 Maladroit.
So they hit it off and the rest is history?
"No, we did not hit it off," Shriner says. "Rivers wouldn't even look at me. He was showing me the songs with his back turned to me. They weren't there to make friends with me. Musically we gelled pretty well. I came in looking like a member of an outlaw motorcycle gang. I didn't look the part. But I was very much a fan. Can we do this song? Can we do this song? And they were like, 'ugh, please, kid, cut it out.' It was funny."
It was soon announced that Welsh was leaving Weezer for good (he died of a suspected drug overdose in 2011). Shriner wound up filling in for more than a minute, both in the studio and on tour. Together, they would continue to tread the line between earnest and ironic, crafting easy breezy beautiful hit songs like Beverly Hills, Weezer's biggest hit to date, along with Pork and Beans, and more recently Thank God for Girls. It's still hard to know how silly or serious they are, how much they're playing off the nerd image, but they obviously make a connection. Shriner credits Cuomo for his "deep and interesting personality, and heart." And yes, Rivers did eventually make eye contact with his new bandmate. They hit it off.
Shriner says, "Yeah, now it's a marriage. We're married and we're also doing business together. I'll tell you one thing: I am the last change that will be made. I'm the last bass player Weezer's going to have, that's for sure. I'm down for the cause."