REVIEW: The Lumineers light up Edmonton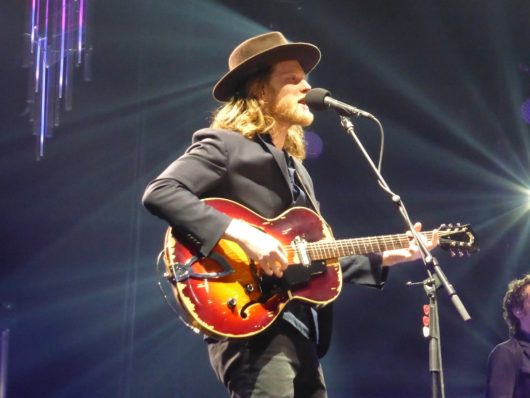 The Lumineers sure have matured since they came up with the big Ho Hey that launched their folk-popping star just five years ago.
They'd have to – they've been working non-stop ever since.
The proof was in their stomperific, strumtacular show at Rogers Place on Friday night. It was puzzling to see some 14,000 hip young fans get so excited over what is basically folk music with a much louder kick drum than you'd ever hear at the folk fest. The cheers were deafening. You won't see this many people go so mad over a guy in a hat this side of Garth Brooks.
Thanks to Ho Hey, The Lumineers have gone from "playing in people's living rooms," as singer Wesley Schultz told the audience, to every festival ever staged, to selling out hockey arenas in Edmonton. Surprisingly, they didn't save Ho Hey for the encore, but knocked it off early in the show, with no frills or fancy arrangement. They played it like they wanted to get it out of the way. It was as if they wanted to show that uppity hit who's boss, to put it in its place. Third song is where you belong, man. There's better than you to come.
Some hits become albatrosses around the necks of those who killed them – they are doomed to be remembered and scorned for all eternity as one-hit wonders. Better than a no hit wonder, but still. Ask Vanilla Ice – who happened to be playing down the street at the "I Love the '90s" event in the Shaw Conference Centre on Friday night.
The Lumineers, meanwhile, blew one-hit wonderment out of the water. It's impressive they were able to do it as a five (sometimes six) piece: the cello from Neyla Pekarek adding a rich flavour to the folk-rocking goodness throughout the show. Having dispensed with the dreaded Ho Hey, they went straight into the title track of their latest album Cleopatra – a superior song in every way, a rousing, romping, stirring anthem that elevates folk music to Meat Loafian proportions. It's beautiful in its over-the-top grandiosity. Only Mumford and Sons managed to pull off such a trick, with I Will Wait, with all those horns, gang vocals, banjo and that ever-present kick drum on the quarter note. Say what you will about the poppification of folk music, it can get you going.
Now zero in on the lyrics. There are as many deep thoughts in Lumineers songs as there were practiced dramatic rock star moves on stage. Ho Hey is an expression of coveting thy neighbour's wife. "I don't think you're right for him," goes the key line. Then comes Cleopatra, where Schultz sings the song from the queen's point of view: "Damn your wife, I'd be your mistress just to have you around." Later in the show came Ophelia, another hit from the new album (so we have at least a three hit wonder here) and one that seems a simpler expression of love.
It's clear what happened here. The Ho Hey girl broke up with her boyfriend to be with the guy who left her for Cleopatra, but he still pines for Ophelia. Maturity is complicated.
The show had its tedious moments when the stomp and strum got too much. But lulls were balanced by touching moments: A song about Schultz's father who died leaving many unanswered questions, like why he had a gun in his sock drawer; and a song dedicated to an uncle who died in Vietnam – performed on the "B" stage to show their true folk roots (and two of the guys in their personalized Oilers jerseys). Schultz said a JFK speech convinced his uncle to go to Vietnam, adding, "The words of our leaders really matter. They mattered then, and they matter now."
The people seemed to agree – for the words of the pop stars matter, too.
Opening the show, Kaleo started their set with Stairway to Heaven and ended it with Rock and Roll. It sure sounded like it. Knowing they're from Iceland suggests an interesting story: where the only two records the kids could get their hands on were by Led Zeppelin and Robert Johnson. From Zeppelin-esque tones, Kaleo dwelled in deep Mississippi-style blues so pungent you could almost smell the swamp. This swamp happened to have a volcano in it. Most remarkable was singer Jökull Júlíusson, known as "JJ," who not only displayed a killer falsetto, but then hit the same high notes in full voice. Very impressive. And then he screamed in tune like Robert Plant.
Something more original and these guys could be huge.