REVIEW: Starcatcher flies like Peter Pan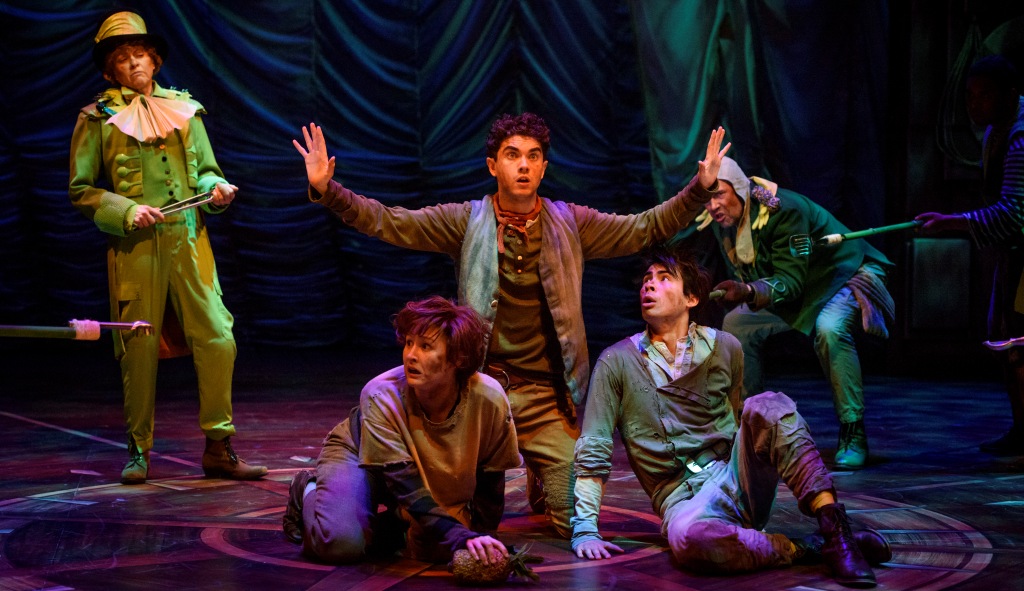 Avast there, matey, prepare to go aloft! And I abide that ye'll have a crew of plundering picaroons at yer back.
The Citadel's current show Peter and the Starcatcher does briefly soar aloft, but that comes later.
James MacDonald's rollicking, inventive production starts small with what is known as "physical theatre," or the more poetic "two planks and a passion." It's one of those shows that begins on a largely empty space – in this case, the Citadel's Maclab whose thrust stage pushes the actors right out into the audience. A company of actors appears and proceeds to build the production, with low-tech resourcefulness, out of whatever they can lay their hands on.  In fact, if you have time to think about it, there is nothing here that wasn't available to theatre 100 years ago. But, of course, it demands that the audience go along with all this and use their imaginations.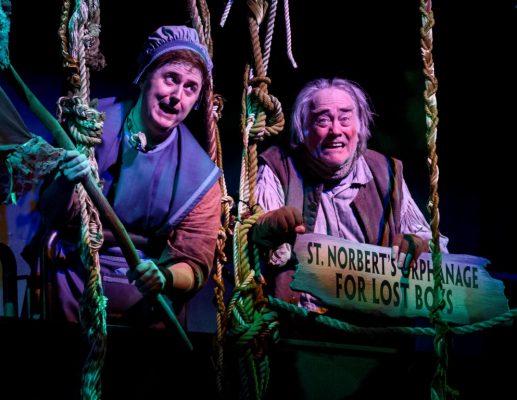 And if you do, gentle patron, the result will be a pirate's treasure of entertainment.
As the show materializes around them, the troupe finds ingenious uses for ordinary rope, some wooden ladders, toy boats, a stuffed animal, some parasols, a ship's wheel or two and, more importantly, each other. The cast of 12 morphs into a shipload of different characters.
Most everyone who comes into the theatre brings an intimate knowledge of J.M. Barrie's immortal Peter Pan. What you will see is an elaborate prequel devised by Dave Barry and Ridley Pearson and adapted for the stage by Rick Elice. There's music, but it's not quite a musical.
Starcatcher imagines where Hook and Peter might have come from, with a hint of Wendy's lineage as well. It's a precursor to the events that follow years later on the magical isle of Neverland.
The story begins with two wooden trunks on a dock. One is loaded on the Good Ship Neverland, an old weather-beaten cargo vessel bound for the remote Kingdom of Rundoon. But the trunk is full of sand – a ruse to fool those who would steal the mysterious real thing and is in the care of the aristocratic Lord Aster (a patrician Doug Mertz). Lord Aster sends his young daughter, Molly (feisty Andrea Rankin), and her nanny, Mrs. Bumbrake (the gender-defying Garett Ross), with the real treasure (something called "Starstuff") on a sleek greyhound of the sea called The Wasp.
However, there is treachery afoot as the ship is highjacked by the strangely familiar pirate Black Stache (Farren Timoteo). Stache however has two hands, a minor blip in his journey to becoming "Hook" that will be addressed later in the play. He, of course, has a henchman known as Smee (funny Peter Fernandes).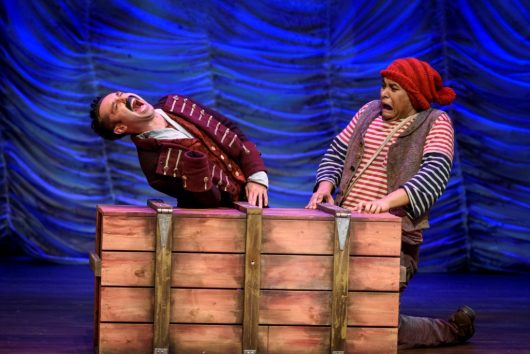 On a clandestine mission aboard (inventively staged by MacDonald as the ship's timbers are placed under the feet and over the heads of the adventurers as they traverse the murky hold of the ship), Molly discovers a cargo of young orphans being sent to Rundoon where they will be sold into slavery. One of them, known only as "the boy" (resolutely played by Oscar Derkx) exhibits a familiar spiky naivete and deep suspicion of any adult.
A mighty sea battle ensues. And mighty it is, involving ropes, a prop or two and vast undulating swaths of cloth (and the occasional actor playing anything else needed from human to inanimate).
MacDonald and company have imagined a fluid production and created a physical language to tell the story. The result, part melodrama, part Christmas pantomime and part proto-steampunk awfully big adventure, is a reminder of just how exiting theatre can be when it's freed from it usual bounds of sets and costumes.
The director has said he wanted to stimulate his cast to allow them input into the production, and it certainly shows how a challenged company can function as an elegant and extravagantly collaborative whole. The protean Timoteo is a good example. The actor moves Stache beyond the usual hammy, lip-smacking villain into a broadly comic imitation of Groucho Marx as a morally unencumbered vaudevillian.
The first act, with its unveiling of the characteristics of the familiar Peter Pan characters, is exciting and unfailingly funny. The second act never quite reaches that level and meanders to an ending that is about 15 minutes too long in coming.
Peter and the Starcatcher is a show that will appeal to families. It's full of enough adolescent humour (even a couple of fart jokes) to please the youngsters and enough theatrical savvy to satisfy the most jaded of older audiences.
But most of all, it invokes the sense of unending childhood and wonder that for a hundred years has kept Peter Pan so much a part of all our collective imaginations.
Like Peter himself – this show flies.
The play runs through April 23.
Photos by Ian Jackson