PLAYBILL: We've CRADDOCK with you!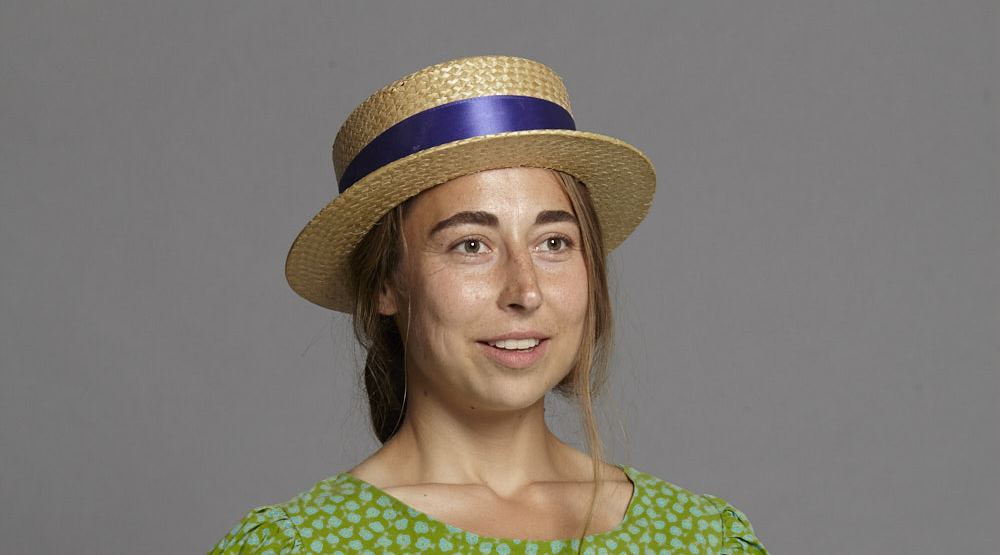 Chris Craddock is on a role … ooh, make that roll. You know what? It works both ways.
The Edmonton actor-playwright recently made his directorial debut in what turned out to be Alan Thicke's last starring role in a feature film, It's Not My Fault and I Don't Care Anyway (based on one of Craddock's own plays) – and won the $10,000 Edmonton Film Prize.
Now Craddock is presenting (and starring in) the world premiere of his new play Irma Voth, at The Roxy on Gateway April 18-May 5. Adapted from the novel by Miriam Toews, the play is a Breaking Amish sort of thing that tells the story of Mennonite girls in Mexico whose dreams of life "on the outside" are kindled when a film crew comes into their colony.
Cinderella
There's something about stories dealing with mistreated stepchildren who prevail over cruel relatives. They've been done so many times and in so many ways that you might think our entire species has issues with this sort of thing.
On the heels of an Edmonton Opera production, the latest version of Cinderella to hit Edmonton is a pretty big deal: The Broadway musical by Richard Rodgers and Oscar Hammerstein – the kings of Broadway musicals. This is actually the only show they wrote specifically for television, but since it aired in 1957 (starring Julie Andrews), it's been a hit on live stages in New York and around the world. In this Broadway Across Canada production at the Jubilee Auditorium April 18-23, the songs both enhance and advance the story:  The Prince Is Giving a Ball, In My Own Little Corner, Stepsisters' Lament, Do I Love You Because You're Beautiful? (great question) and the inevitable Wedding – and many more. The original tale, of course, has barely been touched, its universal themes of love, perseverance and sensible footwear still holding up since it was first told, circa 500 A.D. or so – and probably long before that.
Bring It On!
How's this for casting: A high school musical performed by actual high school students! And here's another switch: This stage production is actually based on the popular 2000 feature film Bring It On, dealing with high school drama on the cheerleading squad. The Scona Theatre Co. Production runs at the ATB Financial Arts Barns April 17 to 22.
Stage Struck!
The annual Edmonton Region One Act Play Festival is run like a Battle of the Playwrights. Six new one act works are being performed April 21-22 at La Cite Francophone. They will be adjudicated, judged, prizes awarded, and the winner will move on to compete in a province-wide festival in May. No word on if there's going to be an audience reaction score. Probably not. It's hard to measure the live theatre experience.
Edmonton Poetry Festival: Horizon
Who knew there were so many poets in Edmonton? There are this week, as dozens of gifted wordsmiths in as many events until April 23 gather to show off their work. Some of events are free, some are ticketed. Latitude 53 hosts Eskonahkwahk ("Horizon" in Cree), featuring a quartet of First Nations poets. There's an event called Wine and Wild Women Wordsmiths. Late Night Literati at Yellowhead Brewery might be more of a stand-up comedy scene. And of course there will be competitive poetry competitions, or "Slams," where poets square off for rounds of bare-knuckle boxing. Rhetorically speaking, of course.
Jesus Christ Superstar
Easter has been held over due to popular demand – and with it the ambitious Andrew Lloyd Webber musical in all its power and glory at the Mayfield Dinner Theatre until June 11. Director Kate Ryan's take on the musical passion play is a tour-de-force, buoyed heavenward by a large ensemble cast and by musical director Van Wilmott's band that sounds like an orchestra.
Now what what if Jesus had walked across Herod's swimming pool and proved He is no fool? There'd be no Jesus Christ Superstar, for one thing.
Terminus
Up for something different? This "Irish metaphysical odyssey" playing until April 23 at the PCL Studio Theatre in the Arts Barns is said to be a hard-hitting urban tale that combines "the fantastic, gothic horror, cartoon violence, and human pathos" in a "dark quest" through Dublin. A quest for what? Perhaps the answer will be found in this series of three "overlapping monologues written in complex rhyming patterns." Perhaps not.
Peter and the Starcatcher
Fans of Peter Pan – and that would be any of us who long to fly free in form-fitting tights – won't want to miss this highly entertaining "prequel" at the Citadel Theatre until April 23. It's an inventively-staged, well-acted and right proper swashbuckling adventure about orphan boys shipped off to an evil island, setting the stage of the so-called "Lost Boys" to come.