Citadel's Austen powers a ripping yarn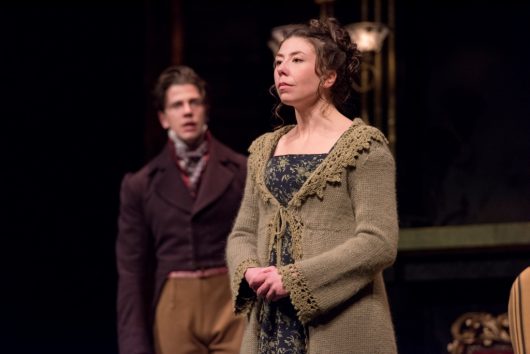 In 2008, the Citadel Theatre charmed Edmonton audiences with a memorable stage version of Jane Austen's Pride and Prejudice. Beyond the main element of Austen's durable book (published in 1813 and her best known work), the success of that production was something of a tribute to the theatre's ace production unit working at full, flat out excellence.
The adaptation came from the prolific Tom Wood (A Christmas Carol) who found in Austen's dialogue-heavy tome with its wry wit and strong female characters the basis for a lively piece of theatre. The playwright demonstrated that the very thing that turned off generations of unwilling students consigned to reading the author's reserved world of gossip, love affairs, scandals and happy endings could provide theatrical catnip for contemporary audiences. Another plus for Pride and Prejudice was the first use of actors from the Citadel/Banff Professional Theatre program whose weeks studying together in the mountains, and the subsequent time back in Edmonton rehearsing the play, made for a cohesive company who ably captured the subtle relationships of Austen's characters.
The play was directed by Bob Baker with his usual eye for dramatic detail, and greatly assisted by his designer, Leslie Frankish, whose ingenious, multi-level revolving set rendered Regency England a familiar place where recognizable characters reside.
And now those same creative architects are back in the Citadel's new production of Austen's first novel to be published, Sense and Sensibility – and the results are just as captivating. It plays through May 14 on the Shoctor stage.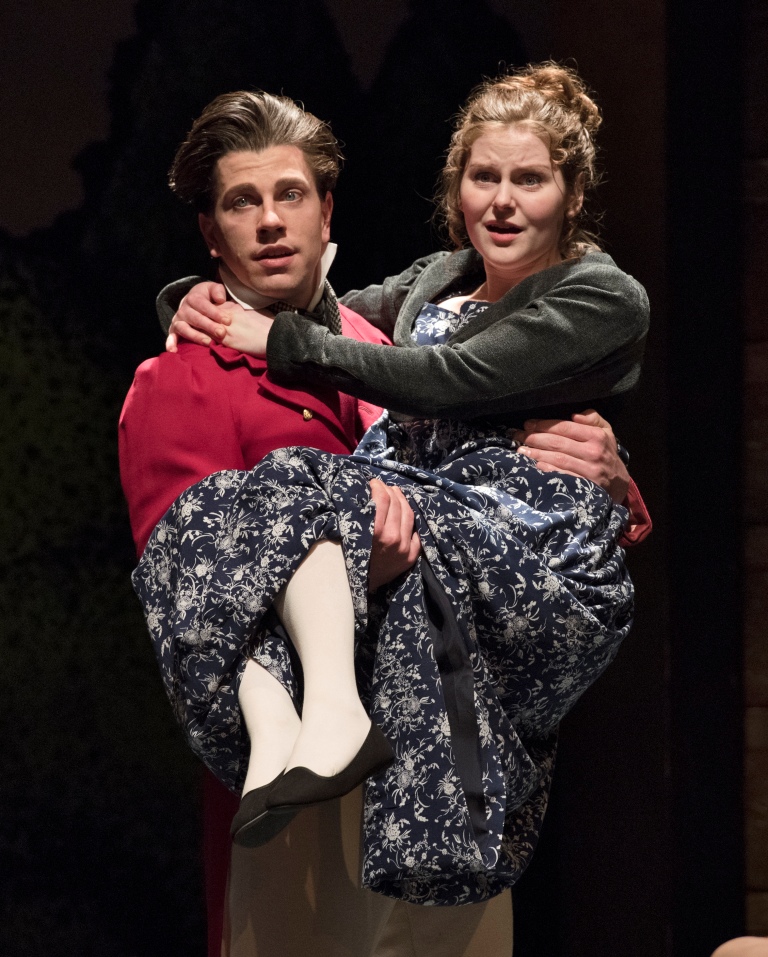 This time Austen, Wood, Baker and Frankish have conspired to depict the experiences of two poverty-stricken but genteel ladies in search of a proper (and well-to-do) mate. The ladies in question are the Dashwood girls, Marianne (Julia Guy) and Elinor (Madison Walsh). Marianne is beautiful and headstrong and becomes infatuated with the shallow attractions of one John Willoughby (Matt O'Connor). It's no spoiler to note that Willoughby is a fortune hunting cad and a bounder because it soon becomes obvious to us – if not to Marianne. Elinor is prudent and discreet and constant in her love for the stalwart (if waffling) Edward Ferrars (Patrick Dodd).
The plot has the two sisters move through a world of culture and refinement, of fine homes and manicured gardens while coping with financial setbacks, vicious gossip, mendacious and arrogant social climbers and generally fighting the age-old battle of head vs. heart in a quest for happiness in a society where love is ruled by money.
That short summation hardly sums up the richness and rewards of this superlative evening. The spirit is buoyant as Baker probes deeply into the heart of his characters. He makes us laugh and, if the occasion demands, is not above dipping into darkest melodrama – albeit well-staged and heartfelt melodrama. Baker attacks Austen's dense prose at a great clip and won't give you time to be bored.
In fact, Sense and Sensibility turns out to be a ripping good yarn.
The first few minutes demonstrate how much Frankish's set will contribute to the evening. There are a couple of bucolic looking trees and pieces of furniture leading to a golden proscenium arch in the back of the stage. As the action begins, a phalanx of minions descend on the stage – pushing trees, plants, pieces of furniture and suddenly an ornate Regency room materializes in front of you. Throughout the rest of the evening, retainers and characters will continue to move objects about the stage to create all sorts of rooms and views. Great chandeliers descend from the flies to be lit by servants. Often the set changes come from Stancil Campbell's atmospheric lighting. Allan Gilliland's movie-like score effectively underlines the mood. The result is magical and oh-so-very theatrical.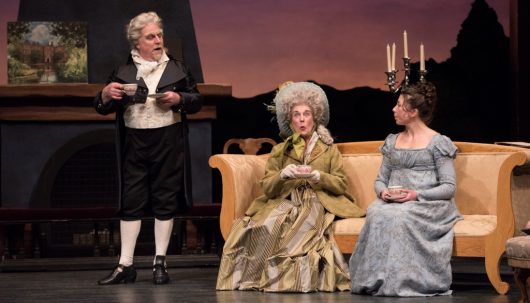 Wood, whose elfin humour is very much on display, pays strict attention to Austen's sensibilities while at no time allowing her period-heavy prose to get in the way of dramatic thrust.
And what performances from the well-practiced cast. The formidable Julien Arnold and Robin Craig energize the entire production each time they appear as an hilarious, life affirming couple who act as a catalyst for the Dashwood Sisters. The three male leads – Dodd, O'Connor and Stephen Gartner adroitly play the men in the Dashwood sisters' lives. Belinda Cornish is properly supportive as the ladies' mother. Guy's Marianne creates considerable sympathy in a role that could have left the character as a bubble-headed ninny (she also has a lovely singing voice) and Walsh's Elinor suffers decorously, but with considerable mettle as the put-upon daughter. In this capable actress's hands, Elinor turns out to be the most interesting person on stage.
As you leave the closeted world of 200 years ago in England, just as the steam engine was being perfected and shortly before Queen Victoria ascended to the throne, and step back into a late evening here in the 21st century (perhaps a bit misty-eyed at what you have seen) you may marvel at how so literary a property can transform into such an irresistible and theatrical entertainment.
Photos by David Cooper