PLAYBILL: Bonnie and Clyde get musical therapy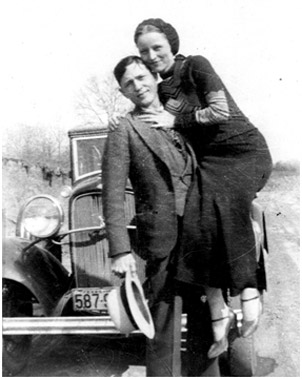 If only Bonnie and Clyde had gone into couples therapy before things got out of hand.
They could've unpacked all that co-dependent bank-robbing-shooting-people-running-from-the-cops behaviour, and come to some resolution that didn't involve getting killed. Maybe they could've gone straight and counseled wayward youth on the perils of robbing banks, shooting people and running from the law. We'll never know.
It remains for storytellers to tease out the Barrows' motivations and events during the last action-packed years of their lives, as part of a long tradition of romanticizing criminals. Here's one with new twist: Bonnie and Clyde: The Two Person, Six-Gun Musical, the Northern Light Theatre production on stage at the PCL Studio, ATB Financial Arts Barns May 4-21 – proving again that anything can be a musical.
This one focuses on their love affair, and also with the unfair claim Bonnie and Clyde were cold-blooded murderers. Fact: Neither one of them actually killed in cold blood. Their blood was running hot. Some of their pursuers died in shoot-outs – before Bonnie and Clyde themselves were finally gunned down in 1934.
So what sort of songs would you imagine go with such an epic tale? Here's the lyrics to one (from a press release):
"Coulda lived some sixty years and straighter than an arrow, toilin' hard fer joy I'd never know, but in sixty years, the books'll read that Clyde and Bonnie Barrow, they drew their lot – and that's the way we'll go!"
Whatever that means, it's sure to be a stirring show.
Sweeney Todd
A vengeful barber meets a cannibal cook and they make beautiful meat pies together in this age-old tale of Victorian horror set to music – and what was that about glorifying criminals?
The ELOPE Music Theatre troupe is taking a crack at Stephen Sondheim's Sweeney Todd: The Demon Barber of Fleet Street, at the Westbury Theatre in the ATB Financial Arts Barns May 4-13. Nice touch: They'll be selling actual meat pies outside the show.
Art
Yasmina Reza's play – the English translation at the Varscona Theatre until May 14 – revolves around three men who aren't likely to be drinking beer and arguing about hockey. They're getting into it over the title of the play – because one of them has just plunked down a stupid of money for painting that's nothing but white on a field of white. Lively discussion ensues.
Of course it's not just about the art. The painting is a McGuffin for deeper human explorations: the meaning of art, the meaning of friendship, the meaning of life.
Sense and Sensibility
Jane Austen figured out the meaning of life long before our grandparents were born – in a series of long and lugubrious novels that poked holes in the English gentry with stories and characters still relevant today. One of the most famous novels is her first, Sense and Sensibility, following the adventures of a mother and her daughters who get screwed in the will when dad dies. Such a cheery scene in Victorian England – and it's been called a "comedy of manners."
The renowned local playwright and actor Tom Wood has created yet another adaptation of the classic, which will make its world premiere on the Citadel Theatre's Shoctor Stage until May 14.
Irma Voth
Adapted from the novel by Miriam Toews, this new play by Edmonton's own Chris Craddock (who's also in the play) is a Breaking Amish sort of story about Mennonite girls in Mexico whose dreams of life "on the outside" are kindled when a film crew comes into their colony. Their oppressive father isn't too pleased with this turn of events, as you might imagine.
Irma Voth makes its world premiere at The Roxy on Gateway until May 5.
Jesus Christ Superstar
Easter has been held over due to popular demand – and with it the ambitious Andrew Lloyd Webber musical in all its power and glory at the Mayfield Dinner Theatre until June 11. Director Kate Ryan's take on the musical passion play is a tour-de-force, buoyed heavenward by a large ensemble cast and a small band that sounds like a big orchestra.