REVIEW: Smart Art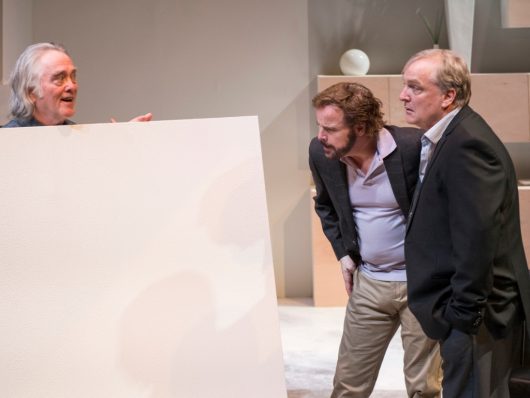 Art, a French language work by Yasmina Reza (translated by Christopher Hampton) opened in Paris in 1994 and quickly became one of the most produced plays in the world. It has won awards everywhere (including the Oliver in Britain and a Tony in America) and was a sure-fire audience hit.
Shadow Theatre and veteran director John Hudson is giving the now venerable classic a whirl, at the Varscona Theatre until May 14.
Despite its growing years and familiarity, Art still packs considerable dramatic punch.  At the centre of the work is what Hitchcock called a McGuffin – an object that sets off a series of events without really being a part of them. The object in question is a large white-on-white painting.
It turns out the play is not really about the painting.
In fact, Reza says little about its artistic merit. When asked to describe it one of her characters observes, "It's a canvas about five feet by four." The "art" comes more from the delicate balance of friendships as the playwright strips away intellectual and artistic pretensions to expose the caustic wear of time and circumstance on once close relationships.
The painting, however, displayed noticeably throughout the play, almost becomes a "fourth" character.
The plot doesn't really give much of a clue as to the sharp, witty and clever evening to come. Serge (Glenn Nelson) is a divorced doctor who fancies himself something of an art connoisseur. He has just spent 200,000 Francs on a large monochromatic abstract painting. He invites his closest friend, Marc (John Sproule), to take a look – expecting Marc to congratulate him on his acumen. Marc is not only unimpressed, but bluntly angry and even offended by the "white shit," as he calls the work. The exorbitant cost exacerbates a tension that obviously has been boiling just beneath the surface during their 15-year friendship.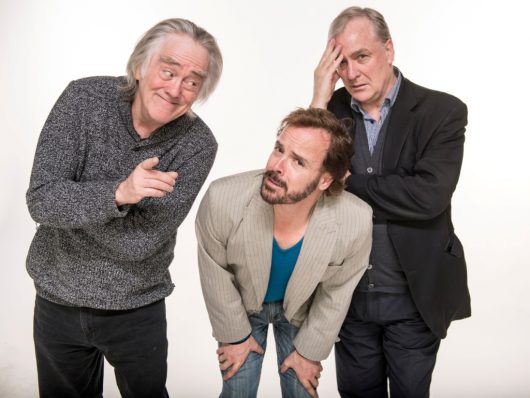 The two are from the same social strata.  Marc is an aeronautical engineer, but throughout the years has assumed the position of being superior, a mentor, to Serge. The painting is Serge's way of establishing his own taste. The evening deteriorates into a verbal shootout – pointed, at times vicious, and often very funny.
Much of the wit is generated by the third party of the triumvirate. Yvan (Frank Zotter) is another friend, ill-focussed and something of a goofball. Unlike the other two, his life is in a constant state of disorganization. The humour is generated by the problems Yvan faces with his oncoming wedding and his multi-character monologue on his fractured preparations. Zotter's reading is hilarious and a high point of the evening.  Yvan, not comprehending why the painting is such a big deal, finds himself perched precariously between his two warring friends.
In terms of skill and impact, the three performers are very well matched. Reza gives each actor a lot of space to fully inhabit their characters. Sproule barely hides his seething fury behind a facade of civility which spectacularly crumbles as the evening goes on. Nelson, smarting under years of condescension from his friend, explodes in a long repressed emotional frenzy. Zotter's Yvan is kept around as sort of a court jester by the other two and is way in over his head, particularly when his two brainiac friends turn their considerably lethal barbs in his direction. Zotter becomes more and more comically manic.
I suggest you catch his performance as he shows signs of exploding before the run is over.
Hudson directs his trio of superb performers with his usual style and crisp intelligence, using pauses, hesitations and actors' facial expressions that often say as much as the words. We can all recognize ourselves in these three French amis and the way an argument can lead to things being said that shouldn't be. Or, perhaps, in the search for real truth, should be. In Art, wit and substance combine in a superior evening of theatre.
Photos (and video) by Marc J. Chalifoux