Bonnie and Clyde musical shoots to kill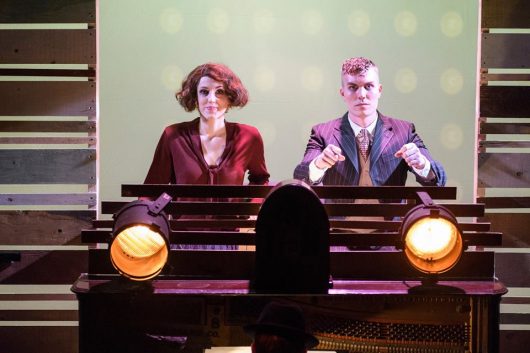 Bonnie & Clyde: The Two-Person, Six-Gun Musical has been bouncing around the North American theatre scene for nearly 20 years. Seeing possibilities for a small musical featuring just two performers, theatre enthusiasts Andrew Philip Herron, Doug Ritchie and, later, off-Broadway producer Will Pomerantz, put together a show that played with varying degrees of success. Reviews mentioned that it was "a work in progress," and that it "needed a good director."
Luckily for Edmonton audiences the show has found an ace director in Trevor Schmidt for the Northern Light Theatre's production in the ATB Financial Arts Barns until May 21.
Rising out of the Depression in the early 1930s, various thugs cut a wide swath across middle America – robbing banks and service stations and murdering anyone who got in their way.
No one caught the public's attention more than Bonnie Parker and Clyde Barrow. For years they successfully eluded capture in a series of daring escapes. They were doomed, young, (apparently) really in love and brought sex into the equation. When they first meet, he's a charming layabout and petty thief. She's a bored waitress dropping dishes on the floor so she'll be fired – and dreaming of "driving a fancy car down a main street in Oklahoma." In their first heist she steals a rabbit.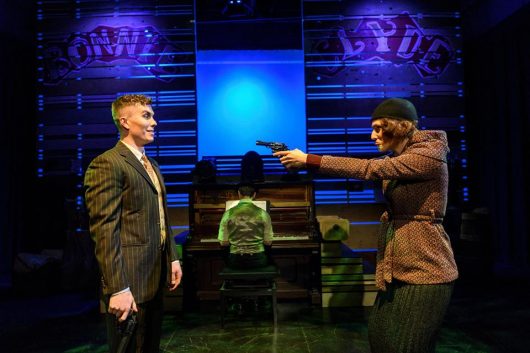 Bonnie and Clyde were terrible, murderous people but Schmidt's production also gives us another side of the duo – suggesting that neither of them was especially bright, and that they shared affection, romance, love and heartbreak. You know, just like everyone else. As the production goes on, there is a growing sense that there could only be one end to their story. One observes, "Why should we run like hell when hell is where we're heading?"
The play gets darker and more intense as the evening goes on and their lives get more complex with each heist, murder and newspaper story.
And then, as the world knows, they died spectacularly in that famous shootout – so memorably pictured in the 1967 Faye Dunaway-Warren Beatty movie – riddled by over 130 police bullets.
Despite the admirable work of Schmidt and his two leads, there is still the faint musk of "work in progress" in the air. Rather than opt for bluegrass, or even dust bowl type ballads, the show features sub-par Broadway melodies that, by the end, tend to all sound the same. There is a bit of ragtime and boogie woogie that creeps into piano accompaniment, and you wish the trio behind the show would have ventured down that country road.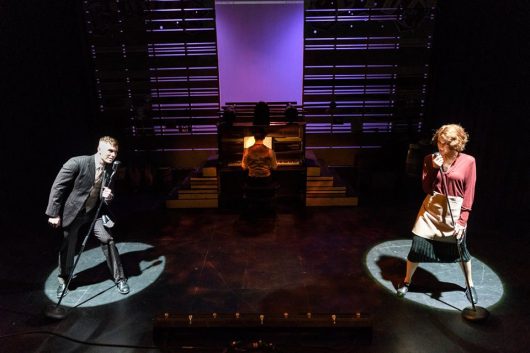 There are some very good vocal moments that occur mostly toward the end of the intermissionless 85 minutes. One song has the two singing a lively duet about firing off their guns at pursuing cops, and another features a touching solo from Clyde (Matthew Lindholm) where he wishes he could have been "a better man."
Both Lindholm and the clarion-voiced Amanda Neufeld are dynamic performers who create two real people and don't seem to be inhibited by the iconic stature of the characters they play.  To misquote Carleton Young in Who Shot Liberty Valance, they play the character, not the legend. Lindholm is a well-known Edmonton actor, now living in Toronto who still regularly appears here. He has a big voice and locates the shy, eager-to-please boy behind the lethal man. Neufeld is busy as well, but is particularly remembered for her superb turn in Schmidt and Darrin Hagen's Klondykes last year. Individually they register strongly – together they're dynamite.
Schmidt keeps things moving at the speed of a bluegrass breakdown but deliberately (and effectively) slows the pace at the ending, as the original book writers opted to turn inward toward the ill-fated lovers rather then to their spectacular death.
Schmidt's ingenious and effective set has B & C's car built above Nicolas Samoil's expressive upright piano. To the left and right are two small areas that fill in for the businesses the two stuck up. On a screen high above, well-chosen '30s headlines spell the story that unfolds below them. At times the lovers act out scenes and songs. At others they approach the mics and sing directly into them as in a concert. At one point when the two unleash a series of gun fueled robberies, Schmidt dramatically stages them in an electrifying tableau.
This production holds audiences, but doesn't transport them. It certainly doesn't live up to the comic elements promised in the sub-title, The Two Person, Six-Gun Musical.