PLAYBILL: Yo Mama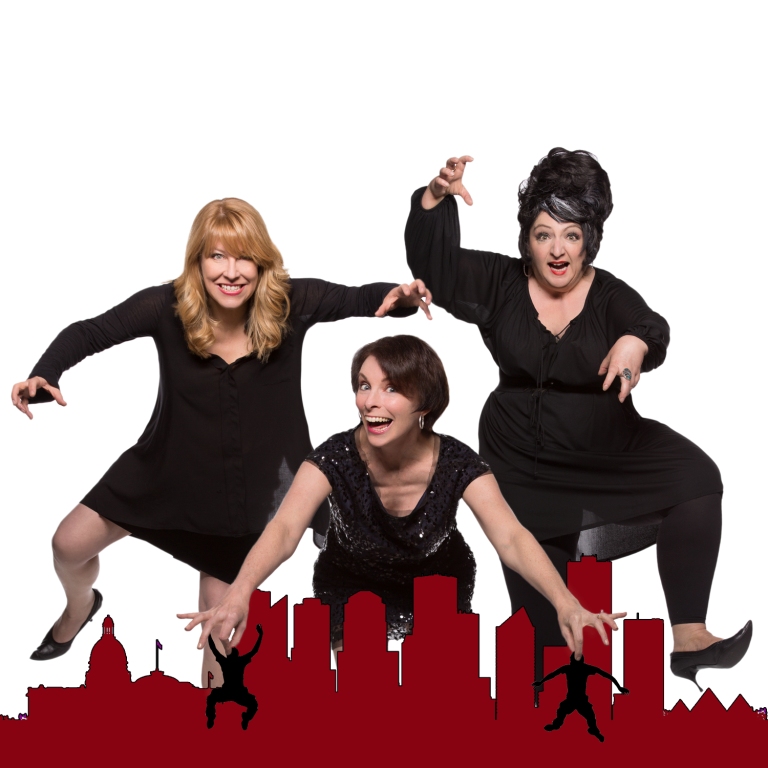 Who are these ladies – dames, gals, broads, girls, skirts, chicks, women – who call themselves "Hey Ladies"?
It turns out the three Edmonton performers either are mothers, have mothers or both – so it works out. The Mother's Day edition of their semi-improvised variety-talk show plays Friday at the Roxy on Gateway. It's not exactly a parody of a variety-talk show because they're actually doing a variety-talk show – with guests, live music, games and interviews expected to plumb the depth of their considerable talent and experience.
Leona Brausen is a familiar figure on the local comedy theatre scene. Fun fact: There used to be a local band called Leona Brausen's Boyfriend, which more or less turned into Captain Tractor. There's probably a story here if anyone cares to look into it.
Davina Stewart has also has been acting and producing around Edmonton for many years, mainly with Teatro La Quindicina and in various improv comedy shows at the Varscona Theatre.
Rounding out the Ladies is Cathleen Rootsaert, a founding member of the Three Dead Trolls in a Baggie comedy troupe, which was briefly national on CBC television, who has since been busy acting, writing, directing, and mothering. Rootsaert can likewise be found in Edmonton improv shows, like the Die-Nasty live improvised soap opera that runs every Monday at the Varscona.
Friday's show, "suitable for all sexes," will feature the guest chef Erin Smandych – billed as "The Mother of Fermentation" – singer-songwriter Eva Foote, and the Hey Ladies' sidekick Noel Taylor. They will also be playing a Mother's Day version of The Match Game.
Fill in the blank: Yo Mama is so _____ she ____ the _____!
Bonnie And Clyde: The Two Person, Six-Gun Musical
Must we glorify and celebrate criminals? Yes, we must – for there is a little Bonnie and Clyde in all of us.
So storytellers continue to tease out the bank robbing couple's motivations during the last action-packed years of their lives in the Dirty Thirties. Now here's a tale with new twist: Bonnie And Clyde: The Two Person, Six-Gun Musical, the Northern Light Theatre production on stage at the PCL Studio in the ATB Financial Arts Barns May 4-21. This one focuses on the fact that neither Bonnie nor Clyde was particularly clever, but they loved each other passionately between car chases and shootouts, knew how to sing a lovely power ballad, and were resigned to the fact that they were ultimately doomed: "Why should we run like hell when hell is where we're heading?"
Spoiler alert.
Sweeney Todd
A vengeful barber meets a cannibal cook and they make beautiful meat pies together in this age-old tale of Victorian horror set to music – and what was that about glorifying criminals?
The ELOPE Music Theatre troupe is taking a crack at Stephen Sondheim's famous Sweeney Todd: The Demon Barber of Fleet Street, at the Westbury Theatre in ATB Financial Arts Barns until May 13. Whose idea was it to sell meat pies outside the theatre?
Sense and Sensibility
Playwright and actor Tom Wood, perhaps best known as Scrooge in his version of the Citadel Theatre's annual show A Christmas Carol, has created another adaptation of Jane Austen's first novel about women left in poverty in Victorian England after they get screwed by dad in the will. The play makes its world premiere on the Citadel Theatre's Shoctor Stage until May 14.
Art
Yasmina Reza's play – the English translation at the Varscona Theatre until May 14 – revolves around three men who aren't likely to be drinking beer and arguing about hockey. They're getting into it over the title of the play – because one of them has just plunked down a stupid of money for painting that's nothing but white on a field of white. Lively discussion ensues.
Of course it's not just about the art. The painting is a McGuffin for deeper human exploration, about things that shouldn't be said between friends – or maybe they should.
Jesus Christ Superstar
Easter has been held over due to popular demand – and with it the ambitious Andrew Lloyd Webber musical in all its power and glory at the Mayfield Dinner Theatre until June 11. Director Kate Ryan's take on the musical passion play is a tour-de-force, buoyed heavenward by a large ensemble cast and a small band that sounds like a big orchestra.