Splashy modern Ibsen still pining for the fjords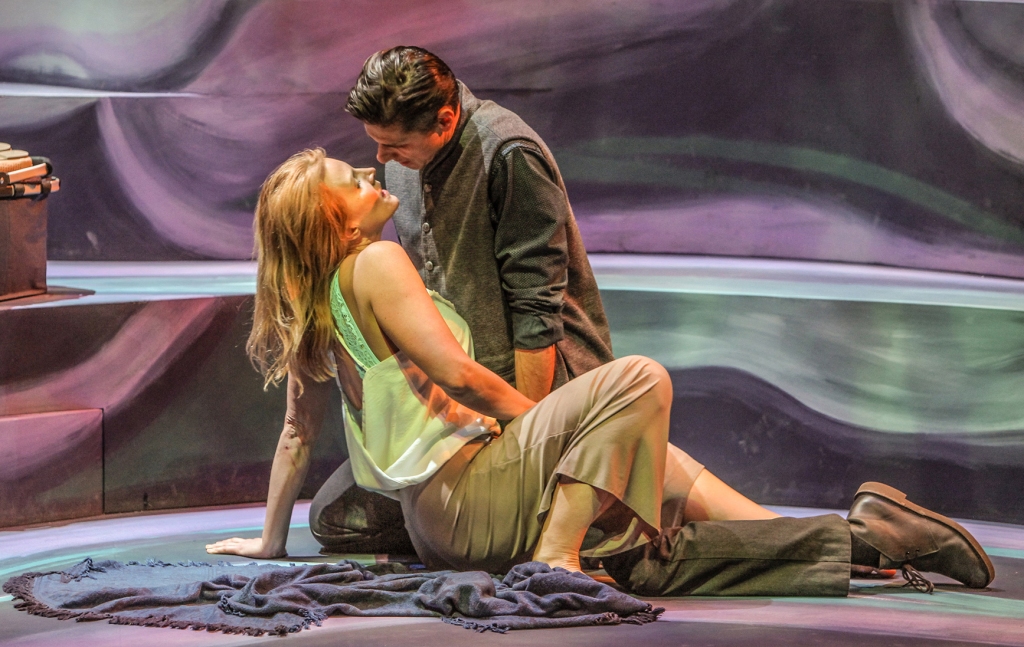 In his new production of Henrik Ibsen's The Lady from the Sea, director Michael Bradley has blown the accumulated dust from the 1888 classic and, with bows its creator, turned it into a perfectly respectable tale for modern audiences.
The U of A Studio Theatre production runs at the Timms Centre for the Arts until May 27.
Working from his own adaptation, Bradley got some help from Ibsen – who was considerably ahead of his time. Besides being the father of modern theatrical realism, the Norwegian playwright was writing psychological dramas 15 years before Freud came along. Ibsen also predated the feminist movement by suggesting that women should be able to have lives of their own in his plays like A Doll's House and Hedda Gabler.
The playwright is still very popular today. The currency of his ideas keep his work in constant production, and Bradley has done a first-rate job in pushing this late 19th century minor masterpiece into our times. Occasionally his production drifts from the original, but I suspect the Master – who was willing to sacrifice the ability to see his work produced, and even his love of country to his art – is smiling somewhere.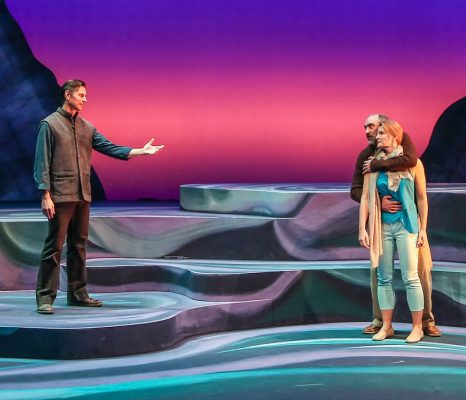 Bradley begins with a killer image. A lone woman stands between two massive mountains looking out over – what? The sea? A fjord? She walks slowly to the unseen water as sound and music swirl around her. Thunder crashes as she disappears and the mighty mountains come together behind her (production designer: Ksenia Broda-Milian, sound design: Matthew Skopyk). It is a powerful visual image for everything that is to follow.
The Lady From the Sea is set in a small town in the mountains of West Norway. Ellida (Nicole St. Martin) is married to Wangel (Michael Peng), a kindly provincial doctor. He is dithery, distracted and ineffectual, but is nonetheless a good husband and father.
The daughter of a lighthouse keeper, Ellida feels suffocated by the mountains that surround her, spending her time dreaming of the sea while being haunted by the memory of a mysterious sailor she once loved. He told her that someday he would return to claim her.
Her longing for the sea is entwined with a desperate need for freedom. Roiling just below the surface, Ellida's obsession approaches madness. It has certainly ruined her marriage.
One day, her dream lover (Cristian Paul Badiu) reappears and she faces a familiar Ibsenian dilemma – will she follow her dream or remain with the older man who loves her?
Her step-daughter, Bolette (Gabby Bernard), also chafing at the bounds of stuffy provincial life, wants more – an education and travel. She is pursued by Arnholm (Kris Loranger), an older man who can give her what she yearns for but she has to give up her freedom for a loveless marriage. And then there is Hilde (Emma Houghton), Bolette's flirtatious teenage sister, who spends her time running about the stage and pumping adolescent humour and energy into the evening.
At the centre of the drama is the dissolving relationship between Ellida and Wangel. Will she answer the call of the merman she once loved or stay with Wangel? St. Martin is quite commanding as she is pulled between her overwhelming need for the sea and the steadfast love of the man she married. Peng, one of our better local actors, is not given the same dramatic tools to be her equal. This Wangel never understood and will never understand the complex driven woman he married. This leaves the ending moot.
Director Bradley is in no hurry, effectively taking advantage of long pauses, letting the lighting, set and sound advance the story. Plot drifts into dream sequences and several times raises some real goose bumps. The only quibble I might have is The Stranger. After so effectively using atmosphere throughout the play, the lover from the sea seems a very ordinary chap – not at all the potent metaphor for freedom and life he should be.
Bradley has wisely cast older actors in the mature roles and so we don't have to imagine young ingenues dressing up for the part.
What an asset Studio Theatre is for Edmonton theatre. Being an educational institution liberated from the constraints of commercial audience demands, it is free to mine Centuries of theatre to present diverse seasons of plays. And given the traditional quality of the productions, as exemplified by this hugely entertaining show, we are fortunate indeed.
Photos by Ed Ellis