REVIEW: Talking Turk a delightful entertainment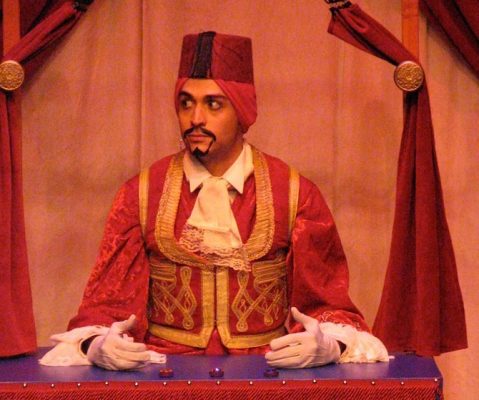 You remember Zoltar the Talking Turk.
In the penny arcades of yore, he was the dapper Eastern-looking chap in the turban who sat in a glass booth. You'd put in your coin and Zoltar would jerk into life. A crystal ball would be lit by an eerie, red mystic light and the seer would forecast your future. Zoltar probably achieved his greatest fame in 1988 in the movie Big, in which the automaton turned a young adolescent into a 30-year-old Tom Hanks.
Back in 2005, Edmonton playwright Stewart Lemoine took the idea and deposited it down into 1920s high society. The production was notable for its light, whimsical approach, sophisticated dialogue and a great sense of time and place. Or at least, a time and place as filtered through Lemoine's unique and droll sense of humour.
One of the best memories I have of the show was of Mark Meer as the mechanical marvel. The actor somehow found enough in the gadget to be engagingly human. He is one of our busiest performers in roles ranging from voicing heroic video game commanders to hugely successful Fringe improv shows (Harold of Galactus) to the guy up there beside Donovan Workun in CBC radio's The Irrelevant Show.
In a remount at the Varscona Theatre until June 10, Meer may be anchored in that curtained booth in The Salon of the Talking Turk but his personality extends throughout the show.
To launch the 35th season of Teatro La Quindicina, Lemoine dipped back into the 70 or so plays he has penned over the years, setting his sunny salmagundi in the roaring 20s amongst the upper class of Long Island, New York – and, with his usual excellent choice of just the right music, makes good use of Mozart's Turkish March to set the mood.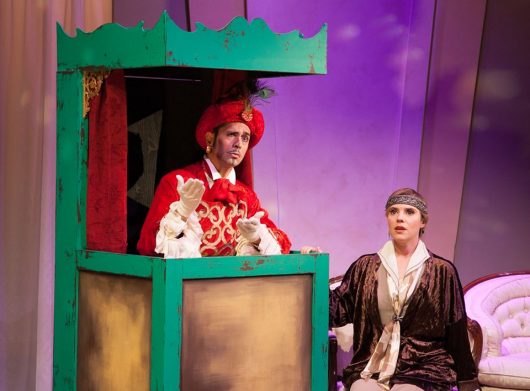 Socialite Cornelia Houghton (Louise Lambert) and her friend Dominica D'Eath (Shannon Blanchet) are two boldly unconventional smart-set flappers. Cornelia is a searcher for truth, while Dominica searches for love in all sorts of places.
Into the shows bounds the irrepressible Wally Peverell – with actor Braydon Dowler-Coltman making his debut as a member of the Teatro family of players. He fits right in, playing Cornelia's long-lost brother who was dumped off at an orphan's home when he was but a few months of age. He has since distinguished himself by graduating (simultaneously) from Harvard and Yale – at the age of 18.
Dominica, who knows how to pinch a penny, finds a mysterious box in a second hand store. They open it up and there is the Talking Turk – in bits and pieces. Wally sets him up and, to his surprise, the automaton begins to speak. He tells of a career that progressed in bits and pieces since 1786, and seems quite at home in the New York of the 1920s. An amazed Cornelia asks Wally how he got the Turk to talk, and her brother enthuses, "Just set him up and pressed his various buttons."
"That's a good way to get to know anyone," she burbles.
Delighted at the find, she throws some overstuffed Byzantine pillows on the floor and declares a "salon" in which the four will discuss the Turk's many adventures.
Later, something of a romance develops and the tone of the evening changes, but the polished cast carry the switch off with aplomb.
This is one of the lightest of the Lemoine oeuvre and the laughs come quickly, easily and often. His cast is polished and his direction sure handed. Leona Brausen's costumes assist greatly in mirroring the times. Lambert is upbeat and luminous as the Turk leads her through a series of life examinations. Blanchet is more dark and driven and is not about to be moved by a robot – suave and handsome though he is. She delivers her lines at breathtaking speed but remarkable clarity. It may be fast but it's all there. Dowler-Coltman takes to Teatro's unique dialogue style as if he's been talking Lemoine-speak since birth. His Wally is young and unpractised in the ways of the world but is not above a lover's roundelay (or two) when it's offered. And Meer's Turk is hilarious as the courtly, distinguished sort of automaton that could sweep a girl off her feet.
The Salon of the Talking Turk is an entertainment fit for a dappled eve of an early Alberta spring.