Chili Peppers keep it fresh in Edmonton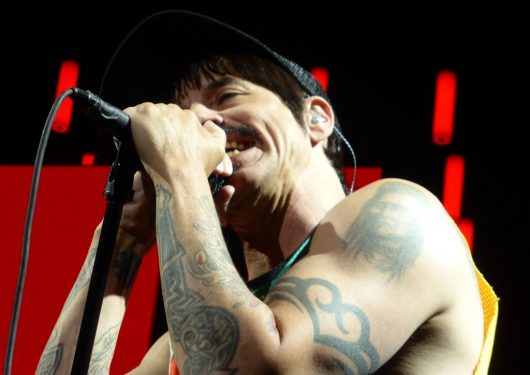 When a band on its day off in Edmonton hangs out on Whyte Avenue, instead of, say, West Edmonton Mall, they're more likely to get a favourable review. It's a FACT.
Because Anthony Kiedis and Flea from the Red Hot Chili Peppers were spotted in our city's arguably coolest district on Friday (on their way to dinner and to partake of some craft beer, apparently) and then on Saturday delivered a great show at Rogers Place. Coincidence, you say?
Maybe they checked out some music stores whilst in Edmonton. Real rock musicians on the road (as opposed to fake ones) often have an obsession for music-related shopping in every town they're in, and for seeking out the coolest areas of said town, if they have time to kill. They're always looking for new ideas, new sounds, any way to keep it interesting after doing thousands of shows and being paid handsomely for it. If they didn't keep it fresh and vital after all these years, they'd be playing casinos.
The Chilis have been around since 1983 and are touring on their 11th studio album, The Getaway. By age they qualify as classic rock, the Beach Boys of Generation X – an altogether grumpier generation than the Boomers as the X-ers enter middle age – but this was no nostalgia concert. First off, there were a lot of young people in the crowd. Millennials. We'll see how they turn out.
There were a few key hits here and there, often given fresh new treatments, but a lot of the show delved into pure musicianship, funk-rock fusion for the sheer joy of playing they're famous for. Special moments included Flea and guitarist Josh Klinghoffer riffing in what came off like an improvised hard rock duet, slap bass and wailing guitar. It was beautiful. Drummer Chad Smith is likewise a master of the art of funk groove, and obviously gets off on holding it down. If musicians love what they're doing without worrying if people like it, then the audience tends to pick up on that love.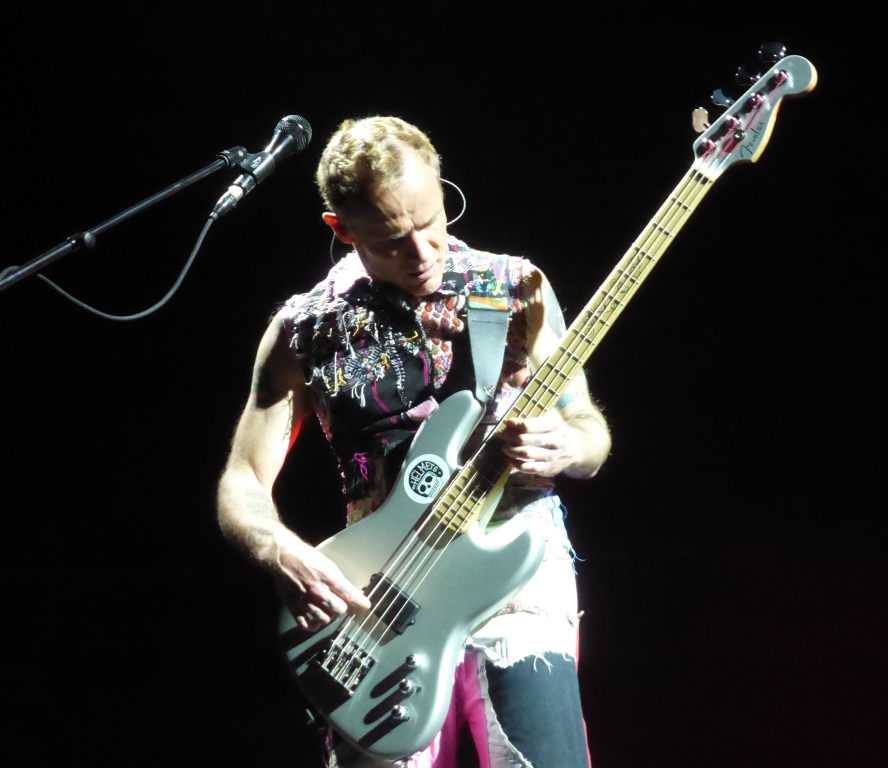 There were magic moments at the show. There was no tracking whatsoever – that's magic these days. Fill-in parts were performed by two live musicians tastefully positioned in the background. The mustachioed maniac Kiedis hit most of his notes, and the ones he didn't proved he was HUMAN. Also, the set list was mixed up from other tour stops – another surprise given the strict pre-programming of modern light shows. We were lucky to get their famous take on Stevie Wonder's Higher Ground. No toying with the arrangement this time, but they killed it. Obscure, weird songs were also highlights: The heavy funk of Tell Me, Baby; the old-school soul of Brandy (You're a Fine Girl) – cover of a 1972 hit by the band Looking Glass – the crunchy jazz feel of Aeroplane. Of course Dani California and By the Way were much appreciated, but it was the lesser-known material, clearly better loved by the band, that carried them through – which of course translated to the audience. There was a love of love in the room.
It's worth mentioning the icing on the cake: a novel sort of 3-D pixel light show made by an array of 1,000 LED rods at the roof of the arena, each rod able to be raised or lowered by wire and lit in any colour, controlled by computer. The result was a beautiful undulating ceiling of colour and form to go with the music. What a huge potential for this mind-blowing lighting technology. There was a lot of weed in the room, too.
Bonus cred points for keeping it in the family when it came to opening acts. First was the Chili Peppers' original founding drummer Jack Irons, whom Flea introduced personally as a "dear childhood friend." What could've been a 20-minute drum solo (plus bizarre EDM tracks and vids) was saved by a version of Pink Floyd's Shine On You Crazy Diamond when Irons was joined by a singer and two musicians. Such an original version that it took a minute to make out what it was.
Next up was Jack's son Zack's band Irontom, a bluesy, funky, punky, all-over-the-place sort of band. Would they have gotten the gig were it not for the family connection? Maybe not. They had some good riffs in an exotic vein – and Zack's a great guitarist (the headliner brought him on stage later) – but they haven't quite figured out what they are yet. Give them time.
Still, opening acts like these at "classic rock" shows are far more interesting than the radio-friendly bands-of-the-week you sometimes get. Gotta keep it fresh.