PLAYBILL: Nnnnnnnnext!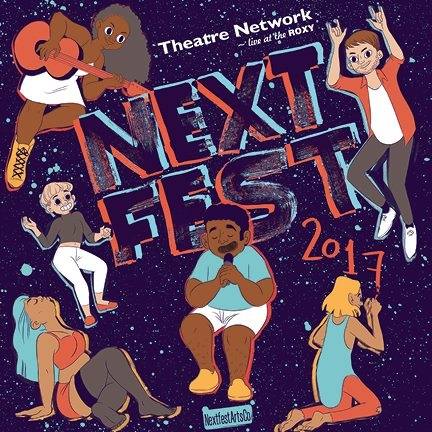 Here's a fun tip for budding artists, a little "life hack": The concept of "spring" may be used as metaphor for birth. You see, old life must rust or burn out or fade away to make room for new life, for the next, smarter generation to come. It's the circle of … er, life!
In the theatre world – obviously – spring is a time for developing new talent. First on the list this month is Nextfest 2017, a multi-disciplinary multi-day festival at the Roxy on Gateway and seven other venues in the environs of Old Strathcona – which means it must instantly be declared Fringe Jr! For it is. Young and emerging artists are showcased here: In live theatre, dance, music, opera, poetry, comedy, film, visual arts, spoken word, you name it.
Festival passes are $40. There are dozens of performances through June 11, with the opening night gala taking place on Thursday, June 1 at the Roxy.
The Sprouts New Play Festival for Kids
Taking place smack dab in the middle of Nextfest is this two-day series of workshops for children's plays presented by Concrete Theatre, June 3-4 at the Westbury Theatre in the ATB Financial Arts Barns. The bill includes "staged readings" of three brand new short plays, directed by local theatre impresario Mieko Ouchi, and family activities throughout the weekend.
International Children's Festival of the Arts
And then there's this sprawling homegrown festival happening in the gorgeous Sturgeon River valley in St. Albert May 30-June 4. Performances take place in the Arden Theatre, in the nearby City Hall, and a dozen tent venues thereabouts, with wandering clowns afoot, and mainly geared to little ones. Booking ahead is recommended for the hot acts: Jonathan Burns, BAM Percussion, and a stage musical version of Madagascar. There's free stuff, too, and little kids generally seem have a blast no matter what they're doing at this event.
Sparks
Gerry Potter – another renowned local theatre impresario – directs this special show featuring group members at the Nina Haggerty Centre for the Arts, June 2-3. Scenes created will "physically and emotionally" explore the question, "What makes people connect?"
Theatre. The answer is theatre.
The Salon of the Talking Turk
While other Edmonton theatre companies are winding down their seasons, playwright Stewart Lemoine's quirky little troupe is just getting started. What a bunch of contrarians.
Until June 10 at the Varscona Theatre is their upsidedown world season opener: a Lemoine revival called The Salon of the Talking Turk, starring Mark Meer in the titular role, with Shannon Blanchet and Louise Lambert as New York flappers smitten by the swarthy automaton. 'Tis a perfectly light entertainment for a dappled summer's eve'.
Jesus Christ Superstar
Easter has been held over due to popular demand – and with it the ambitious Andrew Lloyd Webber musical in all its power and glory at the Mayfield Dinner Theatre until June 11. Director Kate Ryan's take on the musical passion play is a tour-de-force, buoyed heavenward by a large ensemble cast and a small band that sounds like a big orchestra.