MUSIC PREVIEW: Tool time!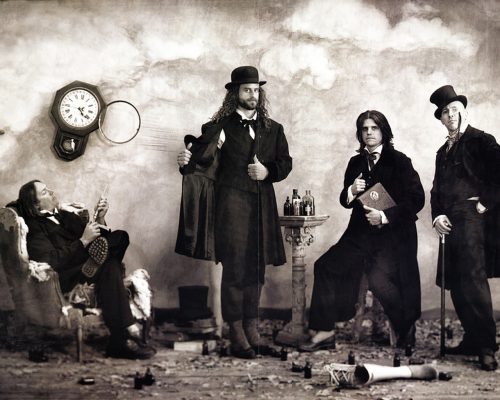 Tool is a good example of a band that doesn't particularly care if people like them or not, yet they stick to their guns so hard it's impossible to turn away.
Therein lies the secret of art. Do it for love.
Or hate, or whatever. Just make it a STRONG emotion. Please don't bore us.
Playing Rogers Place on Tuesday, June 13, the California art metal band led by the ornery Maynard James Keenan is coming back from hiatus and reportedly still at work in its long-awaited fifth album. Long story. Their last release was in 2006: called 10,000 Days. Hmm, 10,000 days is 27 years and let's hope we don't have to wait that long. There's a trippy new song called A/Descending they're doing live.
In both music and innovative concert tours, Tool prides itself on being dark, challenging, unconventional, fusing traditional and modern heavy metal styles into a progressive rock pastiche. It is defiantly unmainstream. When was the last time you heard a Tool song on the radio? Yet the band sells (sold) millions of albums and draws thousands of dedicated fans to their concerts, even with no new record in 11 years. They have been called the New Yes, or maybe they're the New No. Was there ever a band called "No." No? Never mind.
Las Vegas electronic music duo The Crystal Method opens the show at 8 pm, advance tickets from $75.
Friday 9
Steven Page – Stars like this sneak in from time to time to do charity shows: This one at the Winspear Centre in support of the Royal Alex Hospital and mental health programs. Page has some experience in this matter, as well as a heart and soul of talent as the former frontman of Barenaked Ladies, and some stellar solo material. Show at 7:30 pm, advance tickets from $55
READ: 2012 Interview with Steven Page
Nuela Charles – Crumbling Down is a hit for this Edmonton artist, reinvented from soul singer to eclectic genre-jumping stylist perfect for modern pop music – which when you break it down has just about everything. Charles performs as part of the NextFest Music Series at the Roxy on Gateway. Karimah Marshall and Darla Daniels are also on the bill. Show at 9:30 pm, tickets $12 or free with NextFest pass.
Obey the Brave – There's nothing more thrilling than an extreme metal band with melodic tendencies, is there? Some may consider it as bugs in your ice cream, but fans of this ballcap metal band from Montreal know exactly what they're going to get: Heavy vibes with hooks. Deez Nuts opens the show at the Starlite Room. Doors at 7 pm, advance tickets $21
Saturday 10
Shepappalooza – Pricey tix for this tony event at the Chvrch of John – $100 a pop – but just look at the talent on stage: Darren Frank, Ann Vriend & Rooster Davis, Melafrique, and the band with the guy for whom the event is named, the David Shepherd Band. He was – is – a player before he was elected MLA for Edmonton-Centre, and yes, the event is an NDP fund-raiser for his re-election campaign in 2019. Tickets include appetizers, a drink ticket and a tax receipt.
Archaics – This young local band is carrying the torch dropped by the Doors and other gone-obviously-not-forgotten 1960s and 70s psychedelic blues-rock icons – complete with the vintage keys and a singer who's a dead ringer for Jim Morrison. Pardon the pun. Their debut release is called Soft Focus. Dig it. Rec Room, 8 pm, NO COVER
Chris Trapper – This Boston balladeer has four albums with the band Push Stars, and three on his own, including his latest Symphonies of Dirt & Dust. Soft of voice and keen of heart, he performs at the Alamanc. With Andrea Shipka. 7 pm, tickets $20 advance
Celeigh Cardinal – Kind of a Tracy Chapman vibe coming from this local Metis singer-songwriter –  they call her "soul-folk," which seems to fit. Cardinal is performing her CD release for Everything and Nothing At All at the Forge. In support will be Dylan Farrell and King of Foxes. 9 pm, $15 advance