Classic Carousel colossal challenge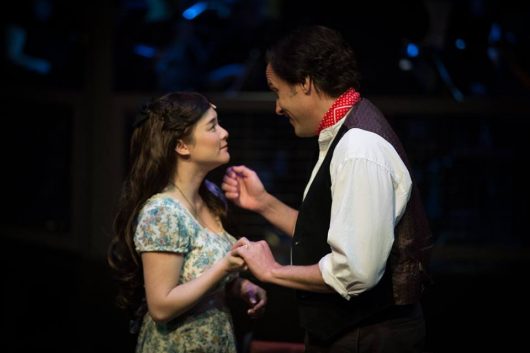 When it debuted in 1945, Rogers and Hammerstein's Carousel reset the bar for musical theatre.
Up until then, most Broadway shows featured flimsy plots on which to hang great songs by Cole Porter or Rogers and Hart. R & H turned to Liliom, a serious 1909 play by the Hungarian Fernec Molnar. Molnar's dark tale featured family abuse and suicide – hardly the stuff of musical comedy. R & H laboured over the property and finally came up with something that would please American audiences (and even the notoriously prickly Molnar – who wanted no changes to his original).
The show has grown somewhat dated but with its serious intent and introduction of social issues, proved to be well ahead of its time – paving the way for such works as Cabaret and Spring Awakening.
It's interesting to note that with today's attitude toward a man striking a woman, Carousel is still a crap-shoot to produce but the show is blessed with some of the most sumptuous music ever penned by the composer and lyricist and is reputed to be their favourite of all their works.
The latest mounting in Edmonton is the current offering of Foote In The Door Productions – a local collective, originally composed of students who attended the Citadel's Foote Theatre School, looking for a chance to pursue their love of musical theatre. Carousel plays in L'Uni Theatre through June 24.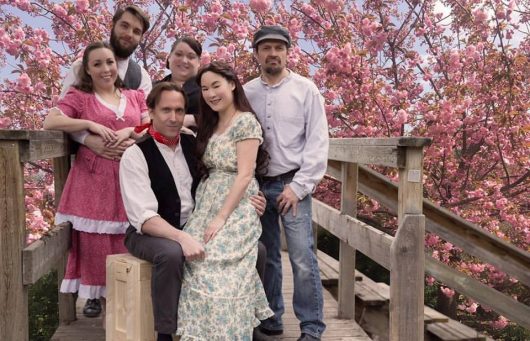 In keeping with the lavish demands of the original, the company has fielded a fair-sized orchestra (16) and a 22 member cast. Attempts have been made over the years to produce the show with small groups in the pit, but Roger's gorgeous melodies are best accompanied by a big, old-fashioned orchestra and this production certainly has one of those.
The show is positioned in Leland Stelck's atmospheric set with carousel horses set in light and surrounded by darkness. Stage right, a series of glowing lights anchored on a circus-like striped  platform lead to the heavens and to the left, a vaguely New England house facade. The orchestra sits upstage in a full-sized, authentic-looking gazebo.
After a somewhat lethargic reading of the Carousel Waltz by the orchestra, with the cast miming a working merry-go-round, the show begins. What we get is a good old-fangled production that is not too worried about the very real objections posed about family abuse. The company, however, is using this production to raise money in support of Win House, a home for battered women.
Recent mountings of the show have endeavoured to present a more shaded version of Julie, the put-upon heroine, trying to find subtleties of character lacking in the script. Given today's standards, Julie is a tough role. She is written to be an innocent but she has to have some spunk to go into a relationship with the sketchy Billy, knowing full well what she's getting into. Otherwise she's just a victim. As Julie, Ruth Wong-Miller brings a lovely clear soprano, particularly in What's the Use of Wonderin', where she outlines why she embarks on the rocky road of the relationship. Accessible and charming, she's also an effective actress.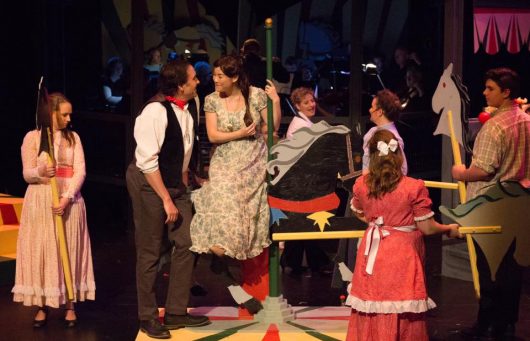 But you are still left with wonderin' why she puts up with Billy (Russ Farmer), who never raises above a rude, self-aggrandizing womanizer. If there is a tragic hero inside that tangle of conflicting emotions we don't see him here. Farmer sings with a lovely lyric tenor and the two performers are particular effective in the enduring ballad, If I Loved You. He also delivers in the precedent smashing My Boy Bill an epic musical number that not only advances Billy's character but provides a major challenge to any tenor. (The song paved the way for such self-searching musical sagas as Gypsy's "Roses Turn" and Funny Girl's "Don't Rain on My Parade.")
R & H's take on Molnar's characters has Billy as a New York carnival barker on the road in New England. He meets Julie, who has fallen for him, and doesn't know what to make of this lovely girl who admires him so yet demands nothing from him.
"I don't remember meetin' a girl like you before," he blurts out.
Billy turns out to be an abusive husband but, when learning he is going to become a father (possibly of – gulp! – a girl), and lacking the ability to do anything but "bark for a carousel," decides to join his nefarious buddy, Jigger (Morgan Smith – an effective rounder) in a robbery. When it goes bad, he stabs himself and goes to Rogers and Hammerstein heaven. There, 15 years later, he learns of the heartache Julie is experiencing along with the bullied young daughter he has never met. The friendly Starkeeper (Pauline Farmer) allows Billy to return to Earth for one day – to make things right.
It is the sumptuous singing that drives this Mary-Ellen Perley-directed production. Ir springs to life when Julie and BFF Carrie Pipperidge (Natasha Mason) sing You're a Queer One, Julie Jordan. Mason is vocally and comically impressive, and the two share the best chemistry of anyone on the stage. That most preeminent of Broadway anthems, You'll Never Walk Alone is given a burnished reading by Carolyn Waye. Rory Turner plays Carrie's pompous, entrepreneurial suitor, the fisherman Enoch Snow.
Agnes de Mille's original ground-breaking ballet in the second act has been reduced here to a graceful solo performance by dancer/actress Megan Beaupre.
The staging, particularly of the big production numbers (A Real Good Clambake/Spring is Bustin' Out All Over), sparkles with an agreeable State of Maine enthusiasm – although some of Ainsley Hillyard's choreography is squished as the large cast spills over the small stage.
There are some minor problems with this amateur production but not enough to get in the way of its good, old-fashioned charm and heart.
Photos by Nanc Price