PLAYBILL: Shakespeare rocks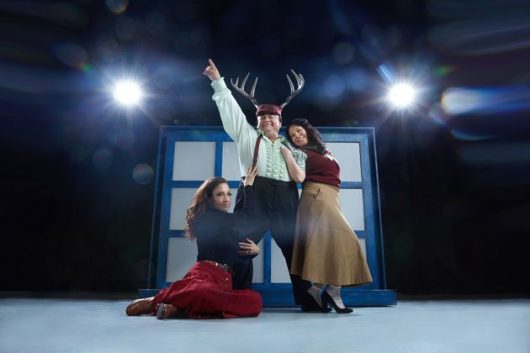 Some people say that maybe William Shakespeare wasn't such a big deal after all, and therefore maybe his work shouldn't be taught in schools at the expense of other worthy or more modern playwrights – or remounted again and again to promote 500-year-old sexual and racial morals in one Shakespeare festival after another.
To those people, we retort, "Thou speak an infinite deal of nothing!"
That line (taken at random from the Shakespeare insta-insult website) is from The Merchant of Venice, one of the two productions in the Freewill Shakespeare Festival, at the Hawrelak Park's Heritage Amphitheatre from June 20-July 16. In today's light, The Merchant of Venice seems a little, well, you know, racist, dealing as it does with a stereotypical greedy Jewish moneylender named Shylock, whose very name has become an anti-Semitic slur. 'Twill be interesting to see what our modern thespians do with this!
To balance the drama, also on the outdoor stage is a light-hearted romantic comedy, The Merry Wives of Windsor, in which Shakespeare's favourite character Falstaff plays a starring role – as a comical oaf trying to put the make on two married women. The term "gigolo" was not in wide use at the time.
Found Festival
The concept for this annual multi-arts festival is that all the venues are "found," as in just sitting around not being used for performances – until now. Parks, churches, grocery stores, bridges, alleys, you name your "BYOV" (well, they'll name it) and you'll see a variety of entertainments in dance, theatre, poetry, visual arts, and live music. All events at the "Found Grounds" (Dr. Wilbert McIntyre Park in the heart of Old Strathcona) are free, ticketed for other venues. See here for details.
Going, Going, Gone! 
Teatro La Quindicina is presenting an all-new original world premiere for the second play of its upsidedown season (active in summer, dark in the winter): Going, Going, Gone!, a comedy of misunderstandings written by Jana O'Connor, whose work can be heard on CBC's The Irrelevant Show. Set in the 1930s en route from New York to Boston, with comically lost luggage along the way, the play stars Andrew MacDonald-Smith as an antiques dealer who gets caught in a romantic triangle. We all know how much that can hurt.
Going Going Gone! plays June 22-July 1 at the Varscona Theatre.
Improvaganza
In the Citadel Theatre until June 24, Rapid Fire Theatre's annual Improvaganza festival brings together a huge breadth of talent, local, Canadian and international, to "make it up as they go along." Various games are used, audience suggestions are run with, the golden rule is never say no to anything, chaos and hilarity ensue. In addition to the usual gang of Edmonton improvisers, special Improvaganza guests include The Sunday Service from Vancouver, Ladies & Gentlemen from Montreal and a troupe called IGLU (Improvisational Theatre of Ljubljana) from Slovenia. Now we shall see if improv is universal language!
Carousel
Foote in the Door Productions (spinoff of the Citadel's theatre school) has pulled out all the stops, assembled a huge cast, a real orchestra, and dusted off this Rodgers and Hammerstein classic, a holy relic of musical theatre from the good old days, when hearts were lighter and everything was just swell – in 1945.  In its time, Carousel was gripping escapism: a tragic romance between a doomed carnival barker and a put-upon lass who just wants a normal life. Today? We see that times have changed.
It plays June 16-24 at L'UniThéâtre.
I Love You, You're Perfect, Now Change
The title pretty much says it all about romance, doesn't it? Such as the new musical comedy opening June 16 at the Mayfield Dinner Theatre – in fact a series of "musical vignettes" that explore every aspect of love from dating to being very married. I Love You, You're Perfect, Now Change will play until July 30.
Don't Stop Believing
The subtitle of this show is 40 and Fabulous – which works out since Edmonton Music Theatre is celebrating its 40th anniversary. Yes, they were into this stuff long before it became trendy.
Playing until June 24 at the Westbury Theatre in the ATB Financial Arts Barns, Don't Stop Believing will highlight the works of legends we know on a one-name basis: Gershwin, Porter, Sondheim, Lloyd Webber, and more. Plus Michael Jackson – not technically a musical theatre legend, but close enough for rock 'n' roll.
NUOVA Festival
It turns out that Opera NUOVA is doing Carousel as part of its annual musical theatre and opera festival running until June 30 at various venues. What are the odds? The classic Rogers & Hammerstein musical plays at Festival Place June 24-30.