MUSIC PREVIEW: Ruth B hits the A list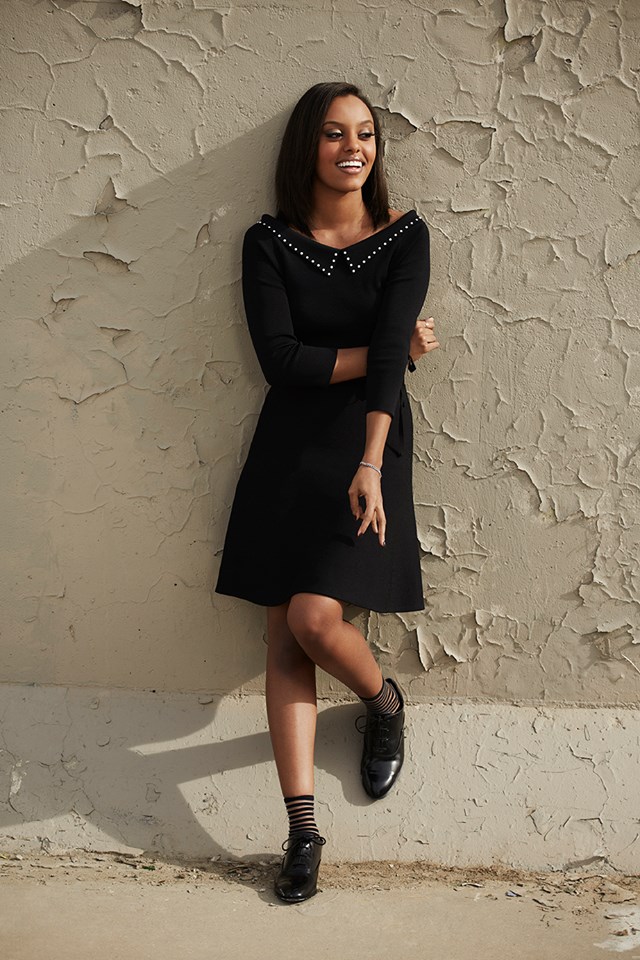 That's quite the little song Ruth B came up with – by herself, in her bedroom in Edmonton, on her cheap Yahama electric piano.
You may have heard her ode to Peter Pan on the radio: Lost Boy. Professional producers left the song mostly untouched from the her original homemade YouTube video she posted in January, 2015. With just voice and piano, it starts by hitting a nerve, "There was a time when I was alone, nowhere to go and no place to call home. My only friend was the man in the moon, and even sometimes he would go away, too." It's a story of yearning to belong, if not in real life then in a fantasy world populated by Peter Pan and the "lost boys" of which Ruth B counts herself. On a plaintive melody with talk of "escaping from reality," the song is inspiring and sad at the same time.
The impact Lost Boy made is obvious – and measurable: No. 14 overall in Canada, No. 24 in America, and top 40 in a number of countries in Europe. Not bad for one little song made in your bedroom – and more solid evidence that for all the troubles of the modern music business, greatness rises to the top very quickly.
Ruth Berhe started making Vine videos in 2013, at the age of 15, some of which "went viral," as they say. She came up with Lost Boy a year later and released an EP in early 2015. Major record labels pounced, because they still know a good thing when they hear it, and she signed a global deal with Columbia Records a few months later. Her full-length debut Safe Haven came out last month and it's already sold more than 3 million copies around the world.
So let it be said that Friday's show at the Starlite Room might be your last chance to catch this rising star in such an intimate venue. Lia Cole will open at 7 pm. Tickets $20 advance.
Thursday 22
The Works Street Stage – Free live music! You had me at "free" – and remember that so many of the acts performing at Churchill Square daily from noon to dark June 22-July 4 as part of the Works Art & Design Festival you'd have to pay to see anywhere else. Some represent the elite of Edmonton's music scene: Mike McDonald from Jr. Gone Wild, jazzman Dino Dominelli, indie goodness with I Am Machi, blasted roots-raucousness from Give 'Em Hell Boys, and many more, no two shows the same. Check here for the complete schedule.
Burton Cummings – He's our Canadian piano man – co-founder of the Canadian rock institution The Guess Who, writer and singer of many solo hits that defined a generation, or two, three, tops. Cummings returns with his band at the River Cree Resort & Casino for a two-nighter, Thursday and Friday. Tickets $44 in advance.
Friday 23
Ryan Adams – Funny story: One of the leading lights of the Americana music movement credits an unpleasant incident at the Ryman Auditorium in 2002 for helping him understand who he is an artist. A heckler kept demanding he play Summer of '69 by Bryan Adams, so he actually stopped the show and had the guy thrown out. Adams – Ryan Adams – has since made more than a dozen critically-acclaimed albums, including his new one, Prisoner, and worked with a royalty of alt-country greats. Now he'll never be mistaken for Bryan Adams again. The two eventually made friends – and Ryan even played Summer of '69 during a show at the Ryman in 2015. Just 13 years too late. Has this now become a thing? See for yourself at Adams' show in the Jubilee Auditorium. Karen Elson opens. 8 pm, tickets from $35
Rebuild/Repair – Killer local hardcore band makes a return to DV8 on this night, to play selections from its latest politically-charged album Above Ground Cemeteries. Among statements therein are criticisms of the High Level Bridge suicide fence, and a more general song called Burn Edmonton to the Fucking Ground. It's satire, OK? Also on the bill will be Shark Weak, Underbite and Bad Action Hero. Tickets at the door.
READ: Interview with Rebuild/Repair
Sunday 25
Dianne Reeves – The top draw of the TD Edmonton International Jazz Festival – running June 23-July 2 at venues across town – is this world-renowned, multiple Grammy-winning song stylist who's released 19 or her own albums and appeared as a guest on dozens more. Her latest (Grammy winning) album Beautiful Life has interpretations of everything from Bob Marley to Ani DiFranco, all delivered in that sultry smooth million dollar voice. Winspear Centre, with the Billy Childs Quartet, 7:30 pm, tickets from $65
Mitchmatic – Damn, we're losing another one. This celebrated local alt-rapper is taking off for parts unknown (or yet to be named), and after what is said to be more than 400 shows in the old hometown, will headline show No. 401 for one last hurrah, and with a full band, too. Could that be a clue? 401? Toronto, maybe? The "Goodbye Lil Matic" show at the Buckingham also features Baby Jey and Jom Comyn. 8 pm, tickets $10
C.R. Avery – A melange of street poetry, classical music and punk rock is what we might expect from this out-there Vancouver "performance artist" – which is what we call entertainers when we don't know what to call them, or know what they're going to do. For his gig at the Found Festival, Avery will do a piece entitled High Beams in an Even Darker Communion, a beat poet tribute to Leonard Cohen. The show takes place at 8:30 pm in an odd space: "Room 206" of the Commercial Hotel (fitting for a festival using "found" venues), so tickets are limited – for $35 in advance.