Jana O'Connor comedy a Teatro triumph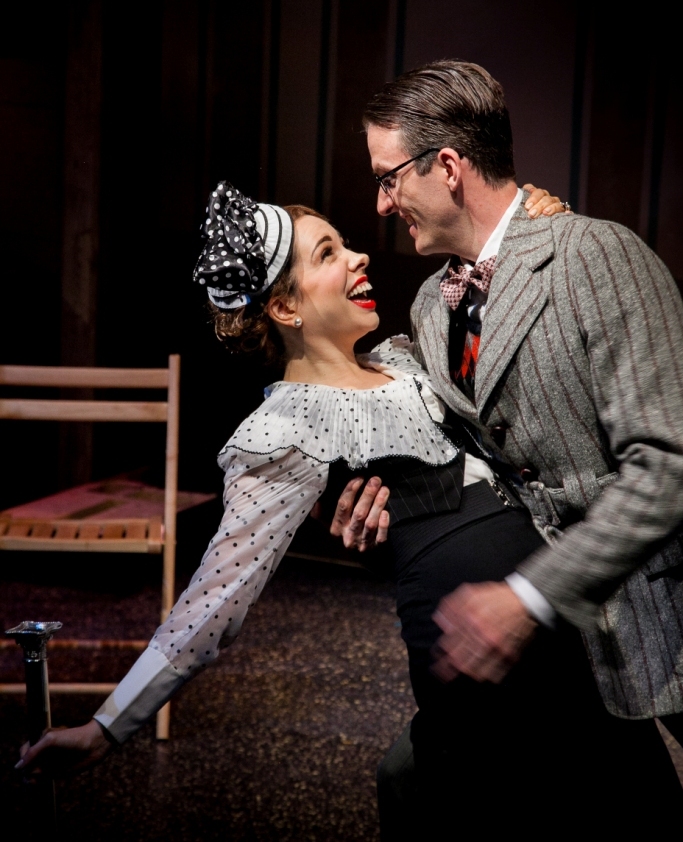 I haven't laughed so hard at the Varscona Theatre … well, since the last play by Teatro La Quindicina.
The current production of the screwball comedy Going, Going, Gone! at the Varscona Theatre until July 1 launches the writing career of a radiant new comic talent. Jana O'Connor is a long time member of the Teatro creative team and is probably best known today for the hilarious parade of broadly comic characters with whom she has peopled her weekly appearances on the CBC's highly rated (and highly comic) radio series The Irrelevant Show. Laughter is never far from everything she does. Obviously O'Connor has ample comic performance smarts, which she puts to use in her first full length play. From the sparkling results – she's a natural.
The upbeat twinkle and shine of what's to come is perfectly set up by director Dave Horak's choice of Le Jazz Hot for his soundtrack – featuring the master himself, Django Reinhardt. The cast bounds on stage, perfectly in character, and begins to arrange Chantel Fortin's ingenious and highly usable set. It consists of walls, doors and a few pieces of furniture – all on wheels that can be simply assembled by the actors to create any number of rooms.
The plot is complex beyond description and depends on an unending series of situations where an embarrassed character creates filigrees of fantasy sinking deeply into increasingly ludicrous circumstances.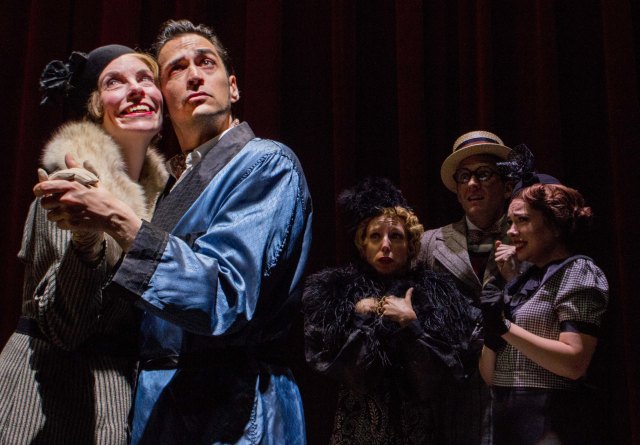 Horak has assembled a dream cast. Our nerdy hero, channeling Harold Lloyd's straw boater and the Cary Grant character in Bringing Up Baby, is masterfully played by Andrew MacDonald-Smith, as an unassuming antiques dealer trying to track down two valuable George III candlesticks. MacDonald-Smith is the winner of two Sterling Awards and may be on the way next week to win his third for his performance as the singing and dancing whiz, Bobby, in the Citadel's Crazy for You.
When bidding on one of the candlesticks at an auction, he drops his paddle and gets down on one knee to retrieve it – only to rise and discover to his surprise that he is now engaged to seat partner Celina Dean. Dean's character is prickly, husband-hunting and marcelled to the hilt. From the program, this long-time Teatro vet seems to be the busiest actress-singer in North America. Rachel Bowron is a bystander who mistakenly picks up MacDonald-Smith's suitcase in a train station and sets him on a course get it back. Bowron is a stand-out comic actress known for performances at the Citadel and the Mayfield Dinner Theatre.  Davina Stewart is MacDonald-Smith's oh-so-sophisticated (and hot and horny) mother.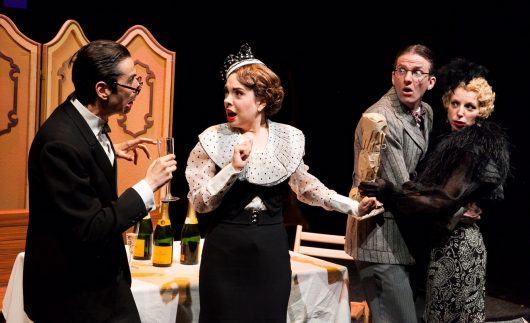 And that gets us to Mark Meer. He just finished a stand-out turn as the hilarious automaton in Lemoine's Salon of the Talking Turk. In this one he plays almost the entire catalogue of the justly famous supporting players in Warner Brothers stock  company of the 1930s. He's every movie butler and waiter you've ever seen (no one "shoots the cuff" with more aplomb than Mark Meer). At other times he's an amorous Italian gardener with an accent as thick as a Neapolitan ragu. He's Paul Lynde as an unctuous Maitre D' and Lionel Barrymore as a bewildered father caught up in the tall tales around him. He's the world's shortest auctioneer, which leads to one of the funniest physical gags of the evening.  At one time, he changes characters so fast two of them seem to be on the stage at the same time. He'll go out a door, there comes an instant knock and he bounds immediately back into the room as a completely different character. I could go on (and he does – getting funnier and funnier), but you get the idea. It is a tour-de-force for this awesomely talented artist. The Sterling Award-winning actor also plays the heroic Commander Shepard in the huge internationally-selling video game Mass Effect, and appears weekly on The Irrelevant Show. He's worth the price of the ticket alone.
Leona Brausen's costumes are bang-on – right out of every screwball comedy film you've ever seen.
Director Horak sure gets it. There's no line, grimace or double-take thrown away – unless it's a throw-away line. He fills the play with inspired business. And with the help of his superlative cast, darn if there isn't something of a beating heart behind all those funny lines as well.
Congratulations to all.
Photos by Mat Busby