Dated musical sparkles at Mayfield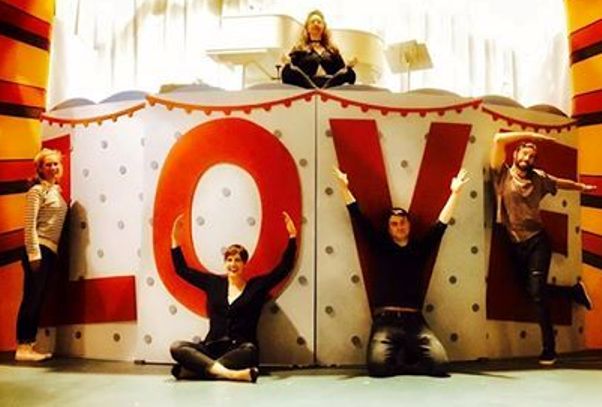 I Love You, You're Perfect, Now Change is one of those small, Off-Broadway musicals that just keep coming back. They are inexpensive to produce and proven crowd pleasers.
The show is the summer offering at the Mayfield Dinner Theatre. It runs until July 30.
With book and lyrics by Joe DiPietro (Memphis, Nice Work If You Can Get It) and music by Jimmy Roberts, this show chugged onto Off-Broadway in 1997 and hung around for 5,303 performances, giving it the second longest run (behind The Fantastics) ever for a musical.
The plot consists of a series of songs and sketches about those most enduring of subjects – the dating game, marriage and the often knotty relationship of man and woman. It begins in the Manhattan of the swingin' '90s and proceeds to examine the perils of married suburban life.
If you're looking for a modern-up-to-date look at such contemporary societal narratives as speed dating, sexting or internet hookups, you won't find it here (although one character does make a dating video). This heterosexual-based musical sketchbook is snappy, a bit sexy and genuinely funny – and it is firmly fixed in its time. But then, as this amiable vehicle points out, the problems of dating and married life are timeless and universal. Wives are still expected to sit and nod supportively as their husbands natter on about jobs and sports. Macho males are expected to sit through Jennifer Aniston movies.
After their impressive muscular exertions with the recent Jesus Christ Superstar, the smooth running Mayfield Dinner Theatre production machine dines out on a show as compact as this – and that is not to belittle the difficulties of small shows. The set is simple but spectacular (design: Ivan Siemens) – kind of a large cut out with Lichtenstein comic drawings of a man and woman. In the background a large sign spells out LOVE – and the letters part to allow a few props to enter.
Director Kate Ryan (probably best known for her string of great musical comedy successes during the Fringe, and also for directing Jesus Christ Superstar) has mounted a polished gem with a marvelous quartet of local performers: Jocelyn Ahlf, Robbie Towns, Scott Walters and Patricia Zentilli. Each has an impressive set of pipes. They dance with the verve of vaudeville hoofers and deliver jokes like Dave Chapelle.
Zentilli walks a line between tickling your funny bone and breaking your heart in The Very First Dating Video of Rose Ritz. A lonely woman making her first video and hopefully looking for companionship keeps drifting off into the heartbreak of a middle-aged wife whose husband left her for another. Ahlf, a frequent guest on CBC radio's The Irrelevant Show appears at a wedding in a hideous bridesmaid dress and sings happily of how she managed to avoid disastrous marriages as Always a Bridesmaid. Walters transforms hilariously into a maniacal convict serving seven concurrent life sentences, who is enlisted by a dating service to terrify prospective mates into marriage. He's also a geeky car-loving father and an equally dorky father forcing his friends to watch unending slide shows of his kids.
In Tear Jerk, Walters and Ahlf join as a macho boyfriend and his tearful girlfriend attending a chick flick. He wants a psycho with a chainsaw. She wants romance. As he watches the picture he becomes more and more involved until at the end he's blubbering like a child. Towns has a silent breakfast with his adored long-time wife and heartbreakingly sings, Shouldn't I Be Less in Love With You?
A modest production like this demands a certain kind of intimate accompaniment and that is provided by Cathy Derkach at the piano and violinist Shannon Johnson, seated on a platform high above the stage. There is nothing small, however, about the full orchestral sound this remarkable pianist pulls out of her pure white grand piano and Johnson is impressively supportive with her instrument. The musicians relate warmly with the people on stage and have a bit of comic business going themselves. The choreography and movement provided by Cindy Kerr is precise, theatrical and fun to watch.
I Love You, You're Perfect, Now Change is a pleasant, easy-to-take evening full of good music and well-observed sharp, satiric words that amply provide a sweet, and occasionally even poignant entertainment.