Jazz fest a beautiful, scattered affair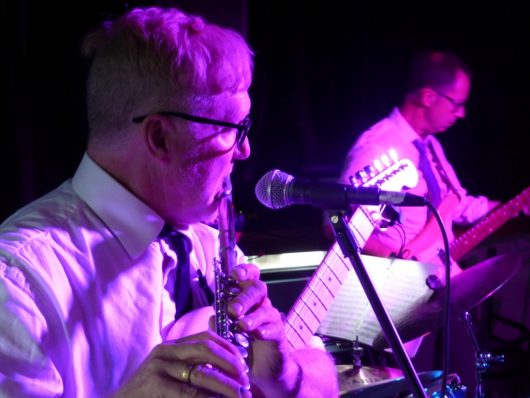 It's a pain in the ass to wrangle a night at the TD Edmonton International Jazz Festival and have it feel like an actual festival. If you didn't know there was a jazz festival going on, you might not even notice, what with all the other festivals. We're in festival gridlock season.
Until July 2, some of our finest jazz musicians are playing gigs flung to the corners of the city – downtown, Old Strathcona, and two clubs at opposite ends of town. A lot of planning and driving is necessary to catch a little bit of everything in one night – as a little experiment on Saturday night made clear. My game: Catch at least three songs of every jazz act on stage in Edmonton (only missed one).
Was it worth it? Of course it was.
The evening started at 5:45 pm, at the Chateau Lacombe to catch the Charlie Austin Duo. Charlie and his wingman Bobby Cairns are retired professors from MacEwan University's music program, piano and guitar, respectively – and now they're playing live more than ever. Bellamy's Lounge was packed, only lobby seating available. Ambience was provided by a large Asian wedding party. Charlie was working out one of his intricate solos when I arrived. Then Tommy Banks walked through the door. I shouted hello, but he didn't hear me. Meanwhile, Charlie and Bobby launched into an original, a bossa nova number that kept threatening to turn into swing, then it did, Bobby with his immaculate muted clean guitar style and Charlie with his lush accompaniment. A posh hotel lobby isn't the best environment for real jazz, but these guys totally classed the place up.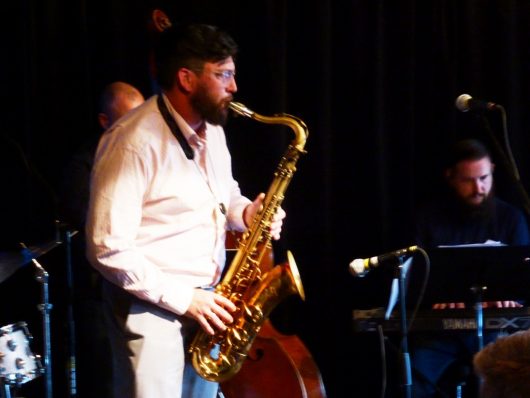 7:05 pm, Old Strathcona Performing Arts Centre – A crowd of maybe two dozen came for Myriad3, a Toronto trio that played jazz-rock fusion in the traditional piano-upright-bass-drums format. Very groovy and organic. As many good musicians on this night, they plied their tricks of tension and release, of consonance and dissonance, and dynamics that veered from delicate whispers to bashing noise. I wanted to stay longer because the bandleader said they were going to do a Pearl Jam song. But no, it was a "ragtime" ditty from Igor Stravinsky, whose legendary mash-ups of tonality and atonality almost seem cruel. Mustard in your ear candy.
7:54 pm, Cafe Blackbird – It's a pretty long drive from Old Strathcona to this funky venue on 142 Street, but at least it was a nice night ro drive. On stage was a local band called the Geometrics (top photo), led by the multi-talented Bill Damur on flute and electric guitar (a combo you don't see every day). He's also a professor of music, specializing in early music, like from the '60s – and the 1060s. An attempt was made to meld medieval melodies with modern sounds, and funky rockin' jazz fusion of the Bitches Brew variety was served.
8:40 pm, Blue Chair Cafe – And it's 13 km from Blackbird to this cozy Southside gastro-pub (if that is the correct term) that also hosts live music the rest of the year. On Saturday it was another local outfit, the John Sweenie 4tet (above), whose standout player proved to be Doug Organ, in this gig playing against name on a Rhodes piano. Innovative, rambling arrangements in odd time signatures allowed liberal space for elegant solos over captivating chord changes, the bandleader on sax no slouch at this craft, either.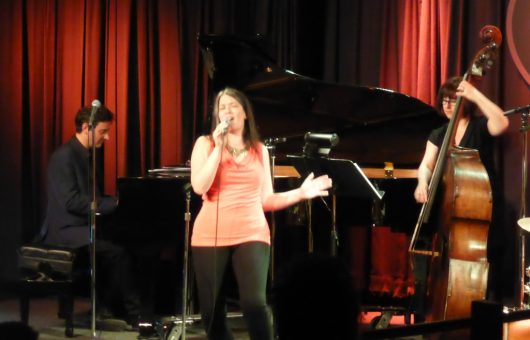 9:18 pm: Yardbird Suite – Nothing was sold out Saturday night, but there was a pretty good crowd for Ontario's David Restivo Trio, another traditional piano-bass-drums combo. On piano, the bandleader delivered some truly amazing moments, supported equally by Alyssa Falk on drums and Jodi Poznik on bull fiddle. At one point, Restivo gave the stage over to guest singer Fawn Fritzen, from Whitehorse, who sang Cole Porter with only Falk playing drums with her hands; the rest of the band returned and Fritzen killed on a version of Percy Mayfield's Please Send Me Someone To Love. Later on – I lost track of time there; one song can clock up to 20 minutes of jazz time – came the set-ender from Restivo's latest album, The Waves. Shades of Emerson Lake and Palmer were heard. Good enough for me.
10:30 pm: Old Strathcona Performing Arts Centre – This is when the LSD finally kicked in. Ha, ha, little joke there. The LSD Trio is the name of the band. Had to stay stone cold sober for this mission. Random observation: The further away the jazz artist is from, the better they dress. Locals tend to wear street clothes (Geometrics excepted). The LSD trio, from Sweden, was fully decked out in suits and polished shoes. Their music was pretty swell, too – a rich and bluesy take on traditional jazz, marked by the brilliant playing of hornman Fredrik Lindborg, and tempered by the band's sense of humour (both in the playful music itself and in drummer Daniel Fredriksson's charming patter between songs). There was artful freedom in everything they played, never a dull moment. If we were having a battle of the bands, these guys would win. Now please get Fredrik some stands for all his odd horns.
CONCLUSION: I worried I spent more time driving (and having to stay sober) than listening to music – which is not conductive to the "festival experience." It would be nice if the jazz fest could condense, pick an area and give nearby venues an offer they can't refuse to host live music, so you could just do a walkabout and catch everything. On the other band, where to do it? When you live in a town with two thriving festival districts – downtown and Whyte Avenue (and parking is a bitch in both areas) – it's going to be a tough call.