REVIEW: Shakespeare comedy goes disco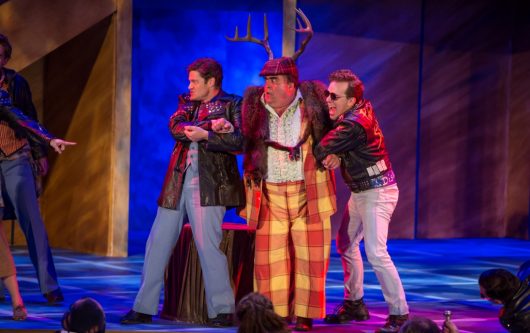 The Merry Wives of Windsor, one of two Shakespearian plays featured this summer by Edmonton's Freewill Shakespeare Festival, was a commissioned work – by a patron no less than Queen Elizabeth I.
Her Majesty loved the portly, sack-quaffing knight that Shakespeare created for his Henry IV, Part 1 and further developed in Henry 1V, Part 2: Falstaff. The amused Monarch wanted more of him, so bowing to his Liege's wishes, he wrote the oft-produced but critically lambasted work – lambasted because the play is not Shakespeare at his best, but often produced because directors and performers love its comic inventiveness and broad humour.
So do audiences – even modern ones who find it an easy access to Shakespeare and the closest thing he ever wrote to a sitcom.
The Merry Wives of Windsor is full of low comedy and sexual innuendo. Director Ashley Wright brings a boisterous sense of mischief and bemusement as he re-imagines the source material which finds itself right at home in a mad '70s disco world. The music is groovy to the max, ripped right from the charts, and the cast of cool cats is apt to go tubular and break into bitchen' disco moves throughout. Megan Koshka's funky weeds are far out, man.
The rotund Falstaff (Robert Benz) is rowdy and avaricious. He is also a bloated balloon of misplaced self-confidence fancying himself as an irresistible sex object to the merry wives, Mistress Page (Nadien Chu) and Mistress Ford (Belinda Cornish). Hoping to bed and swindle the two rich ladies, he writes them identical (ludicrous) letters proclaiming his love. The two objects in question find his amorous entreaties both hilarious and insulting and set about concocting a cockamamie but workable plot to have their revenge on him.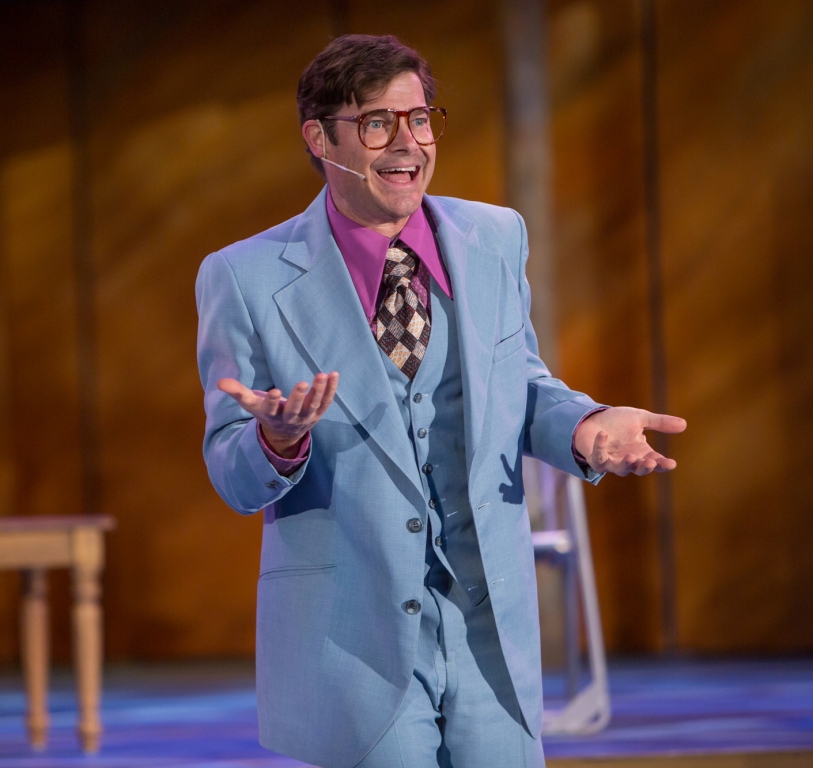 They lure him into three assignations – the first of which results in the poor sod being being dumped into a basket of rank linen and dumped into the Thames. He's a game old guy and obviously not a practitioner of the "fool me once" school of thought. He picks himself up and, at their suggestion for an assignation, dresses up as a woman – and is severely beaten when he's caught by Mistress Ford's insanely jealous husband (John Ullyatt). Apparently Elizabethan revenge comes in threes, so the two plotters persuade him to show up in Windsor Forest at midnight, tricked-out as the fabled Herne the Hunter (complete with horns), where he is pinched and tormented by the whole cast pretending to be fairies.
Shakespeare has filled his light-as-a-dappled-Summer's-eve-in Hawrelak Park farrago with a cast of broadly comic supporting players. Wright, taking the cue, directs his actors to play for the cheap seats. The result is almost continuous laughter. If you're not laughing at Shakespeare's words, Wright's manic cast are fearlessly milking their performances for all they are worth.
There is a whole range of sub plots. Three men vie for the hand of Mistress Page's winsome daughter, Anne (the winsome Cayley Thomas). They include Slender, played by master comic actor Ron Pederson, running his practised hand through a whole catalogue of nerdisms from Seymor (Little Shop of Horrors) to Tully (Ghostbusters). Troy O'Donnell, a long-time Freewill player, dips his quill deep into the Inspector Clouseau inkwell and Zut Alors! gives us a splenetic suitor – in fractured French.
Mistress Page has her own problems with her husband, who is driven to antic fury by her supposed sexual indiscretion (see above – Falstaff's humiliation part 2). He's played by Ulyatt as so choleric there's blue smoke coming out of his ears. Other memorable creations come from Jesse Gervais in the portmanteau role of the "Host." He spends most of the evening baked on weed and leading the cast in frenetic disco boogie.
The animated Stephanie Wolfe is that familiar Bardic character, the saucy domestic who holds things together – or causes them to fall apart. The two foxy ladies at the centre of it all are having such a good time you can't help but egg them on. Benz's Falstaff is a perfect butt for the ladies' peregrinations but he is a likeable actor and manages a degree of dignity. Well, a small degree.
All the various subplots are woven together leading to the inevitable happy ending. Perhaps not altogether happy for the unfortunate Falstaff.
Here is a show for those who get lost in the thicket of Shakespeare's language. Under Wright's direction the text is clear and easy to understand and the plot is as subtle as a pie in the face.
The Merry Wives of Windsor runs in the Heritage Amphitheatre in Hawrelak Park on even dates and in matinees, with the other Freewill Players production of The Merchant of Venice on the odd dates. The plays run to July 16.