Adam Lambert gives new life to Queen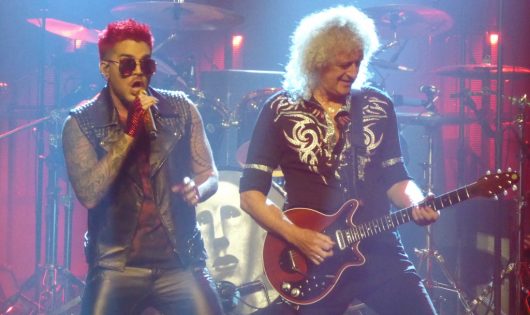 Queen is never going to replace Freddie Mercury. He was one of a kind. But what about the rest of the guys in the band? What do they do when they want to keep the band going after their lead singer died? Life isn't fair.
And so, in their desire to give these great songs the audiences they deserve (and also to maintain the lifestyle to which they're become accustomed) the two remaining Queen members Brian May and Roger Taylor wisely recruited the only singer in the world who could come close to filling Freddie's boxing boots. Adam Lambert is a supernaturally gifted singer, and about as flambouyant as a pop star can possibly be. He made about seven costume changes at Rogers Place Tuesday night. After singing Killer Queen while wearing what he called the "gayest suit you're ever seen" – and killing it, both song and suit – while sitting atop a giant robot head (in honour of the 40th anniversary of News of the World), he said, "I just wanted to give you guys a little head."
Actually, it was a big head. But way to set the tone, man. Girls in the audience laughed hysterically at every gay joke he told. What's with that?
Remember that Lambert got his start when he came in second on American Idol in 2009. He was robbed – can't recall the name of the winner that year.
Now we are witness to a musical demographical phenomenon on the order of Journey with its new singer Arnel Pineda packing arenas full of Filipino fans. The audience at Queen + Adam Lambert concert was a peculiar mix of hardcore Queen fans from back in the day, and young American Idol enthusiasts. A number of young gay couples were spotted, and it's clear there's an entirely new generation being introduced to the music of Queen, thanks to Adam Lambert. He has given them new life.
The 35-year-old singer has become comfortable in his five years with the band. He killed on a number of other songs, particularly Somebody to Love – where he hit that crucial high note and made it look easy. He even went a few steps higher to rub it in. "Holy crap!" was the general reaction here. He would continue to top himself throughout the night, vocally and sartorially. He even did one of his own songs, Two Fux. Lyrics were displayed on the video screens: "If you think that what I do and how I live's too much, I don't really really give two fux. If you think that what I say and what I give ain't love, I don't really give two fux."
Brian May, meanwhile, at one point hogged the spotlight in a meandering, interminable guitar solo that was the epitome of self-indulgence. It wasn't rocket science – and that joke is only funny if you know he has a Ph.D in astrophysics. He's such a likable fellow, though. Being British and well-mannered helps. He also redeemed himself on several memorable solos from the Queen canon, and in touching moments with the ghost of Freddie Mercury on the video screen.
Freddie performed in Edmonton only once – in 1977, and several of the old-timers were overheard reminiscing. For them, this was one great nostalgia concert.
The drummer Taylor got his time, too, in a drum battle, and on lead vocals on I'm In Love With My Car – which sounded so pristine and perfect that I'd call lip-sync if I didn't trust their integrity. Queen fans may recall the penultimate classic rock song of all time: Bohemian Rhapsody, needless to say a climactic moment of the Edmonton show. And despite that "no synths" disclaimer, the band multi-tracked the shit out of that song in the studio – to the point where it would be impossible to do it live without a choir of Freddie Mercurys. So with full disclosure, they just played the record in concert – and they did it again with Lambert's lead singing supported by massive tracked vocals on Tuesday night. The crowd of course joined right in. "Mamma mia, mama mia, let me go!" They just don't build songs like this anymore.