MUSIC PREVIEW: Seven to rule them all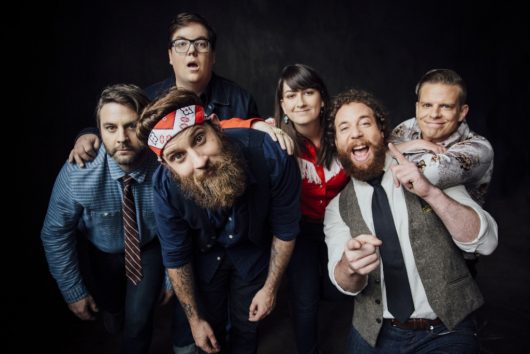 Every festival has its own "feel."
Now see if you can tell what the acts at the Seven Music Festival Saturday in St. Albert have in common: The Strumbellas, The Rural Alberta Advantage, The Provincial Archive, Paul Woida, The Elwins, Sykamore, Frazey Ford, and The Royal Foundry.
Yes, they're all white, but that sort of thing shouldn't matter anymore, should it? At least a number of the acts have (or are) female singers. And yes, a disproportionate number of band names start with the word "The." We are clearly in another era of "The" bands.
But that's not it. The main point is that the line-up represents a swath of Canadian indie goodness whose eclectic fusions of music cannot be constrained by the genres of "alt-rock" or "folk" or "pop" or whatever. Moreover, some of them are starting to get such mainsteam attention that the word "indie" may become moot. A lot of new artists suffer a disconnect between name recognition and hit radio presence, so audience members at festivals will sometimes exclaim, "Oh, now I know who they are. It's that band with that song on the radio!" Cue The Strumbellas (above) and their smash hit song Spirits.
Likewise, to a lesser extent, come The Elwins, a boppy band from Ontario that hides a dark inner core in the song So Down Low; too bad it was used in a cellphone commercial.
The Royal Foundry is a totally pro outfit from Edmonton, our answer to The Arcade Fire, if you like. And you can hear their expansive and zippy Never Have Time almost as much as those other hits – at least if you listen to Sonic radio. The buzz is spreading across Canada.
Also on the buzz list is another local The Provincial Archive – one of three bands at this fest named for Alberta landmarks, buildings, or political slogans; and another genre-defying creative force in the world of alt-folk-pop-whatever today.
The Rural Alberta Advantage also has Edmonton roots with native son singer Nils Edenloff, and songs making waves of grain across the country. Sykamore is a rising young country singer from tiny Carseland, Alberta. She was the winner of an Alberta-wide song contest. Local singer Paul Woida also benefited from a contest victory. And rounding out the eight acts at the Seven Fest is B.C. soul singer Frazey Ford, whom you might remember filled in at the Edmonton folk fest when Sinead O'Connor cancelled.
So, wow. To make it clear: This is an amazing line-up. There's your answer.
The event runs from 1 to 11 pm Saturday at Mission Hill Park in St. Albert. Advance tickets are $70.
Saturday 8
Sabrina Carpenter – You can call her another Ariana Grande or Selena Gomez in the making, as there appears to be no end of beautiful and multi-talented pop stars emerging from the Disney television-media empire. This 18-year-old singer-actress is touring on her second album, Evolution, and performs at the Winspear Centre. Alex Aiono and New Hope Club open the show at 7 pm. Tickets $52.50 in advance.
The Steadies – Led by the former Wide Mouth Mason bassist Earl Earl Pereira, who turns out to be a heck of a singer, this trio has taken its love of reggae and pumped it up to a dance-rock party that's always a blast live. Shakers Roadhouse, 9 pm, $10 advance
Unleash the Archers – It's funny how punk rock can morph into goth, as P.J. O'Rourke says, from "fuck you" to "we're fucked" – and all it took is a little black make-up. Throw power metal into this mix and now we're talking. Led by singer Brittney Slayes, this Vancouver band stages an album release show for its new release Apex, at the Starlite Room. W.M.D. opens the show at 8 pm. Tickets $12 in advance.
Lutra Lutra – This local band – which is for some reason named for the Eurasian otter – is another of these confounding genre-smashing groups. It's marked by unconventional, quirky songs and the vocals of the sibling singers Garreth and Katrina Burrows. Yellowhead Brewery, 8 pm, cover at the door
Sunday 9
Desiderata – Ah, more Latin, meaning "desired things," or that famous poem: "Go placidly amid the noise and haste, and remember what peace there may be in silence" – so maybe it's ironic the name signifies a noisy, shouty, grungy band from Fort McMurray, playing its cassette tape release show at the Buckingham. Warming up are the bands Blessed, Sister Ray and Gary Debussy. 8 pm, $10 advance
Monday 10
Duran Duran – Hungry Like a Wolf – that was their big song, wasn't it? That hit happened such a long time ago (1982) for these British pioneers of dance-pop and music video culture that their show at Rogers Place might fall into the category of "nostalgia." You know, like Queen. Feeling old yet? 7:30 pm, tickets from $35.