EDMONTON: City of bad names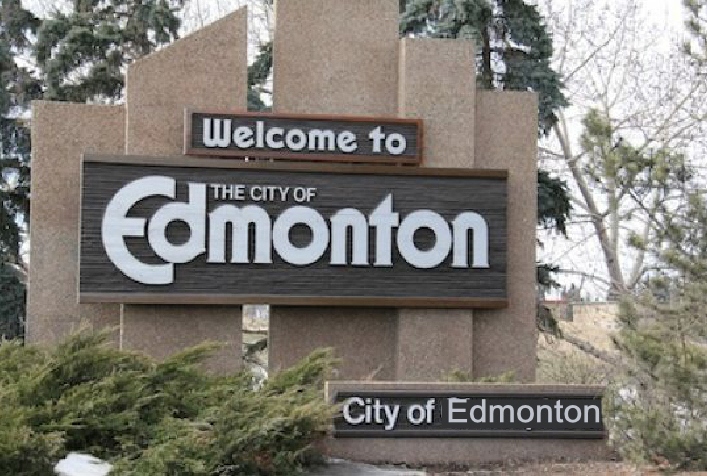 The $2 million rebranding of Edmonton as "Edmonton" may have made Edmonton the laughingstock of the world, but this is just the latest boneheaded move in the rich history of Edmonton's embarrassing problem with names.
Look at that: "Edmonton" four times in one sentence. Pay me now.
Recall the last branding blunder: K-Days.
Short history: Klondike Days had been around for decades, and the whole town would wrap itself in the hokey trappings of a bygone era that never existed. Citizens willingly dressed like cowboys and saloon harlots and coal barons and rallied around the Klondike spirit with civic duty, if not actual pride. We all looked ridiculous together. Brand identity was enforced by organizers who insisted the media not use the shortened version "K-Days." Everyone did anyway.
But then – shock and horror – it was discovered that young people considered Klondike Days uncool, and also that Edmonton had nothing to do with the Gold Rush. The Klondike is in the Yukon. Cue the new name "Capital Ex" – which people absolutely hated. So then they did a public poll to find a better name. K-Days won by an overwhelming majority. Now we're stuck with it – a "K" that literally stands for nothing.
Kind of like changing "Edmonton: City of Champions" to "Edmonton: City of Edmonton."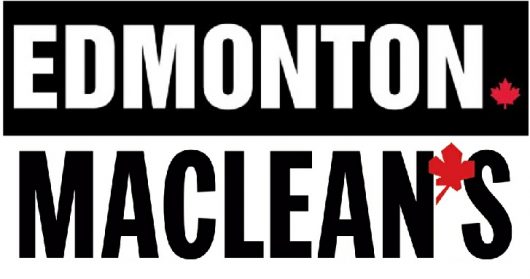 This is just the tip of the appellational iceberg when it comes Edmonton's nomenclatural woes. We've long had a habit of badly naming and then constantly renaming anything that can be nailed down. Our performance spaces, our parks, our festivals, our arts organizations, our very roads are freighted with periphrastic baggage, and then often changed for no good reason just when people were starting to get used to it.
It's the little things that annoy – like the wee maple leaf on the end of the new Edmonton brand logo that makes it look a lot like the logo of Maclean's magazine.
More history: Area grammar nerds hang their head in shame to remember the "2001 IAAF World Championships" we hosted, whose ad campaign was "The WORLD'S" – the wrong use of the apostrophe splashed on billboards everywhere. This prompted cartoonist Stephen Notley (brother of the current Premier of Alberta) in his strip Bob the Angry Flower to declare Edmonton "The apostrophe retard capital of Earth." Too big to fit on a sign.
Radio stations are never safe. Some years ago, for some unknown reason, K-97 changed its name to K-Rock, which no one at the station seemed to realize spelled "Krock," so after a few awkward years, they changed it back to K-97 – but now some people still call it K-Rock. Terribly confusing. 91.7 The Bounce is now known as KISS FM, in case you didn't know, or care.
Now a word about streets. As we motor down Mark Messier Trail and over to Wayne Gretzky Drive, you may wonder what Edmonton will look like when more Oilers get streets named after them. It's going to happen, you wait. Check out the night life on McDavid Avenue!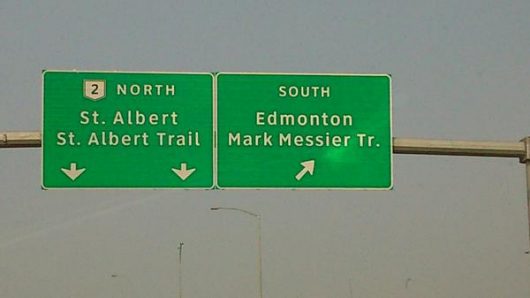 Confusion reigns on signage. Can anyone remember whether it's Gateway Boulevard or Calgary Trail that actually leads to Calgary? Or why it's Millwoods Road in Mill Woods and Castle Downs Road in Castledowns? Of course anyone who's tried to find their way around Winnipeg knows we're not alone in road naming lunacy. We're lucky most of our streets have no name.
It's not one person's fault. The very worst names – like "Capital Ex" – were created by committee. The people had good intentions, espousing the theory that a great name should do more than merely tell you what the thing is, but educate as well. That's a lot of work for a name. And you wonder why some of these festival names are so damned long, and yes, we're looking at you, Edmonton International Street Performer's Festival and the TD Edmonton International Jazz Festival.
Corporate sponsors are a necessary evil in the name game. Since it opened in 1974, Northlands Coliseum was renamed the Edmonton Coliseum, which in 1998 became Skyreach Centre, which only lasted five years because the Skyreach company went bankrupt, then it became Rexall Place until coal baron Daryl Katz got his new hockey arena at Rogers Place, and now it's just plain old Northlands Coliseum again.
No one seems to be able to call the TELUS World of Science by its proper name, preferring its more or less original name The Edmonton Space Science Centre, which was then changed to the Edmonton Space AND Science Centre and then the short-lived "Odyssium," which didn't catch on at all.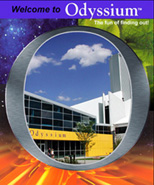 Citizens were similarly vexed when the Edmonton Art Gallery disappeared and was replaced by the Art Gallery of Alberta. Same with the Provincial Museum of Alberta turning into the Royal Alberta Museum after the Queen visited (just as a cathedral becomes a basilica when the Pope pops by), a rare case of less words being used for a new name. Now the museum's been moved downtown and they have a beautiful old building in Glenora they don't know what to do with.
Typical is not being able to find the Cosmopolitan Music Society because it was renamed the Old Strathcona Performing Arts Centre, which is not far from the headquarters of the Edmonton International Fringe Theatre Festival at the ATB Financial Arts Barns Westbury Theatre. ATB spends a lot of money for that name sponsorship; you bet they want people to say the full thing.
The more you look for naming nits, the more you find. When Metro Cinema moved into the Garneau Theatre, the local film house was renamed "Metro Cinema at the Garneau," while across town theatre-goers could attend a play in "Theatre Network at the Roxy," until the Roxy Theatre burned down in 2015, so they moved south to the old Catalyst Theatre, which is now called The Roxy on Gateway.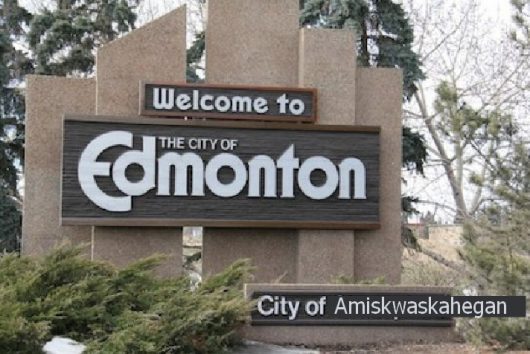 If these awkward monikers are a nod to the historical significance of the free standing movie theatres of yore, then whither the Odeon, the Rialto and the Strand? All of which, by the way, were gaily decorated with Klondike Days scenes every summer. Hey, it was stupid, but it was all we had.
And you know what? It turns out that Edmonton isn't even the correct name of Edmonton. It had already been named by the people who lived here before: Amiskwaskahegan – now there's a brand to get behind.